Raging wildfire scorches thousands of acres in New Jersey state forest
Roads closed, buildings threatened as the Mullica River Fire rages
WASHINGTON TOWNSHIP, N.J. - Firefighters are working to contain and extinguish a large wildfire that has burned thousands of acres of a state forest in New Jersey.
HOW TO WATCH FOX WEATHER ON TV
The Mullica River Fire is burning in Washington Township, New Jersey.
(FOX Weather)
---
The Mullica River Fire broke out Sunday afternoon in Wharton State Forest in Washington Township.
The fire exploded in size in one day, according to officials. As of Sunday night the fire had consumed 2,100 acres, but by Monday evening that grew to 12,000 acres and is 70% contained.
'SHEEP FIRE'? 'PIPELINE FIRE'? 'HAYWIRE FIRE'? HOW WILDFIRES GET THEIR NAMES
According to the New Jersey Forest Fire Service, 18 structures are being threatened by the flames and volunteer firefighters from Atlantic, Burlington and Ocean counties are currently conducting structure protection efforts.
Several roads have also been closed while firefighting efforts continue.
Closed roads include:
Route 206: Chew Road to Atsion Road
Route 542: Green Bank Road to Columbia Road
Fire officials said Batso Village and its associated hiking trails are closed to visitors, as well as the Atsion Recreation Area.
The Mullica River Campground, Lower Forde Campground, Mullica River Trail and boat launches along the Mullica River have been shut down from the Atison Recreation Area to Batsto.
Pinelands Adventures has also suspended kayak and canoe trips.
Those closures, officials warn, are in effect until further notice.
MAKING SENSE OF WILDFIRE JARGON
The New Jersey Forest Fire Service is also reminding people in the area not to fly drones.
If drones are flown in the area, firefighting efforts from the air cannot continue.
The cause of the fire has not yet been released.
THE FUTURE OF WILDFIRE DETECTION IS HERE: ARTIFICIAL INTELLIGENCE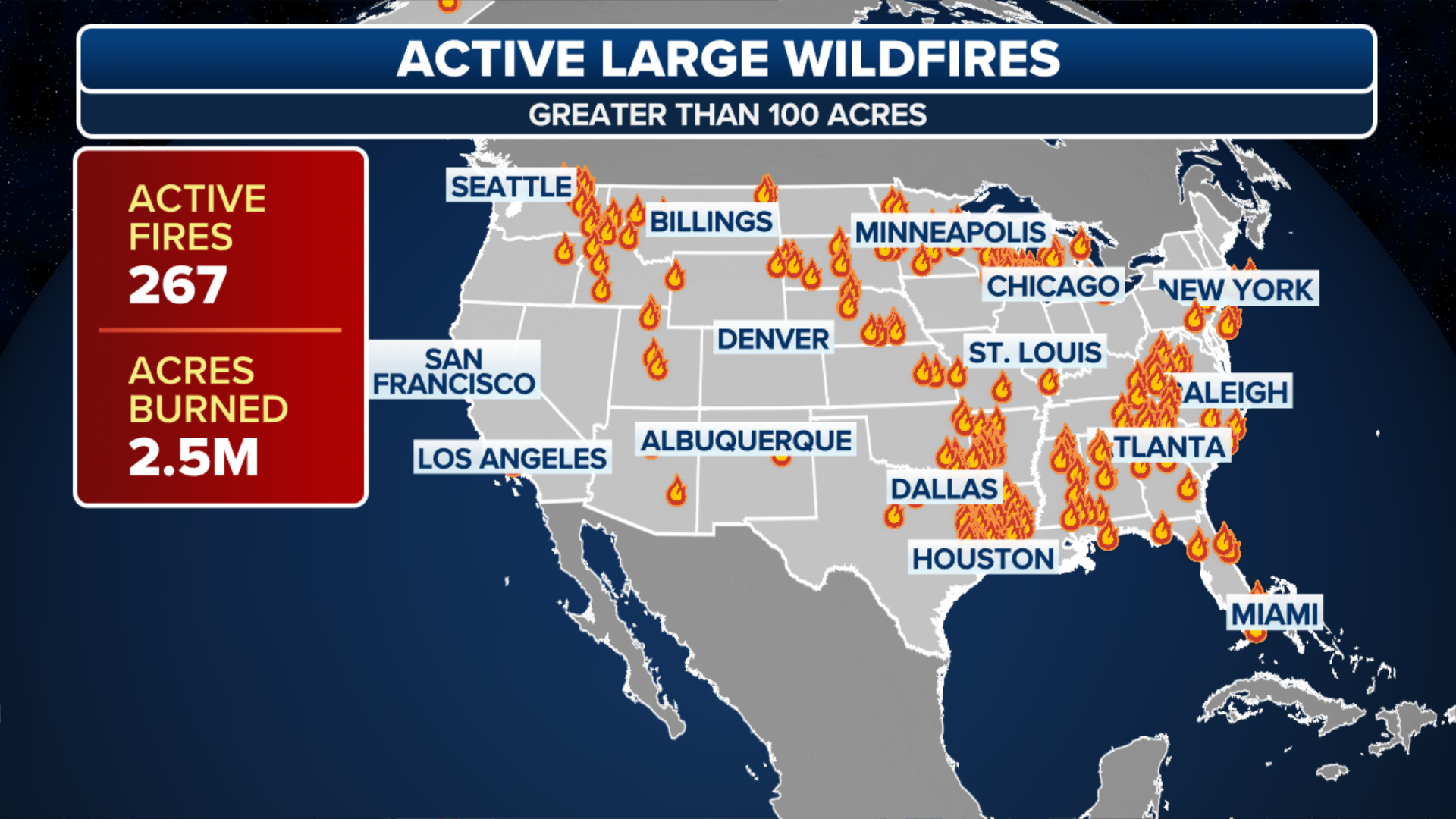 There are at least 86 active wildfires burning in the United States.
(FOX Weather)
---
Other active fires in US
There are at least 86 active wildfires larger than 100 acres burning across the U.S.
Combined, those fires have charred 2.6 million acres of land.
Several fires are burning in Alaska, including two new fires that broke out over the weekend.
The Nunavulnuk River Fire is located 20 miles south of Saint Michael on the northern side of the Nunavulnuk River. Officials warn that this fire has the potential for large wildfire growth. 
A second fire, the Vachon Fire, also broke out over the weekend. It is located on Vachon Island in the Yukon River, about 20 miles west of Manley Hot Springs.
MEET THE METEOROLOGISTS WHO HEAD TOWARD THE HEART OF A FIRE
Two fires burning in New Mexico are now among the state's largest fires.
(FOX Weather)
---
Several fires are also burning in New Mexico, with two of those now among the state's largest-ever recorded.
CLICK HERE TO GET THE FOX WEATHER UPDATE PODCAST
The Hermits Peak and Calf Canyon Fire began in April and has so far burned hundreds of buildings and charred 341,000 acres of land.
The Black Fire began in May and has burned more than 325,000 acres.