More than 2 million acres burning across 6 states
5 new wildfires were reported Tuesday across California, Alabama, Arizona and Kansas, while fires continue to burn in New Mexico and Alaska
For parts of the Southwest now facing more than two months of active wildfires, a forecast of increased moisture this weekend as the monsoon season begins cannot come soon enough.
Across the country, more than 6,700 wildland firefighters and support crews are actively working nearly 40 fires across six states, including New Mexico, Arizona, Alabama, California, Kansas and Alaska.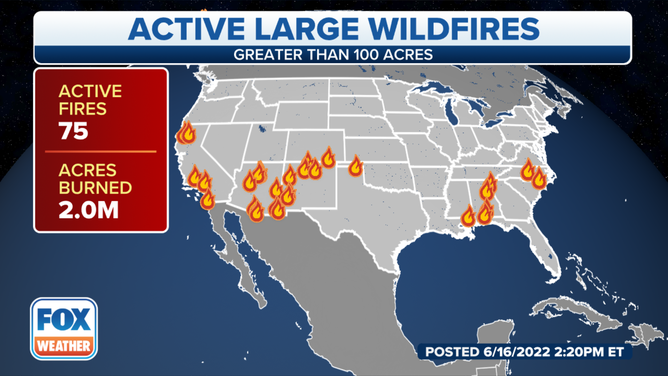 Scorching heat and drought have fueled fire growth prompting evacuations in New Mexico, Arizona and Alaska.
The National Interagency Fire Center reported five new fires started this week, two in California and one each in Alabama, Arizona and Kansas.
HIGH FIRE DANGER RETURNS TO SOUTHWEST, GREAT BASIN THROUGH THE WEEKEND
Alaska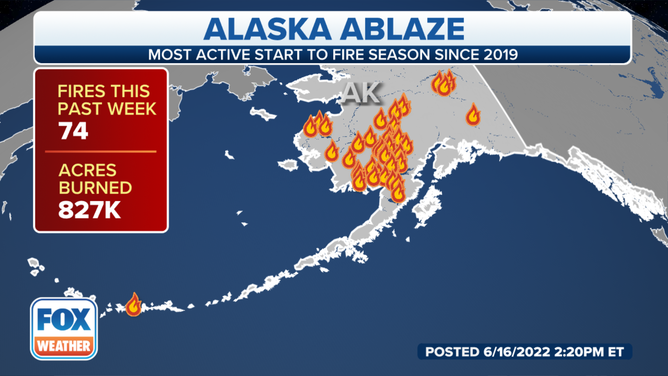 Alaska's fire season is underway driven by long days and warm weather. Critical fire conditions persist across many parts of Alaska where two significant wildfires continue to burn.
There are eight fires currently being fought by Alaska fire crews. 
The East Fork Fire, 3.7 miles northeast of St. Mary's, started May 31 and was likely caused by lightning, according to Alaska Fire Service officials. The blaze has consumed 150,651 acres, and more than 250 personnel are working the fire.
According to Alaska Wildland Fire Response, fire crews have made good progress in the last 24 hours. 
"The fire is still active, but progression has slowed, and the fire is moving away from communities," according to the Thursday update.
The Hog Butte Fire has been burning since June 5, about 30 miles southwest of Lake Michumina, and has consumed 40,699 acres. It's believed this fire was also started by lightning. 
WHY DRY THUNDERSTORMS POSE WILDFIRE, DUST STORM RISKS
The Bureau of Land Management Alaska Fire Service Midnight Sun Hotshots and smokejumpers have worked to protect Native allotments and permitted cabins from the fire. 
Arizona 
Arizona Gov. Doug Ducey issued an emergency declaration on Thursday for the Pipeline Fire near Flagstaff. An emergency order for Coconino County was already in effect. 
The fire has now burned more than 24,800 acres as of Thursday and is 27% contained. The fire was forecast to grow on Thursday with warm and breezy conditions.
Evacuations remain for Shultz Pass Road, Arizona Snowbowl, Crater Estates, O'Leary and east of Highway 89. On Wednesday, evacuations were lifted for Timberline allowing residents to return home. 
About 7.5 miles northeast of Doney Park, the Haywire Fire continues to burn with 11% containment. The fire has consumed 5,372 acres. 
More than 700 personnel are working the fires across Arizona. 
HOW TO WATCH FOX WEATHER ON TV
New Mexico
Since late April, more than 700 buildings and homes have been destroyed amid raging wildfires in New Mexico.
The Calf Canyon and Hermits Peak Fire has burned 336,638 acres and is 72% contained. On Thursday, New Mexico fire officials said very dry air was driving fire activity.
For more than 70 days, the Black Fire outside Truth or Consequences has continued to burn with partial containment. 
The Black Fire is at 320,871 acres and is 48% contained as of Thursday. 
Thunderstorms and rain are forecast for this weekend as monsoon season gets underway across the Southwest.
CLICK HERE TO GET THE FOX WEATHER UPDATE PODCAST
Be sure to download the FOX Weather app for the latest fire weather conditions and warnings in your area and receive potentially life-saving weather alerts issued by the NWS. The free FOX Weather livestream is also available 24/7 on the website and app and on your favorite streaming platform. The FOX Weather Update podcast also provides weather information for the entire country.