Great Texas Freeze was extremely cold, but February 1899 in the Plains was in another league
The February 1899 cold wave was much more extreme than February 2021, and it's 'not even close,' climatologist says
DALLAS – Texans don't need a reminder that the Great Texas Freeze from Feb. 10-20, 2021, was extremely cold, but they weren't alive to experience one of the coldest outbreaks to ever invade the Plains in February 1899.
Last year brought the coldest temperatures in over seven decades to some parts of the Lone Star State during a historic cold snap that impacted millions of Americans from the Canadian border to South Texas.
According to FOX Weather's senior weather data specialist Shane Brown, Dallas spent 232 non-consecutive hours (93 consecutive and 139 consecutive) at or below freezing. The 139 straight hours was the Metroplex city's fifth-longest period with consecutive below-freezing temperatures.
Nearby Waco, Texas, spent 205 consecutive hours below 32 degrees, which was a record for that city.
Dallas plunged to minus 2 degrees on the morning of Feb. 16, which was its coldest temperature in over 70 years.
But that only tied Dallas' second-coldest temperature of all time, so that means it was once colder than minus 2. In fact, it was much colder, and that was in February 1899.
According to Dr. Brian Brettschneider, an Alaska-based climatologist, the February 1899 cold wave was much more extreme than February 2021, and it's "not even close."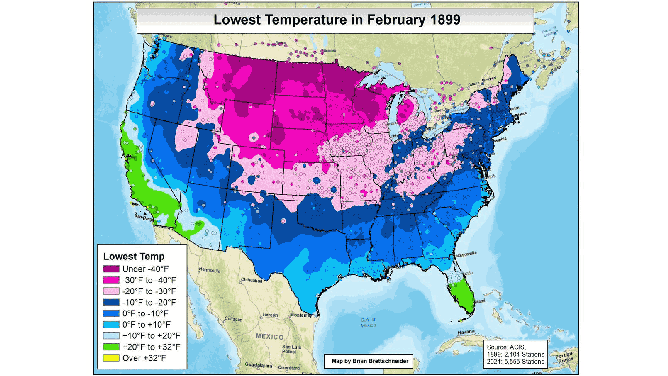 "February 1899 was much colder nearly everywhere," Brettschneider said in a tweet.
Dallas fell to minus 8 degrees on the morning of Feb. 12, 1899, setting its all-time record low that has now stood for 123 years. The city's high that afternoon was only 12 degrees.
Those temperatures are 45 to 50 degrees below average for North Texas in mid-February. The average high in Dallas on Feb. 12 is 60 degrees, and the average low is 39 degrees.
To the north in the Sooner State, Oklahoma City also set its all-time record low in 1899 when it plunged to minus 17 degrees on the morning of Feb. 12. The coldest it got last February was minus 14 degrees on Feb. 16.
Nearly every location that Brettschneider analyzed in the Lower 48 reported lower temperatures in February 1899 than in February 2021. The only exceptions were very small areas of northern Texas, central Oklahoma and southeastern Nebraska.
Despite not being the nation's coldest outbreak, temperatures in February 2021 were still extremely cold. The cold wave became the costliest winter storm event on record in the United States.
The National Oceanic and Atmospheric Administration estimates last year's historic cold snap was a $24 billion disaster, doubling the inflation-adjusted cost of the "Storm of the Century" in March 1993.