Drought-stricken Dallas sees record rains drain away toward Houston's water supply instead
Some 9-15 inches of rain fell across much of the Dallas-Fort Worth Metroplex Monday, but instead of helping the drought, much of the water flowed into Houston's watershed.
DALLAS -- Several inches of rain fell across the Dallas-Fort Worth area Monday night, causing widespread flooding issues. For the drought-stricken North Texas metroplex, hopes that the record rain would ease water woes evaporated with news that much of that water is headed south to Houston.
Some areas around the metro received 9-15 inches of rain Monday night, coming just days after the area broke a near-record 67-day streak with no rainfall. 
HOW TO WATCH FOX WEATHER ON TV
Extremely parched soils in the midst of extreme to exceptional drought conditions caused the ground to essentially behaved as concrete. It was unable to absorb the excessive rainfall, resulting in major flash flooding across the Metroplex.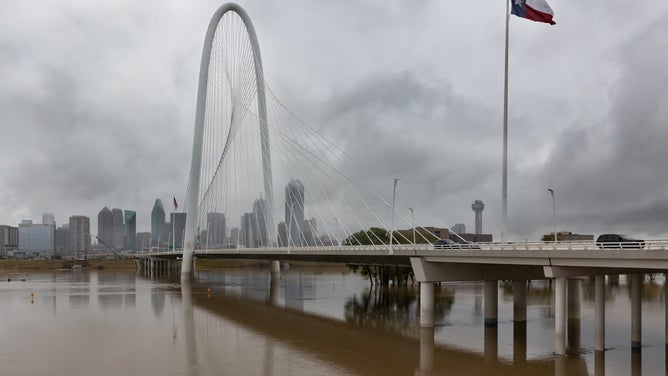 FROM DROUGHT TO DELUGE: WHY THE DALLAS FLOOD HAPPENED
Much of that rain fell in the wrong spot for Dallas' water systems to collect the runoff.
"Unfortunately, the heaviest rainfall fell over Dallas and Tarrant counties," the National Weather Service in Fort Worth wrote. "This impacted a lot of people with flooding, but also this area is not part of the watershed for our water districts."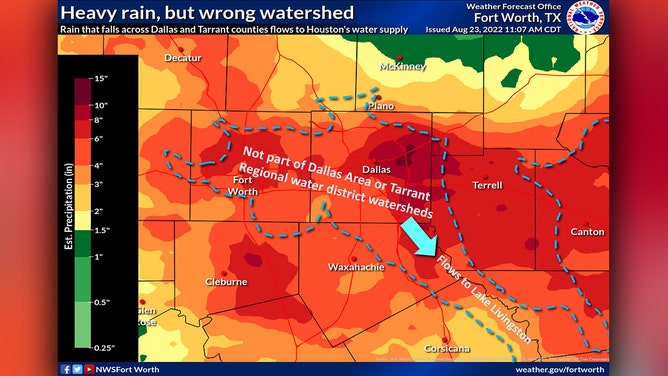 Instead, the water will flow to Lake Livingston.
"And be Houston's water supply," NWS said.
The Houston area has also been in drought and will welcome the extra water, as the city has been asking residents to conserve water this summer.
Meanwhile, Dallas needed heavier rains to the north and east of town to capture much of the runoff, while Fort Worth needed heavier rains to the northwest and west of the city.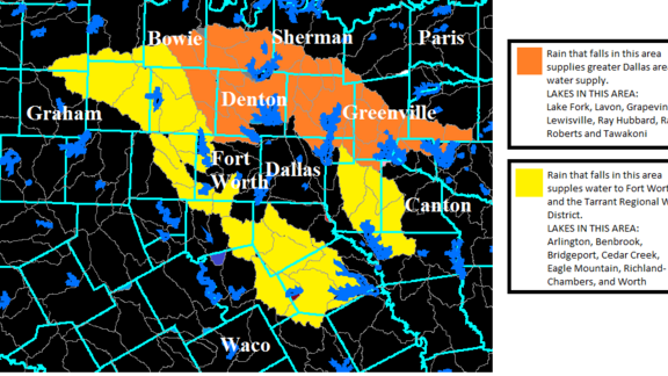 While some rain did fall in those areas, it paled in comparison to what fell just outside the runoff areas.