Powerful derecho blasted Midwest with 660 miles of destructive winds
A derecho has a swath of straight-line wind damage that covers a distance of at least 250 miles
The FOX Forecast Center can confirm a derecho was responsible for the destructive winds that blasted more than 600 miles of the Midwest on Wednesday.
Winds gusted over 90 mph in more than 30 locations across six states, including Wyoming, Colorado, New Mexico, Kansas, Nebraska and Missouri.
The strongest gusts reached or exceeded 100 mph in parts of the High Plains of Colorado, Kansas and New Mexico.
DRAMATIC VIDEOS ILLUSTRATE HISTORIC MIDWEST SEVERE WEATHER OUTBREAK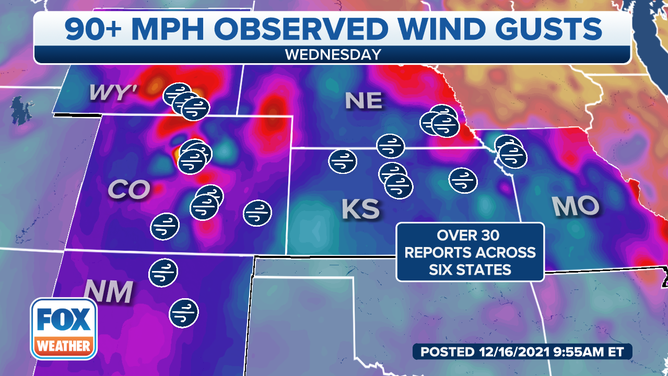 According to NOAA's Storm Prediction Center, Wednesday set the record for the greatest number of hurricane-force (75-plus mph) thunderstorm wind gusts in a single day in records dating to 2004. There were 55 such reports tallied by local National Weather Service offices. The previous record was 53 such reports on Aug. 10, 2020, also from a derecho.
In total, there were more than 400 reports of wind damage or winds of at least 58 mph on Wednesday. It was the second-most-active day of severe weather in 2021, behind only May 4, in terms of the total number of storm reports for damaging winds, large hail and tornadoes tallied by the NWS.
The entire 600-plus-mile line of thunderstorms had either a Severe Thunderstorm Warning or Tornado Warning in effect at 5 p.m. Central.
'DESTRUCTIVE' THUNDERSTORM ALERTS: WHAT THEY ARE AND WHY THE NWS ISSUES THEM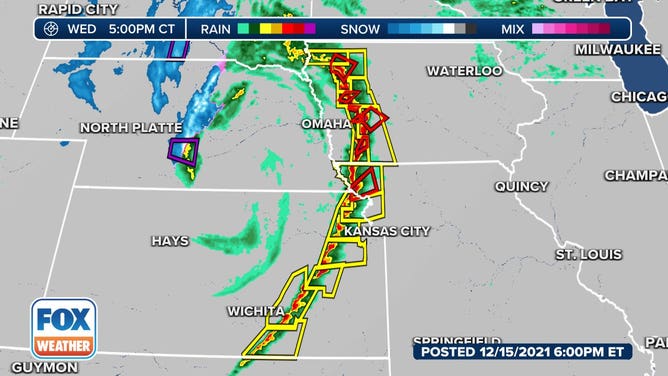 For meteorologists to classify a windstorm as a derecho – from the Spanish word for "straight" – the swath of straight-line wind damage it causes must cover a distance of at least 250 miles and include wind gusts over 58 mph along most of its path, as well as several, well-separated 75-mph or higher gusts, according to the SPC.
In Wednesday's case, the cluster of thunderstorms traveled about 660 miles over a period of 10.5 hours, according to Elizabeth Leitman, a meteorologist at the SPC. That more than doubles the required 250-mile distance criteria for a windstorm to be classified as a derecho.
Satellite images show powerful derecho from above
Spanning 660 miles, the powerful derecho could be seen from space by NOAA's advanced imagery satellites.
NOAA has a suite of spacecraft known as the Geostationary Operational Environmental Satellites, or GOES, that can show the intensity of weather events in real-time, observing dust, smoke and water vapor as storms progress. 
Together, the GOES-East and GOES-West satellites watch over atmospheric weather over more than half of the planet. 
The GOES-East satellite tracked the central U.S. windstorm as it moved over the Midwest with damaging hurricane-force winds on Wednesday. 
SEVERE WINDS MOVE INTO KANSAS WITH GUSTS UP TO 100 MPH
The satellite's dust-identification instrument showed a massive dust storm over the region, fueled by winds between 80 and 100 mph.
The image below shows the dust in bright yellow as it blasted across the central U.S. The yellow colors become more intense with greater confidence in dust based on the instrument's algorithm.
GOES-East continued to track the system Thursday as it moved over the Great Lakes, bringing snow and high winds.