Dramatic videos illustrate historic Midwest severe weather outbreak
The wild weather spawned rare December tornadoes, triple-digit wind gusts, dangerous dust storms, wildfires, record heat and dangerous snow squalls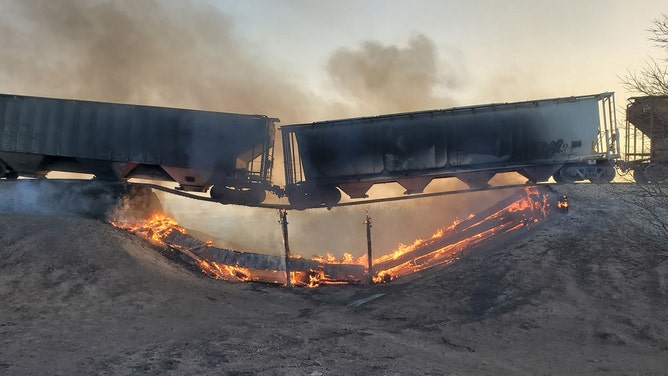 TOPEKA, Kan. – Wednesday was a day for the record books following a historic severe weather outbreak to more than a dozen states across the Midwest.
The wild weather spawned rare December tornadoes in the upper Midwest, triple-digit wind gusts in multiple locations, dangerous dust storms, wildfires, record heat and intense snow squalls as storms raced across the countryside at highway speeds.
 The National Weather Service had received more than 585 severe wind reports Wednesday. Communities in Minnesota, Iowa, and Nebraska are among those dealing with damage and power outages Thursday morning.
A massive dust storm hit western Kansas as wind speeds topped 100 mph in Russell, equating to an EF-1 tornado. Jarrod Tucker filmed this video that shows yellow dust swallowing the town of Elkhart as debris flies through the sky.
Kansas Governor Laura Kelly issued a declaration of a State of Disaster Emergency on Thursday due to elevated dangers of wildland fires. The Kansas National Guard will deploy UH-60 Black Hawk helicopters to key locations to expedite assistance to local responders. The helicopters are equipped with collapsible buckets used to draw water from water sources to drop on areas that are difficult for ground crews to reach.
"The winds yesterday made it difficult to get burning fires contained," Kelly said. "Prepositioning firefighting personnel and equipment in western Kansas along with those assets responding will allow our aviation assets to quickly respond and keep Kansans safe. Local responders work heroically to respond when wildland fires threaten their communities and the state stands ready to back them up, if needed."
 
Dozens of tornado warnings were issued, along with 23 tornado reports Wednesday. One damaging tornado crossed a highway in Lawton, Iowa, downing huge high voltage transmission power line towers. 
A severe thunderstorm swept through parts of Nebraska, razing buildings to the ground in Clatonia. Video provided by Ian McDougall shows the extent of the damage.
The Gage County, Nebraska, Sheriff's Office, said high winds and rain caused traffic and safety concerns with washed out roads, downed trees on power lines, and debris being blown onto the roadway. A building was blown onto one road, with more debris blocking another.
Extreme winds pushing or exceeding hurricane strength with 100-plus mph gusts also caused damage in Colorado. 
Christina Ardolino recorded video from Springfield as she surveyed the damage. She said the sand felt like little needles hitting her face. 
"Definitely not a fun day working outside. Wind ripped roofing and siding off, mixed with other debris," Ardolino said on Facebook. "Saw a cow flying. Just kidding, I didn't see a cow flying, BUT... if a cow was going to fly, today would have been the day!"
Thousands in Colorado were still without power and some schools closed on Thursday as crews worked to repair damaged lines.
A line of storms rolled through northeast Iowa Wednesday evening causing significant damage. Trees were toppled, and farm buildings were destroyed.
The NWS in Des Moines said the line of strong to severe thunderstorms entered western Iowa between 4-5 p.m. and produced damaging wind gusts from 60 to 80 mph with even a few 90-plus mph wind gusts. 
Embedded tornadoes also developed along the leading edge of the line, the NWS said. Once the storms moved into eastern Iowa, intense west winds developed and 60-80 mph wind gusts were common.
Crews have been working tirelessly since Wednesday to keep multiple wildfires from spreading in the Southern Plains. 
Dry conditions and an unprecedented wind event led to the National Oceanic and Atmospheric Administration's Storm Prediction Center to issue its first-ever "Extremely Critical Risk" of fire weather in December.
A drone was able to capture incredible video of a large wildfire burning outside Guymon, Oklahoma on Wednesday. Around 1,200 people were told to evacuate in the area after the wildfire began to grow and quickly spread.
The Oklahoma Fire Service said about 10,000 acres had been burned, and at least one structure was lost. As of Wednesday evening, crews were successful in preventing an eastward spread of the fire toward Guymon, but work continues to fully extinguish the flames.