Widespread, significant winter storm to dump heavy snow from central Rockies to upper Midwest late this week
Denver and Salt Lake City will finally see their first measurable snow of the season
A widespread and significant winter storm is expected to dump heavy snow from the central Rockies to the central High Plains and upper Midwest Thursday into the weekend.
This system will first make its way through portions of California's Sierra Nevada and the Intermountain West, dropping an area of moderate snow Wednesday night into early Thursday. Lighter snow will also affect the lower elevations of the region, potentially slowing down drivers during the Thursday morning commute in parts of central and northern Nevada.
A cold front will team up with moisture from the Pacific Ocean and enhance the snowfall over a much larger area on Thursday, causing heavy snow to develop over the Rockies of Colorado and Utah. The storm will spread into the central High Plains Thursday night and Friday, then reach the upper Midwest by Friday night and Saturday.
The National Weather Service has issued Winter Storm Watches, Winter Storm Warnings and Winter Weather Advisories from the Washington and Oregon Cascades and California's Sierra Nevada eastward into the Intermountain West, central Rockies, central High Plains and upper Midwest.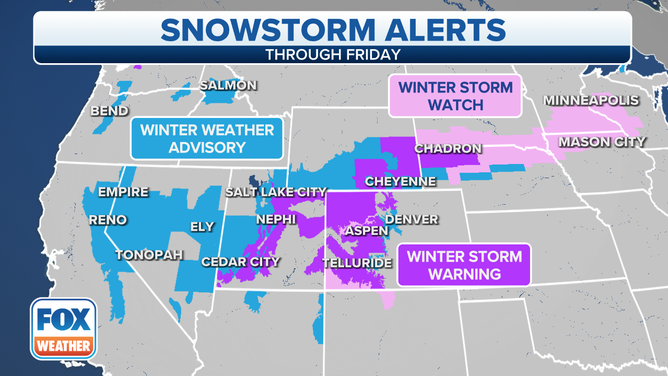 Here is a day-by-day outlook for this winter storm.
Thursday
Snow is forecast to steadily spread eastward across the central Rockies throughout the day Thursday.
The heaviest snow is likely over the higher elevations of the Rockies of Utah, western Colorado and far southern Wyoming.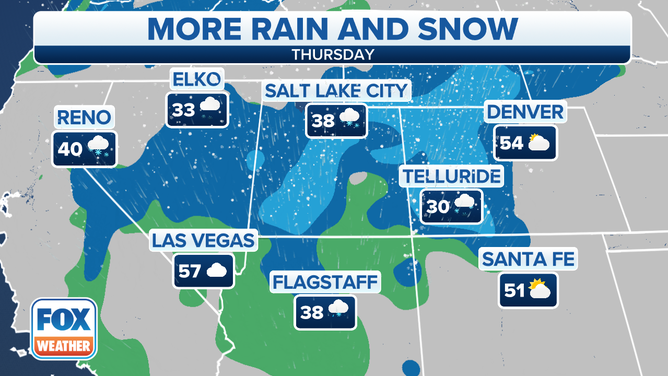 By Thursday night, snow will develop over parts of the central High Plains while also continuing to fall over the central Rockies.
Denver still has yet to see measurable snow (at least 0.1 inches), but this might change for the Mile High City Thursday night into Friday.
DENVER'S SNOWLESS STREAK MAY END SOON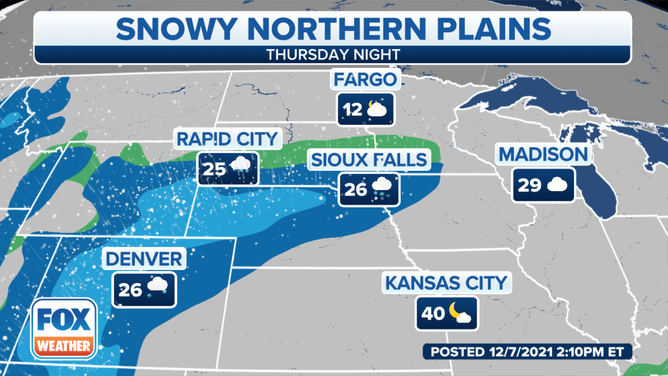 Friday
Heavy snow is forecast to create hazardous driving conditions during the Friday morning commute from southeastern Wyoming into western Nebraska. Residents in these areas are advised to plan ahead as difficult travel conditions are increasingly likely with this first significant snowstorm of the season.
Snow will also spread eastward through the day into the rest of Nebraska, southeastern South Dakota, southern Minnesota and parts of Iowa and Wisconsin. The heaviest snow will likely be focused in a band extending from Nebraska to northwestern Iowa and southern Minnesota.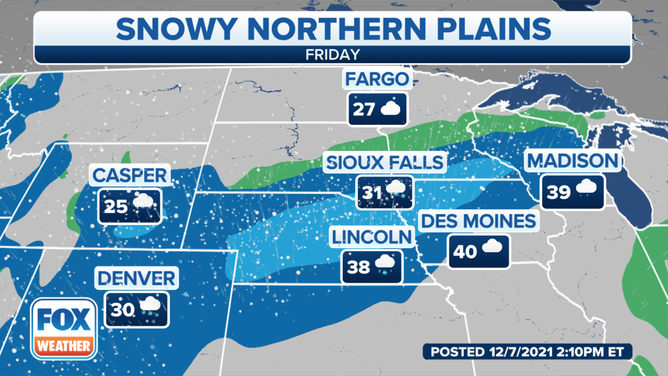 Friday night, snow will continue to fall over the upper Midwest from eastern Nebraska into Iowa, southern Minnesota, much of Wisconsin and portions of northern Michigan.
A band of heavy snow is forecast to set up over western and northern Iowa, southeastern Minnesota and central and northeastern Wisconsin.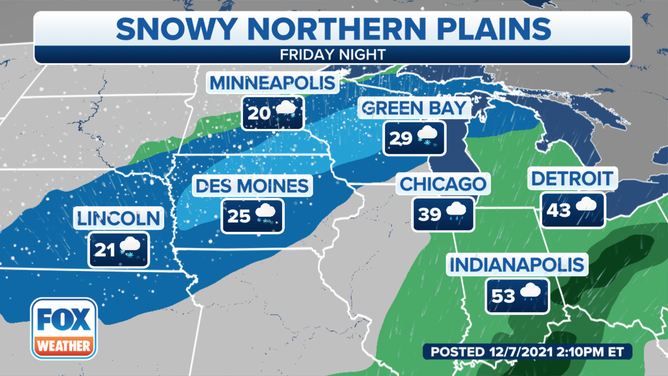 The snow will continue into Saturday morning in Wisconsin and the Upper Peninsula of Michigan before tapering to lingering snow showers and flurries during the afternoon.
How much snow?
The high country of Colorado is expected to see the heaviest snow with this winter storm. More than a foot of snow is forecast to blanket those areas, which is welcome news for ski resorts suffering from a widespread drought that's plaguing much of the western U.S.
HOW SKI RESORTS MAKE THEIR OWN SNOW WHEN MOTHER NATURE DOESN'T
The Sierra Nevada and Utah's Wasatch Range are predicted to receive 6 to 12 inches of snow, with locally higher amounts over a foot possible in the highest elevations east and southeast of Salt Lake City.
Salt Lake City itself will see a few inches of snow, while an inch or two is predicted for Denver. For both cities, this will be the first measurable snow (at least 0.1 inches) of the season.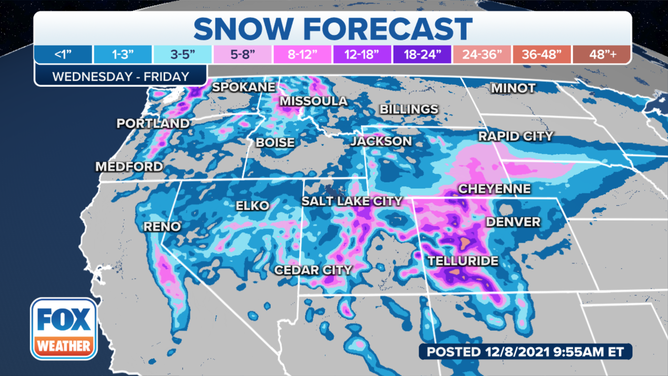 As the winter storm arrives in the Plains and upper Midwest later this week, it's expected to dump at least 6 inches of snow from southeastern Wyoming into northern Nebraska, southern South Dakota, northern Iowa, southern Minnesota, central and northeastern Wisconsin, the Upper Peninsula of Michigan and portions of northern Lower Michigan.
However, since we're still a couple of days away, the placement of this zone of heaviest snow totals could shift. That might cause significant forecast changes for cities such as Omaha, Nebraska, or Minneapolis/St. Paul.
Locations north and south of the heaviest snow zone will see lighter accumulations of less than 6 inches.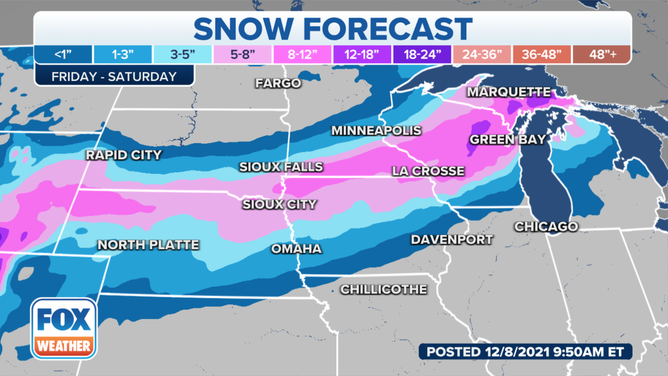 The warm side of this storm system is expected to produce severe thunderstorms Friday into Friday night in parts of the Mississippi, Ohio and Tennessee valleys.
MORE SEVERE STORMS, INCLUDING TORNADOES, POSSIBLE FROM SOUTH TO OHIO VALLEY ON FRIDAY
Check back with FOX Weather for updates on both the snowy and warmer sides of the storm in the days ahead.