Denver's snowless streak may end soon
There have been 230 consecutive days without measurable snowfall in Denver.
DENVER, Colo. – The Mile High City has yet to see measurable snow this season, but a significant winter storm is on the way that could change that.
As of Dec. 7, 2021, there have been 230 consecutive days without measurable snowfall (at least 0.1 inches) at Denver's airport, which is the second-longest streak in recorded history.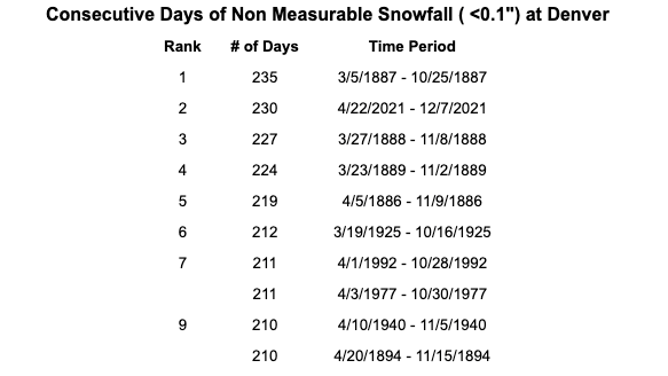 Starting Wednesday, a significant winter storm will impact the central Rockies.
In preparation, the National Weather Service issued a Winter Storm Watch, as they say, that areas above 10,000 feet could see snow accumulations of one to three feet possible through Friday.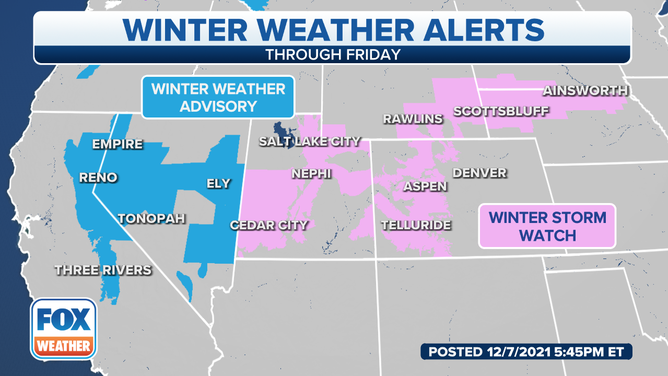 This is the first Winter Storm Watch that the National Weather Service in Boulder has issued this season. 
But the question remains, will this winter storm impact Denver and end the snowless streak? 

"This is surely the best potential we've had this season, and confidence is beginning to increase," the NWS Boulder wrote about Denver's snow chances. 
Weather models show that Denver could see a light accumulation in the metro area.
As the storm draws near, we will be able to more accurately forecast the amount of snow that Denver will receive. 
If the city does receive snow, do not expect it to last long. Temperatures will rebound into the 50s next week.