More severe storms, including tornadoes, possible from South to Ohio Valley on Friday
The severe threat comes days after this region experienced severe thunderstorms and tornadoes
Severe thunderstorms capable of producing tornadoes and damaging winds are possible Friday across parts of the Mississippi, Ohio and Tennessee valleys.
This latest threat comes just days after severe thunderstorms and tornadoes ripped across parts of the South.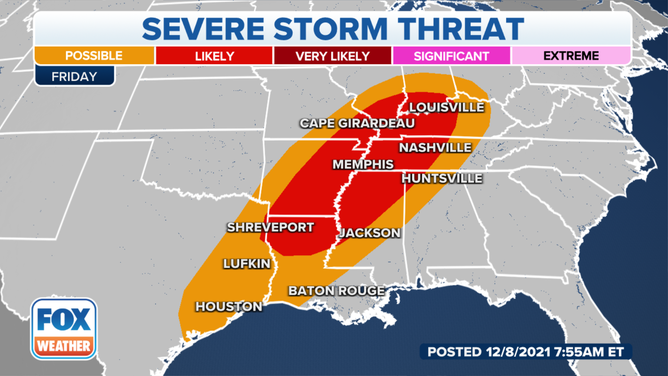 NOAA's Storm Prediction Center said an upper-level disturbance will punch eastward out of the Rockies and across the Plains, eventually reaching the Mississippi Valley by Friday afternoon and evening. A surface low-pressure system from the Plains is also expected to move eastward into that region during the day Friday.
Dew points are forecast to be in the 60s Friday morning from central and eastern Texas into the lower Mississippi Valley and mid-South, providing the moisture and instability needed to trigger the development of severe thunderstorms. As the upper-level disturbance and low-pressure system continue to shift eastward, storms will fire up Friday afternoon into Friday night along a warm front that will stretch from the Mississippi, Ohio and Tennessee valleys into parts of the Southeast.
WHY DEW POINT IS THE BEST WAY TO CLASSIFY HOW MUCH HUMIDITY IS IN THE AIR
As a result, severe thunderstorms are forecast to threaten an area that stretches from Houston into southwestern Ohio.
Shreveport, Louisiana; Pine Bluff, Arkansas; Nashville and Memphis, Tennessee; and Louisville, Kentucky, could see some of the strongest storms from this system, including possible tornadoes.
Check back with FOX Weather for updates as this storm system continues to develop.