Damage reported in South as severe storms moved through
National Weather Service says Trousdale County experienced its first December tornado on record
Damage from severe thunderstorms was reported Monday across the South as a powerful cold front moved across the region.
Here's a closer look at the damage that was reported.
Tennessee

According to the National Weather Service in Nashville, Tennessee, an EF-0 tornado was confirmed early Monday morning in Trousdale County.
Survey crews said the tornado, which had winds of 85 mph, was 100-yards-wide and traveled along a path 4.26 miles long. 
The tornado touched down just east of Hankins Lane just before 6 a.m. and continued east where it blew down several trees on Oldham Road. It continued east along old Highway 25 where it toppled dozens of trees and destroyed some barns and outbuildings.
The tornado also blew an RV on top of a school bus. FOX 17 in Nashville reported that the driver of the bus was inside at the time of the storm. He is expected to be OK. No children were aboard.
As the tornado continued, it downed more trees south and southeast of downtown Hartsville. It then began to weaken as it crossed Thompson Lane and Circle Lane, and then lifted back into the air just south of Trousdale County Elementary School.
The National Weather Service said this was the first December tornado on record in Trousdale County.
A shop near Carthage was destroyed by a storm that also knocked down trees and power lines, according to the NWS.
A school near Jamestown sustained damage to its HVAC system and outbuildings, according to the NWS.
The NWS also reported there were several trees that had been toppled by high winds in the Lawrenceburg area.
Trees and power lines were also reported felled in Fentress, Overton and Coffee counties, according to the NWS.
The Morristown, Tennessee, National Weather Service office reported trees down in Bledsoe, Scott and Campbell counties, as well.
Kentucky
At least two people were injured Monday morning in the downtown area of Stamping Ground, Kentucky, according to a storm report relayed by the NWS. There were also reports of overturned mobile homes.
Officials have given this tornado an initial rating of EF-1 with winds of 95 mph.
Trees and power lines were brought down across Scott County, Kentucky, and some of those trees fell onto homes. The NWS said roads were blocked with debris.
Mississippi

Lightning struck a tree on the campus of Mississippi State University in Starkville. The tree was located on the Drill Field and had been split by the strike, according to student Dylan Hudler.
Stormy Monday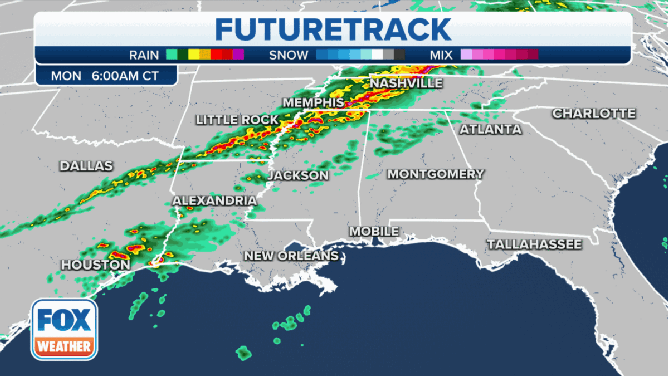 Severe Thunderstorm and Tornado Warnings were issued in eastern Tennessee and northern Alabama as the cold front, which stretched from the Great Lakes down to Central Texas, marched east.