Storms continue in South as cold front marches east
Powerful cold front marching east across US
Thunderstorms continue Monday in the South as a powerful cold front marches east across the U.S.
Tornado warnings were issued from Kentucky to Texas on Monday morning. Those warnings continued near New Orleans on Monday afternoon, where at least four tornado warnings were issued for storms that were headed for southern Mississippi. By Monday evening, all tornado warnings had expired.
GET WEATHER ALERTS FOR YOUR AREA IN THE FOX WEATHER APP
Storm damage has been reported across the South. Officials at the National Weather Service have confirmed at least one tornado in Kentucky and are evaluating several other reports of wind damage to determine if they were caused by a twister.
At least two people were injured Monday morning in the downtown area of Stamping Ground, Kentucky, according to a storm report relayed by the NWS. There were also reports of overturned mobile homes. Trees and power lines were brought down across Scott County, Kentucky, and some of those trees fell onto homes. The NWS said roads were blocked with debris.
Residents should keep an eye on the sky and have their FOX Weather app handy, as severe thunderstorms are possible through Monday afternoon across an area that stretches from eastern Texas to the Southeast.
The Storm Prediction Center said the front will move southeastward during the day Monday through Central Texas and the lower Mississippi Valley.
Stronger storms could pop up along eastern and coastal Texas Monday morning as the line continues to slide to the southeast. Forecasters said strong winds and hail would be the primary threats from that line.
Those storms could fire up in places like Alexandria, Louisiana, and Jackson, Mississippi by mid-morning. Those storms have the potential to be stronger, as the SPC has a higher chance for severe weather in that area.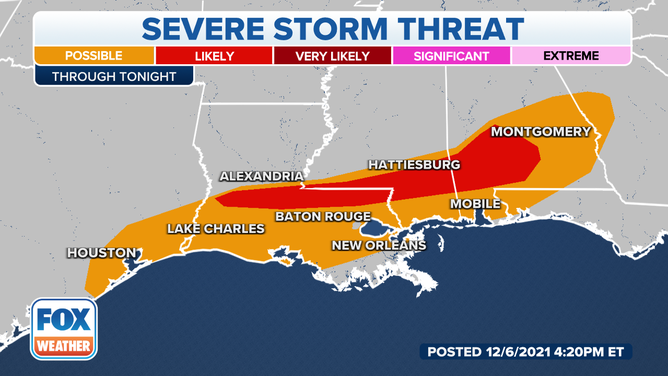 The risk of storms continues for the South on Tuesday as the front continues trekking across the country, but no widespread areas of severe weather are expected.