Northwest, Plains, New England among few places to see white Christmas this year
Current projections indicate less than one-third of the US will have snow on the ground for Christmas Day
Millions of Americans will not be able to fulfill the dream of building a snowman in a meadow or taking a walk in a winter wonderland because of a continued warmer-than-average weather pattern that will keep any snow at bay.
Exceptions will exist in the Mountain West, the Rockies and parts of the Northern Plains, upper Midwest and northern New England, where temperatures should remain cold enough to keep some of the snowpack on the ground through Christmas Day.
Computer forecast models show no significant winter storms traversing the United States this week, which means areas that don't already have snow on the ground are likely out of luck for seeing a winter wonderland.
CHRISTMAS WEEK TEMPERATURES EXPECTED TO BE WARMER THAN AVERAGE ACROSS MUCH OF U.S.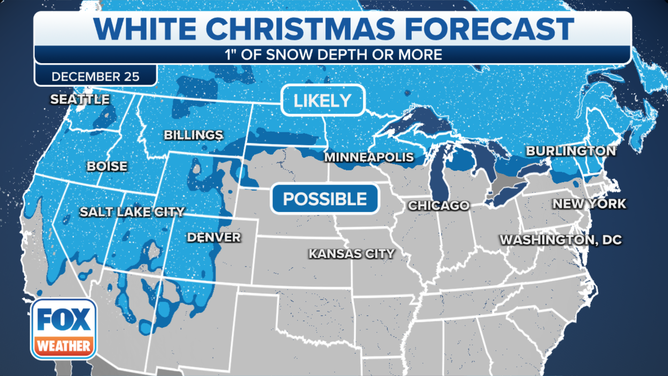 In order to qualify for a white Christmas, there must either be at least 1 inch of snow on the ground on Christmas morning or falling snow must accumulate to at least 0.1 inches on Dec. 25. This is the same criteria used by the National Weather Service.
Current projections indicate less than one-third of the U.S. will have snow on the ground for Christmas Day, meaning a "green" or "brown" Christmas is in store for most Americans.
Seattle is among the few major cities in the U.S. that could see snow falling on Christmas. The forecast calls for a rain-and-snow mix for part of Saturday before changing to all snow through Sunday.
While the lack of snow cover may be disappointing for some, the holiday will join recent years when snow was hard to come by for many.
The last time a large chunk of the country saw a white Christmas was back in 2017, when an estimated 49% of the Lower 48 had snow on the ground.
That year was an anomaly, as typically only about one-quarter of the nation ends up seeing what qualifies as an official white Christmas based on long-term averages.
WHAT ARE THE ODDS OF A WHITE CHRISTMAS?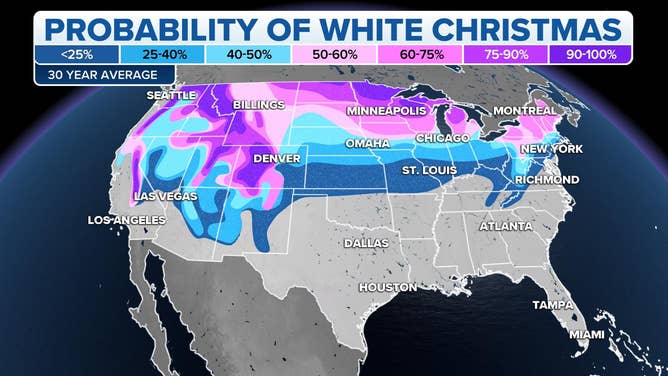 Meteorologists say the lack of snow across many parts of the U.S. is not surprising, considering more than 3,600 record-high temperatures were reported during the first half of December.
The overall warm pattern fits into the outlook released by NOAA in October that predicted a warmer-than-average winter for a large portion of the country.
WHERE YOU'LL FIND CHRISTMAS TREES ON ROOFTOPS
NOAA's Climate Prediction Center expects the ongoing La Niña weather pattern will favor continued waves of warmth through the remainder of the 2021-22 winter season.