Christmas week temperatures expected to be warmer than average across much of US
Many areas could see temperatures 20 to 30 degrees above average this week
We've been seeing a lot of warmer-than-average temperatures across the United States in November and December, and it looks like that trend will continue as we enter the final week before Christmas.
NOAA's Weather Prediction Center said between the unsettled weather in the Pacific Northwest and the Southeast will be a ridge of high pressure that will allow for above-average temperatures all week.
Places that will see the dry conditions and mild air include the central Rockies, much of the central U.S. and the Northeast.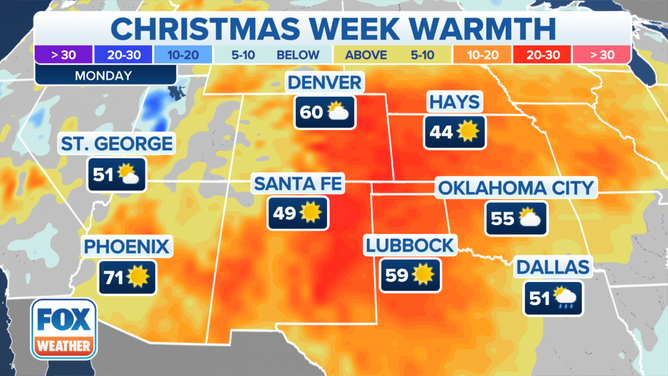 On Monday, temperatures are expected to be 10 to 20 degrees above average in many areas. Denver is expected to top out around 60 degrees. And while temperatures may seem chilly for Santa Fe, New Mexico, and Hays, Kansas, on Monday, temperatures of 49 degrees and 44 degrees, respectfully, are warmer than average for this late in December.
Oklahoma City, Oklahoma, is another city expected to be mild, with temperatures there expected to hit 55 degrees on Monday.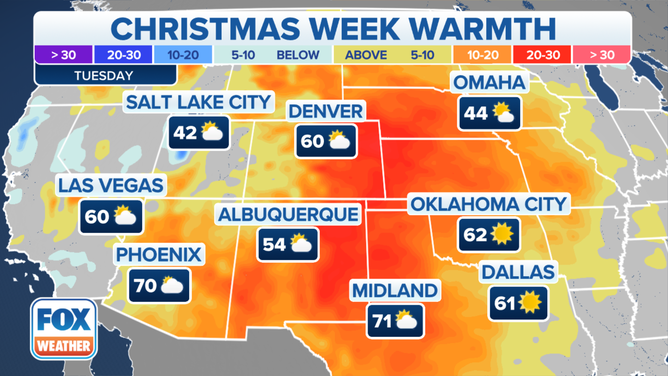 The above-average temperatures will remain in place as we head into Tuesday.
Omaha, Nebraska, while still chilly, is expected to reach the mid-40s, which is warmer than average for that area in late December. The mild temperatures will stretch across the Central Plains and into the Southeast.
Another 60-degree day is expected in Denver on Tuesday. Farther south, in Albuquerque, New Mexico, a high of 54 degrees is expected. Phoenix and Midland, Texas, will enjoy temperatures in the 70s.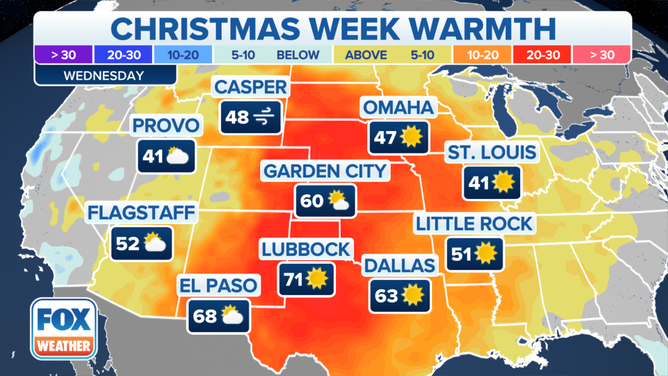 The mild air will be on the move as we get into the middle of the week.
While the Central Plains will still enjoy temperatures 20 to 30 degrees above average on Wednesday, the mild temperatures will move into places like St. Louis, which could get into the lower 40s. Little Rock, Arkansas, will be a bit warmer at 51 degrees. Dallas is expected to be sunny and mild at 63 degrees on Wednesday.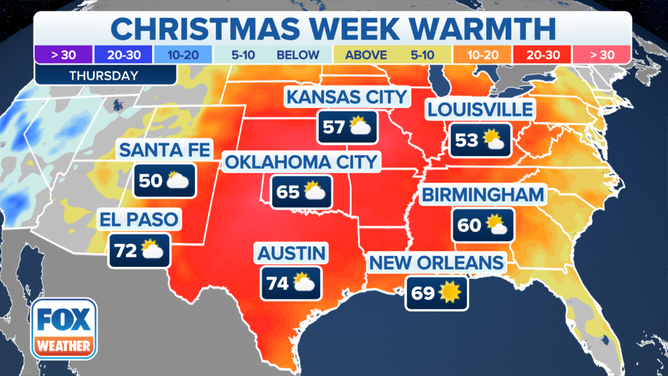 By Thursday, the mild temperatures will move farther east.
Louisville, Kentucky, will enjoy temperatures in the lower to mid-50s. Birmingham, Alabama, could hit 60 degrees, and New Orleans will enjoy the sunshine and temperatures nearing 70 degrees. Austin, Texas, will be about 20 degrees above average, with temperatures getting into the mid-70s.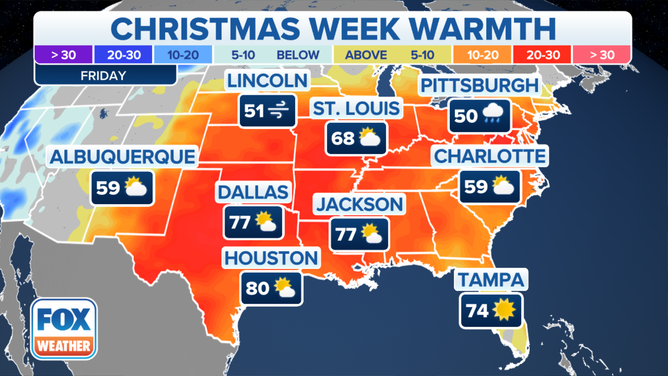 More of the country will see temperatures 20 to 30 degrees warmer than average by Christmas Eve.
Rain showers are expected in Pittsburgh, but temperatures should hit 50 degrees. Charlotte, North Carolina, will be near 60 degrees with some sunshine on Friday.
Along the Gulf Coast, temperatures will be in the 70s and 80s. Tampa will see temperatures in the mid-70s for Christmas Eve, while Houston will enjoy 80 degrees and mostly sunny skies.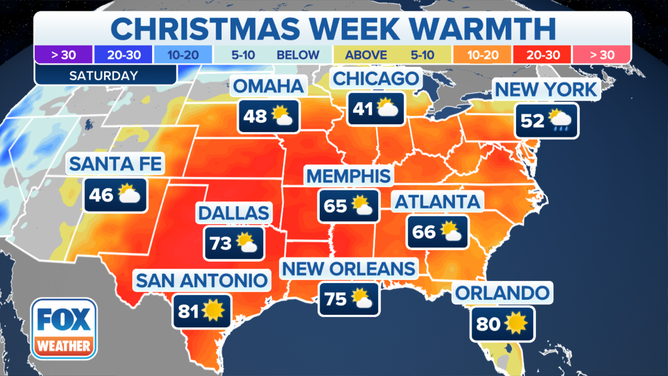 And on Christmas Day itself, a high of 52 degrees and some rain showers are expected in New York City. Atlanta will get into the mid-60s. And people at the theme parks in Orlando, Florida, will enjoy 80-degree warmth and plenty of sunshine.
More temperatures in the 70s and 80s will be felt along the Gulf Coast. Farther north, it will be chilly but still warmer than average for Christmas.
Chicago will be in the lower 40s. Omaha will also be cool at 48 degrees.
Continued warm temperatures are also expected in Dallas, Houston and San Antonio, Texas, on Christmas Day.