What La Nina's continuation into summer could mean for weather
Below-average sea surface temperatures continued during February for much of the eastern and central Pacific, prolonging the La Niña event
WASHINGTON, D.C. – The La Niña that has largely been in control of weather patterns since 2020 may continue to hang around into summer, according to the National Oceanic and Atmospheric Administration.
The agency's Climate Prediction Center released an outlook on Thursday that showed a 53 percent chance the atmospheric phenomena would continue through August, with La Niña or neutral conditions continuing through the fall.
Experts say the dominance of La Niña is evident by the cooler than average water temperatures in the eastern and central Pacific.
Ocean temperatures in these regions have global implications on weather patterns.
HOW TO WATCH FOX WEATHER ON TV
During the winter, La Niña patterns typically lead to increased precipitation across the Ohio and Tennessee valleys and in the Pacific Northwest. Consequently, temperatures tend to be warmer than average in the Southeast and colder than usual across much of the Midwest and northern Plains.
There is less of a known correlation between La Niña and widespread pattern anomalies across the Northern Hemisphere during summer, but some hints exist on what the country could face.
According to climate data, recent La Niña summers have typically produced drier than average conditions in the Plains, Southeast and mid-Atlantic.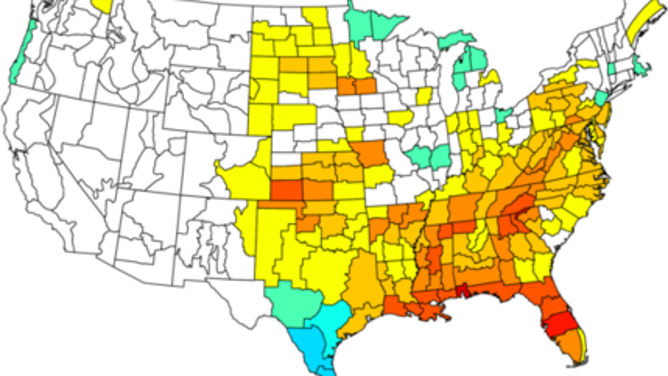 These dry spells can be interrupted by tropical cyclones that are usually more prevalent in the Atlantic basin because of reduced wind shear and sea surface temperatures.
EXPERTS PROVIDE FIRST GLIMPSE OF POTENTIALLY ANOTHER BUSY ATLANTIC HURRICANE SEASON
Usually, because of a ridge of high pressure and drier weather, the heartland tends to see temperatures that are warmer than average during La Niña summers with cooler conditions along both the East and West coasts.
While it is too soon to determine how the 2022 La Niña will impact the country's summer, forecasters are expected to release updated temperature and precipitation outlooks on March 17 and experts at Colorado State University will release their annual hurricane outlook on April 7.