Tropical Storm Jose joins Invest 94L in active Atlantic as peak hurricane season nears
Invest 94L near Africa has a high chance of developing into at least a tropical depression while Tropical Storm Jose and the remnants of Tropical Storm Gert are still capturing the attention of the NHC.
What was Tropical Depression Eleven meandering over the Central Atlantic Ocean has become Tropical Storm Jose, adding to a busy basin expected to remain active as the season's peak approaches around Sept. 10. 
Here's a closer look at each of the tropical systems swirling out in the Atlantic:
Tropical Storm Jose
Tropical Storm Jose is located about 750 miles east of Bermuda with maximum sustained winds of 40 mph, the National Hurricane Center said. Little strength change is forecasted over the next day or so, with the small system forecast to be absorbed by Hurricane Franklin by the weekend.
Here's the latest on Tropical Depression Eleven.
(FOX Weather)
---
Tropical-storm-force winds extend outward up to 45 miles from the center. There is no threat to land.
NEAR-AVERAGE 2023 ATLANTIC HURRICANE SEASON EXPECTED WITH UP TO 17 NAMED STORMS, NOAA SAYS
A look at the forecast track for Tropical Depression Eleven.
(FOX Weather)
---
Invest 94L swirls near Africa with high chance of development
A tropical wave near the west coast of Africa is still triggering scattered showers and thunderstorms and has since been designated Invest 94L. Invest is a term used by the NHC to indicate an area being closely monitored for the potential of tropical development. 
According to the NHC, it is possible that a tropical depression may develop later this week as the system moves towards the west-northwest or northwest direction across the eastern tropical Atlantic. The odds of formation into a tropical depression in the next 2 days are at 80%. If the storm eventually develops into a tropical storm, it will take the name Katia.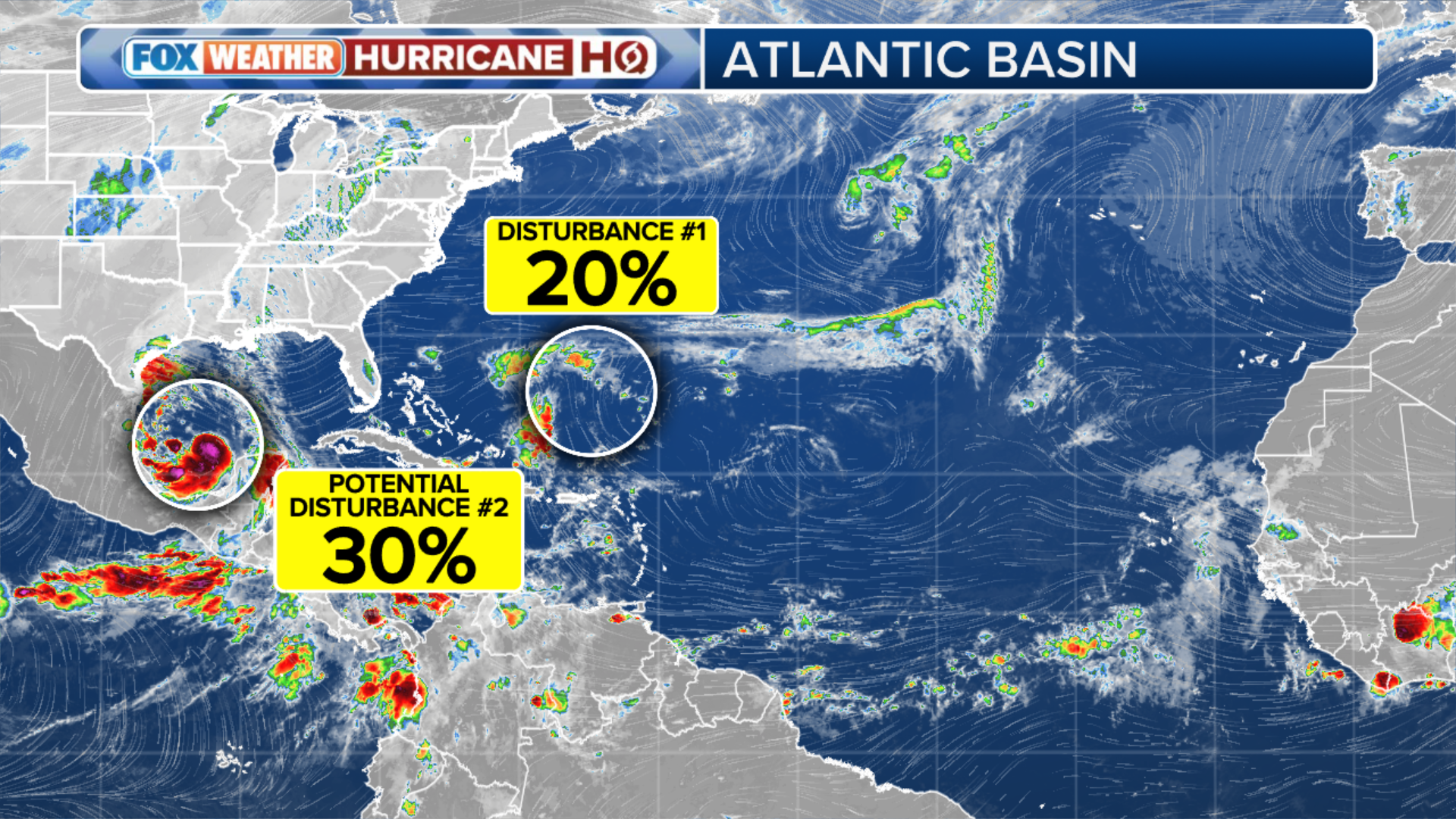 There are several areas being monitored in the Atlantic Ocean this week.
(FOX Weather)
---
Former Tropical Storm Gert mulls brief comeback
The NHC has also returned to keep an eye on the remnants of what used to be Tropical Storm Gert, still meandering far out in the middle of the Atlantic. 
It's located in between Hurricane Franklin and Tropical Depression Eleven, but still only has a 30% chance of redevelopment as atmospheric conditions are not primed for additional strengthening. 
Hurricane Franklin and Post-Tropical Cyclone Idalia still ongoing
Tropical Depression Eleven joins Post-Tropical Cyclone Idalia and Hurricane Franklin in the Atlantic basin.
According to the NHC, Franklin is causing dangerous surf and rip currents along the Eastern Seaboard, while Idalia made a historic landfall in Florida's Big Bend region on Wednesday and has caused catastrophic damage and storm surge as it races inland into Georgia and South Carolina.
HURRICANE IDALIA, HURRICANE FRANKLIN PUT ON POWERFUL SHOW AS SEEN FROM SPACE