Tropical Storm Warnings cover 3 million on East Coast ahead of powerful winds, dangerous storm surge
This system, currently dubbed Potential Tropical Cyclone Sixteen, is forecast to become Tropical Storm Ophelia as it approaches the coast of North Carolina Friday and into the weekend, carrying heavy rains, strong winds and a potentially life-threatening storm surge.
As of 2 p.m. Friday, Tropical Storm Ophelia formed off the Carolinas. Continuous coverage on Tropical Storm Ophelia has moved here.
Over 3 million people on the East Coast are under Tropical Storm Warnings Friday as Potential Tropical Cyclone Sixteen approaches landfall in North Carolina and gains strength.
Already, the storm is considered to have peak winds of 50 mph and Piney Island, North Carolina hit a gust of 47 mph late Friday morning. The storm will eventually lash the coastal areas of several mid-Atlantic states with strong winds, potentially life-threatening storm surge and torrential rains that may lead to flash flooding through the weekend.
With weather conditions deteriorating in North Carolina through Friday morning as the storm approached, some coastal ferry routes have been suspended. Many area school districts have also either canceled or dismissed early on Friday.
WHAT'S THE DIFFERENCE BETWEEN A TROPICAL STORM AND A SUBTROPICAL STORM?
Several airlines, including Delta, United and Southwest have issued travel advisories, warning of potential flight delays along the East Coast. And many weekend events in the Hampton Roads area of Virginia have been canceled due to the threatening weather.
Many self-service sandbag stations are also up and running for residents wishing to prepare for possible flooding conditions.
Virginia Gov. Glenn Youngkin declared a state of emergency in advance of Potential Tropical Cyclone 16.
"I encourage all Virginians and visitors to keep up with the latest forecast for their area from a trusted source, make a plan, and have their emergency kits ready," the governor said.
This system is forecast to become a tropical storm or subtropical storm later Friday as it nears the coast of North Carolina, earning the name Ophelia once it's found to have a center of circulation. The storm already qualifies based on its estimated peak winds of 50 mph. 
A "subtropical" designation would simply mean the storm is a hybrid storm drawing its power both from nearby frontal systems and the warm waters of the Atlantic, but its impacts would remain the same.
In the interim, earning the PTC designation allows the NHC to issue Tropical Storm Warnings in anticipation of future development into a tropical storm with a projected near-term landfall.
WHAT IS A POTENTIAL TROPICAL CYCLONE?
A three-hour radar loop showing where showers and thunderstorms are ongoing. Severe Thunderstorm Warnings are indicated in yellow. Tornado Warnings are indicated in red, while Tornado Warnings with a confirmed tornado are indicated in purple. Flash Flood Warnings are indicated in green, while Flash Flood Emergencies are indicated in pink.
(FOX Weather)
---
"So this is another one of those tricky things that the center and the impact zone are going to be kind of well separated," said FOX Weather Hurricane Specialist Bryan Norcross.
Where are watches and warnings in effect because of Potential Tropical Cyclone 16?
Tropical Storm Warnings stretch from near Cape Fear, North Carolina north through all of coastal North Carolina, Virginia and Maryland to southern Delaware, including Albemarle and Pamlico sounds in North Carolina and parts of the Chesapeake Bay.
A Tropical Storm Warning is issued when tropical-storm-force winds (39-plus mph) are expected in the warning area within 36 hours. These winds may be accompanied by storm surge and coastal flooding.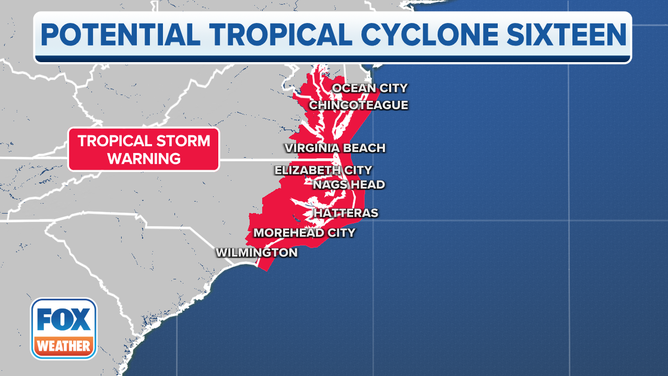 Coastal communities from North Carolina to the Delmarva Peninsula are either under a Storm Surge Warning or Watch. The combination of a dangerous storm surge and the tide will cause normally dry areas near the coast to be flooded by rising waters that move inland from the coast.
The highest storm surge levels are expected in eastern North Carolina, with a storm surge of 3-5 feet expected.
WHAT TO DO WHEN HURRICANE OR TROPICAL STORM WATCHES AND WARNINGS ARE ISSUED FOR YOUR TOWN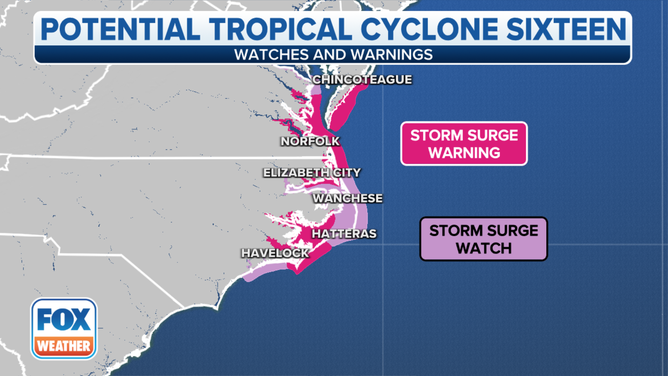 "We also have Storm Surge Watches because the Storm Surge Watch means that the water could be more than three feet above high tide. When we look at that in more detail, we see that the it's up to three feet down there - northern South Carolina into North Carolina. Then on Cape Hatteras, there's where the kind of the peak of this is - Cape Hatteras and then up north. So we're talking about in Pamlico Sound and then also up into Chesapeake Bay and the southern half of Chesapeake Bay," said Norcross.
Meanwhile, in the farther inland waters, Coastal Flood Advisories are in effect Friday night into Saturday morning, including Washington, D.C.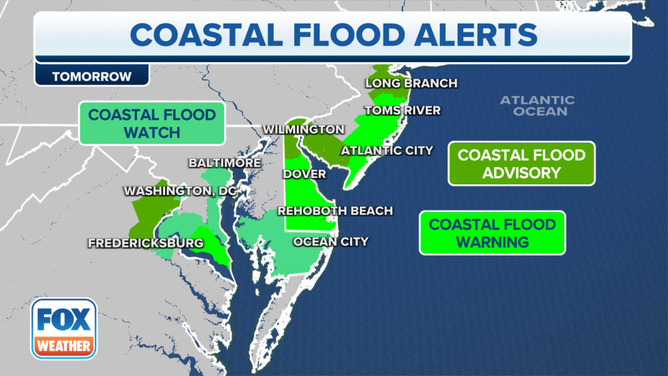 Some shoreline inundation up to about a half foot is expected in the nation's capital along portions of the seawall adjacent to Ohio Drive and Hains Point Loop Road, according to the National Weather Service. Farther south closer to the ocean, waters may reach 1-3 feet above tidal levels. Coastal flooding of 1-3 feet is also expected along the shores of Delaware and much of New Jersey.
Where is Potential Tropical Cyclone 16?
Potential Tropical Cyclone Sixteen is located about 325 miles south of Cape Hatteras, North Carolina, and is moving to the north at 14 mph. It has maximum sustained winds of 50 mph with higher gusts but lacks a center of circulation.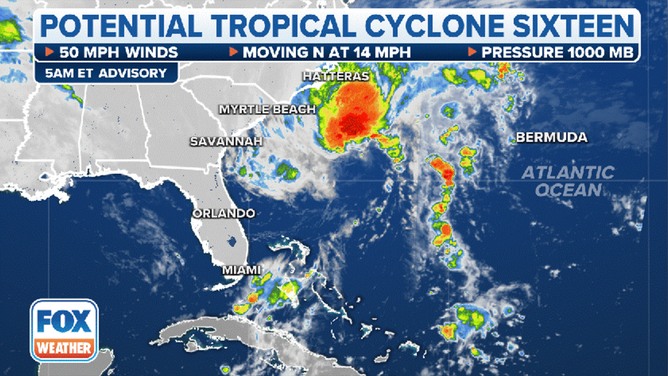 Where is Potential Tropical Cyclone 16 headed?
Potential Tropical Cyclone Sixteen is expected to head in a general northerly direction through the weekend, which will bring the worst of the weather to communities in North Carolina, Virginia, Maryland and other states with coastal communities.
After the cyclone starts to feal the impacts of land, the potential tropical cyclone is expected to weaken and become what is known as a post-tropical cyclone on Sunday.
No matter the classification, impacts will be felt along much of the Interstate 95 corridor, including Washington, D.C. and New York City. 
What are the expected impacts from Potential Tropical Cyclone 16?
Potential Tropical Cyclone Sixteen is expected to cause life-threatening storm surge along the coast, as well as produce heavy rain and strong winds and even the possibility of isolated tornadoes, no matter whether it eventually becomes Tropical Storm Ophelia. 
"People need to not get hung up on the whole 'does this get a name?' thing," FOX Weather meteorologist Britta Merwin said. "Because the impact really does not change."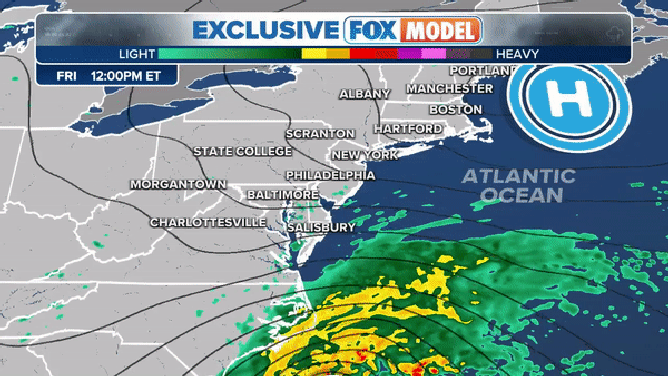 According to the FOX Forecast Center, impacts from the storm system are expected to begin Friday as it spins closer to the Southeast and mid-Atlantic coasts.
Several inches of rain are expected to fall from North Carolina to the Northeast and New England during the event, and strong winds pushing in from the ocean could cause coastal flooding. NOAA's Storm Prediction Center has also issued a Level 2 out of 5 risk for severe thunderstorms, including a risk of tornadoes, for coastal North Carolina Friday.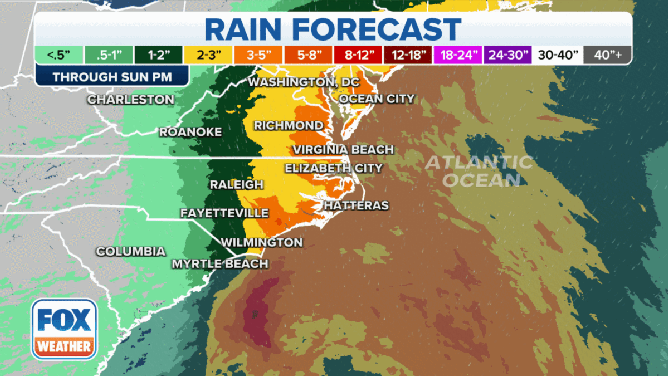 Forecasters said Potential Tropical Cyclone Sixteen could produce 2-4 inches of rain, with locally higher amounts of up to 7 inches, across eastern portions of the mid-Atlantic states from North Carolina to New Jersey.
Parts of the Northeast and southern New England could also see higher rainfall totals between 2-3 inches with locally higher amounts.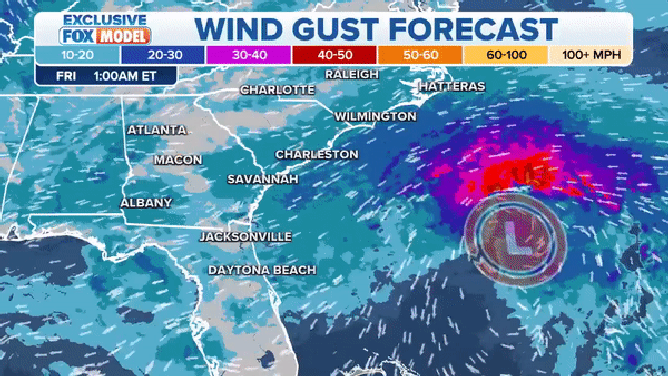 Power outages are also a concern due to the whipping winds that could bring down trees onto power lines.
Winds are expected to reach as high as 60 mph as the system make it way through eastern North Carolina during the next 48 hours, with similar gusts possible in Virginia.