FOX Weather tracking potential Thanksgiving week storm for Northeast, Midwest
Accumulating snow is unlikely along the Interstate 95 corridor from Boston to New York City to Washington
Early Thanksgiving travelers might have to contend with a storm at the beginning of next week, with rain and snow potentially causing some disruptions on the roads and in the air across the Northeast and Midwest.
According to AAA, an estimated 53.4 million people will hit the road or catch a flight this Thanksgiving, which is up 13% from 2020 and brings the volume to within 5% of pre-pandemic levels in 2019.
A storm system impacting the heavily populated Northeast and Midwest during some of the nation's busiest travel days of the year is certainly not the news these holiday travelers want to hear just a week before Thanksgiving. Despite some headlines suggesting otherwise, FOX Weather meteorologists are currently not anticipating major impacts on holiday travel.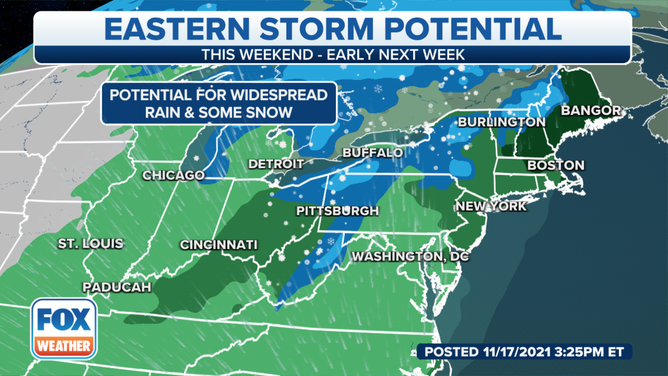 "FOX Weather is not ready to talk specific rain or snow amounts at this time, but the general idea is that we're not looking at a blockbuster event ahead of Thanksgiving," said FOX Weather meteorologist Mike Rawlins.
TRAVELING THIS THANKSGIVING? PACK YOUR PATIENCE
However, some travel disruptions are still likely. Impacts from this potential storm could begin as early as Sunday in the Midwest and continue as late as Wednesday in the Northeast, but since this is still several days away, the exact timing remains uncertain.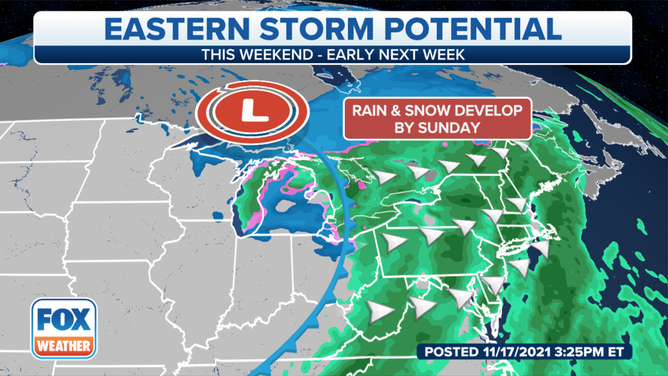 Depending on location, the precipitation could fall in the form of rain or snow, but that's another element that is difficult to predict this far out in time. Slight changes in a storm's track can make a large difference in the position of the rain/snow line.
"Most places will just see rain, but colder air arriving behind the storm could result in a changeover to snow in the interior sections of the Northeast and the Great Lakes," Rawlins said. "For those traveling the Interstate 95 corridor from Boston to New York City to Washington, accumulating snow is unlikely."
FLYING THIS THANKSGIVING? PREPARE FOR PACKED FLIGHTS, BUSY AIRPORTS
In the wake of the storm, lake-effect snow is expected to develop across the Great Lakes snowbelts.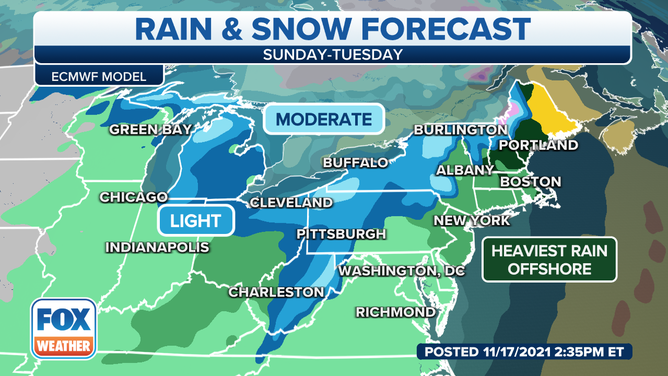 These lake-effect snowbands could drop significant accumulations of snow in the typical snowbelt locations of northern and western Michigan, northern Indiana, northeastern Ohio, northwestern Pennsylvania and western and central New York. However, it's far too soon to make an accurate snow forecast for any of these locations.
Be sure to check back with FOX Weather for updates in the days ahead as you fine-tune your travel plans ahead of Thanksgiving next Thursday.