Northern Michigan city records nearly 1 foot of snow in a single day
This event makes it the city's snowiest November day on record and the sixth-snowiest day of all time
A northern Michigan city set a new snowfall record Tuesday after nearly one foot of snow was measured in a single day.
Tuesday evening, forecasters at the National Weather Service office in Gaylord, Michigan, recorded more than 11 inches of snow since 6 p.m. Monday.
With a brief break in the lake-effect snow, meteorologists said they were able to take the measurement, but more snow went on to fall before midnight.
Early Wednesday morning, the NWS confirmed 11.7 inches of snow fell at the Gaylord office in the 24 hours ending at midnight Tuesday night. This event makes it the northern Michigan city's snowiest November day since records began there in 1998. The previous November record was 10.7 inches from Nov. 18, 2014.
Tuesday was also Gaylord's sixth-snowiest day of any month in its 23-year period of record.
Winter Weather Advisories are in effect for Michigan's Upper Peninsula through Wednesday afternoon as lake-effect snow showers continue. Gaylord, in northern Lower Michigan, is not included in the advisory.
An additional 1 to 3 inches of snow is predicted to fall in Gaylord through Wednesday evening, with locally higher amounts possible in the Upper Peninsula.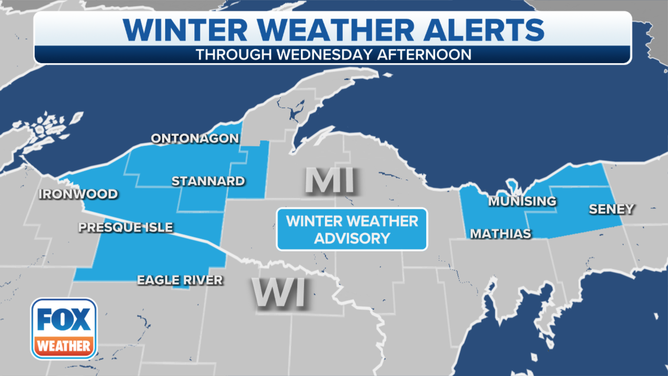 The NWS is urging motorists to be extra cautious Wednesday morning as some roads are slick with patches of ice, especially on bridges and overpasses, as parts of Michigan had snow melt on roadways overnight before temperatures fell below freezing.