Hurricane Hilary: State of emergency declared in California as millions brace for life-threatening flooding
The storm underwent rapid intensification in the Pacific Ocean, strengthening from a tropical storm to a large Category 4 hurricane in less than 48 hours. Now, a weakening trend has started with landfall expected on the Mexican coast within the next 24 hours, according to the NHC.
As of Sunday at 7:00 A.M. ET, Hurricane Hilary is a Category 1 Hurricane closing in on California and the Southwestern U.S. Continuous coverage has moved here.
Hurricane Hilary has prompted historic weather alerts in California as millions across the Southwest begin to see initial impacts from the storm, with the worst to come over the next 48 hours, as the cyclone unleashes catastrophic, life-threatening flooding. 
By Sunday afternoon, the center of Hilary is expected to move over Southern California after it nears the west-central coast of the Baja California peninsula, according to the National Hurricane Center (NHC). The hurricane weakened to a Category 1 cyclone and is expected to be a tropical storm when it reaches California. 
California Gov. Gavin Newsom declared a State of Emergency for Southern California ahead of the storm's worst impacts. 
More than 42 million people are under the first-ever Tropical Storm Warning that has been issued in Southern California. It covers areas along the coast from Los Angeles to the U.S.-Mexico border, including San Diego. It also extends inland to places such as Victorville, San Bernardino, Palm Springs and Mount Laguna. 
Parts of the Southwest were already being impacted Saturday by moisture from Hurricane Hilary, resulting in the issuance of Flash Flood Warnings and the closure of some roadways.
Heavy rain has already caused problems Saturday. The California Department of Transportation closed Highway 98 in Ocotillo, near San Diego, due to flooding and debris on the road.
In Palm Springs, California, firefighters say they distributed 20,000 more sand bags to residents as preparations continue. Authorities said residents living along the flood channel there have been repeatedly cautioned about the imminent risk to their lives by police helicopters circling every 90 minutes Friday.
In anticipation of the heavy rainfall, the San Bernardino County Sheriff's Office issued evacuation notices for residents in Oak Glen, Forest Falls, Mountain Home Village, Angelus Oaks, and NE Yucaipa.
These areas are known to flood during heavy rainfall events and have been the recipients of debris flows and mudslides.
Additionally, the Los Angeles County Sheriff's Office has asked residents and visitors to leave Catalina Island ahead of rough seas and high winds.
Some sandbag locations ran low on supplies in San Diego, but CAL FIRE pledged to keep preparation efforts going as long as possible.
MAP ROOM: LIVE TRACKING OF HURRICANE HILARY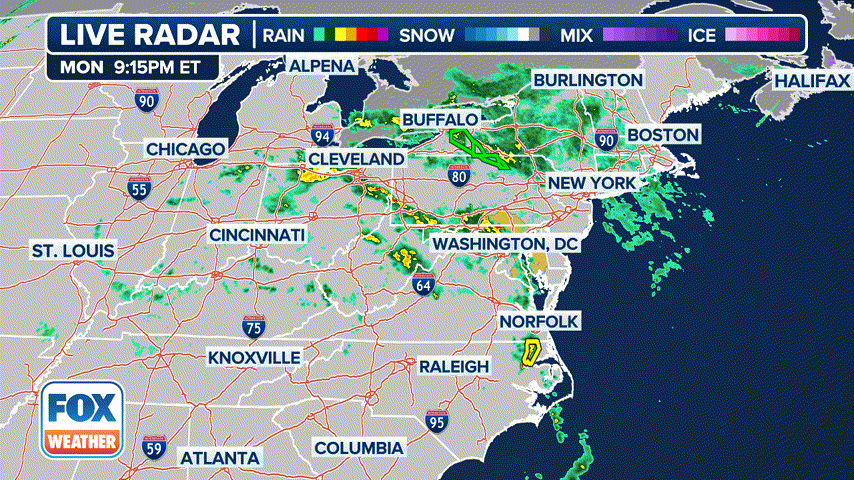 Three-hour radar loop. Tornado Warnings are indicated in red, while Tornado Warnings with a confirmed tornado are indicated in purple. Severe Thunderstorm Warnings are indicated in yellow. Flash Flood Warnings are indicated in green, while Flash Flood Emergencies are indicated in pink.
(FOX Weather)
---
The Air Force Reserve "Hurricane Hunters," assigned to the 403rd Wing at Keesler Air Force Base in Mississippi, departed Saturday morning to fly weather reconnaissance missions into Hurricane Hilary to collect weather data that improves NHC's forecasts.
"By flying into the storm, crews are able to locate the low-pressure center of the storm and collect data that assists with movement and intensity forecasts," said Lt. Col. Steve Burton, 53rd WRS mission commander for the weather deployment. "The data we collect can improve a forecast by anywhere from 15-25%."
The unit will continue to fly missions into the storm throughout the weekend and possibly into Monday, said Burton.
"A lot of folks who will be impacted by the storm may not have a lot of experience with tropical cyclones," FEMA Deputy Assistant Administrator Colt Hagmaier told FOX Weather.
Most deaths from hurricanes and tropical storms occur due to inland flooding, especially when people drive through flooded streets.
"So it's really important that people have a plan of how to get out if they need to, that they listen to their local officials, and they don't drive through standing water," Hagmaier said.
The State of California say it has pre-positioned swift water rescue teams and vehicles to respond where flooding could be the worst.

Where is Hurricane Hilary?
The center of Hurricane Hilary is currently located less than 385 miles from San Diego. The storm is moving toward the north-northwest at 21 mph, increasing speed since Saturday.
CALIFORNIA GETTING HIT BY TROPICAL SYSTEMS IS EXTREMELY RARE
Current advisory for Hurricane Hilary
(FOX Weather)
---
Are there any weather alerts because of Hurricane Hilary?
A Tropical Storm Warning has been issued for from near Los Angeles to the U.S.-Mexico border, including Catalina Island. According to the NHC, this is the first time the agency has issued a warning for this region.
Much of San Diego, Riverside, Orange, San Bernardino, Los Angeles and Ventura counties are included in the warning. The inland alerts cover cities such as Riverside, Palm Springs, San Bernardino, Victorville, Pine Valley, and Santa Clarita.
WHEN WAS LAST TIME CALIFORNIA WAS HIT BY HURRICANE?
A look at the Tropical Storm Warnings issued in California.
(FOX Weather)
---
A Tropical Storm Warning is issued when tropical-storm-force winds (sustained winds of 39 to 73 mph) are expected within the alerted area within 36 hours.
Hilary has also prompted the Mexican government to issue a series of watches and warnings for the entire Baja California Peninsula and parts of mainland Mexico.
A Hurricane Warning is issued when hurricane-force winds (sustained winds of 74 mph or greater) are expected within the watch area, within 36 hours.
These winds may be accompanied by storm surge, coastal flooding and/or river flooding.
HOW TO PREPARE FOR HURRICANE SEASON
Here's a look at the watches and warnings issued from Hurricane Hilary.
(FOX Weather)
---
What is the forecast for Hurricane Hilary?
Maximum sustained winds are at 85 mph with higher gusts. Weakening began Saturday, but Hilary will still be a hurricane when it approaches the west coast of the Baja California peninsula Sunday morning, the NHC said. 
Hilary is expected to weaken to a tropical storm by midday Sunday, before it reaches southern California.
Rainfall forecast
(FOX Weather)
---
Hurricane-force winds extend outward up to 45 miles from the center, and tropical-storm-force winds extend outward up to 230 miles. A sustained wind of 44 mph and a gust to 63 mph were recently reported at the Cabo San Lucas Marina, the NHC reports.
What are the impacts of Hurricane Hilary?
Hurricane Hilary is expected to bring 3-6 inches of rainfall and up to 10 inches in isolated areas across parts of Baja California by Sunday night, warned the NHC. Catastrophic flash flooding may occur. Across portions of the western U.S., rainfall totals of 1-3 inches are expected, but forecast models show upwards of 5 inches is possible in some areas through Wednesday.
Heavy rainfall associated with Hilary may produce areas of flash flooding and result in landslides over portions of the Baja California Peninsula until late Sunday, the NHC said.
Rainfall impacts from Hilary within the southwestern U.S. are expected to peak this weekend into Monday. Flooding is expected with the potential for significant, life-threatening impacts.
The NWS issued a Flood Watch from Saturday Morning through Monday afternoon.
(FOX Weather)
---
NOAA's Weather Prediction Center has issued a rare High Risk for excessive rainfall in Palm Springs, the Coachella Valley and Las Vegas, Nevada. This is the first time such a risk has been given for the low desert regions of Southern California to the east of the mountain ranges.
The threat of hurricane-force wind impacts is increasing along the west-central coast of the Baja California Peninsula, where a Hurricane Watch is in effect. Tropical storm conditions are expected to begin across the southern portion of the Baja California Peninsula later Friday and then spread north through the weekend.
HURRICANE HILARY WILL IMPACT SOUTHERN CALIFORNIA'S SUPPLY CHAIN, EXPERT SAYS
A current look at the flash flood threat through Monday.
(FOX Weather)
---
The threat of significant wind impacts continues to increase for the northern portions of the Baja California Peninsula and the southwestern U.S., especially in areas of mountainous terrain. 
Large swells from Hilary will spread north along southwestern Mexico and the Baja California Peninsula. These swells will reach the Gulf of California and northern portions of the Baja California peninsula later this weekend.
Airlines issue travel waivers for passengers flying to Mexico, California
Several U.S. airlines have announced travel waivers for passengers flying either to Mexico or California.
Jet Blue, American, Alaska, Delta and United are encouraging passengers to check their itinerary for changes before flying to the region.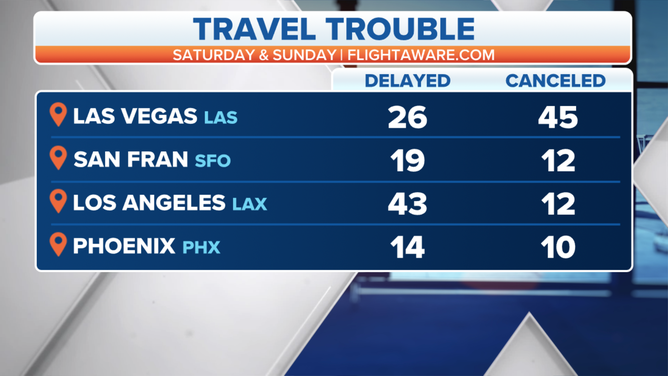 United Airlines has expanded travel waivers for cities throughout the Golden State which included: Bakersfield (BFL), Burbank (BUR), Los Angeles (LAX), Ontario (ONT) Palm Springs, (PSP), San Diego (SAN), Santa Barbara (SBA), San Luis Obispo (SBP) and, Orange County (SNA).
Sporting events, space launch impacted by Hilary's threats
Major League Baseball adjusted game times in LA and San Diego to avoid Sunday matches. The National Football League is monitoring weather for a preseason game between New Orleans Saints and LA Chargers at SoFi Stadium.
SpaceX postponed the launch of a Falcon 9 rocket with Starlink satellites due to the hurricane's proximity to the water off Southern California. The event was expected to take place on Friday morning, but the private space company said it would attempt another launch next week if weather conditions improved.