Hilary vs. Hurricane Kay: How latest tropical weather threat is expected to be worse than 2022
The estimated amount of damage done by Hurricane Kay in the U.S. was $6-7 million. Like many tropical cyclones since 1939, the storm did not make a direct landfall in California.
The thought of another tropical cyclone impacting the Southwest and California may bring up memories from last year when Hurricane Kay produced tropical downpours and winds over 100 mph, but the FOX Forecast Center warned that impacts from Hilary could be much different.
Similar to Hurricane Kay, Hilary is not expected to make a direct landfall in the Golden State, but its influences that stretch out for hundreds of miles will be impactful, with more than 27 million under Flood Watches and 42 million under a Tropical Storm Warning.
Unlike Kay, which fell apart over the chilly waters of the Eastern Pacific, parts of California and the Desert Southwest will ride through Hilary, no matter whether it is classified as a tropical entity.
HILARY: HISTORIC WARNINGS ISSUED IN CALIFORNIA AS SOUTHWEST BRACES FOR LIFE-THREATENING FLOODING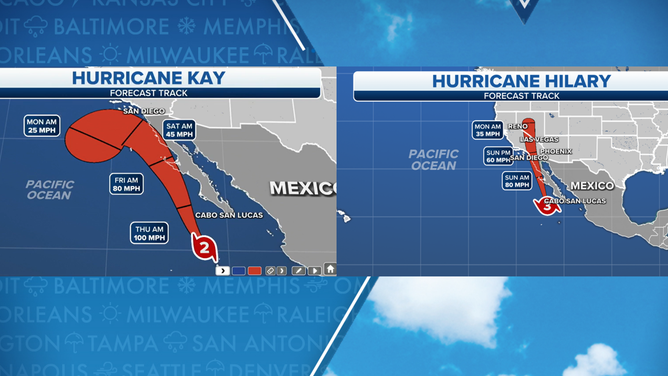 Heavy rainfall
Due to the sheer expanse of the rain shield, forecast models show upwards of 10 inches of rainfall throughout the next few days, nearly double the amount of precipitation produced by Kay.
Observation sites during September of last year never reported more than 5.85 inches of rain, which was considered excessive, likely until they are outdone by the latest tropical threat posed by Hilary.
Even with a few inches of rain, debris flows were a major concern in 2022 and led to the death of a 62-year-old woman in San Bernardino County.
A NOAA tropical cyclone report stated the debris flow, more than an hour's drive outside of Los Angeles, buried parts of Forest Falls with mud and rocks.
Rainfall forecast
(FOX Weather)
---
Damaging winds
The fringe effects of Kay over performed in the wind department due in part to downslope winds over the mountains, which resulted in Category 2-strength gusts in Southern California.
The winds resulted in downed trees and power lines. During the height of the storm, more than 63,000 electrical outages were reported in the state.
Similarly to last year, computer models show damaging wind gusts with Hilary making it to California, Arizona and Nevada, but due in part again to the sheer size of the system, more communities will be in danger of losing utilities.
WATCH POST-TROPICAL CYCLONE KAY UNLEASH WINDS, FLOODING RAIN IN SOUTHERN CALIFORNIA, ARIZONA
Coastal flooding
The effects that may be the most similar between the two events could be impacts on marine interests with large swells expected, but due in part to offshore winds, coastal flooding will be minimal.
During Kay, the National Weather Service received reports of the most expansive ocean-based flooding occurring in the Seal Beach region of Long Beach, but a survey found only a few homes that experienced flooding.
Coastal residents will likely have a watchful eye on whether the loss of sand during Kay will lead to flooding in future storms. 
According to estimates, some communities lost up to 5 feet of sand during Kay, which normally acts as a natural barrier between the ocean and coastal communities. Without the barrier in place, if seas rise higher than anticipated, coastal flooding could become a more significant threat due to the natural changes in the terrain.