Over 100 million warned for 'unhealthy' air quality in US as Canadian wildfire smoke peaks Wednesday
New York City is experiencing its worst air quality in recorded history, according to FOX Weather's analysis of EPA historical data. The air quality index (AQI) reached 405ppm on Wednesday afternoon. NYC air quality was considered "hazardous," which is the highest level.
NEW YORK – More than 100 million people were alerted for "unhealthy" air quality in major U.S. cities as smoke-filled skies from dozens of wildfires burning in Canada.
New York City experienced its worst air quality in recorded history, according to FOX Weather's analysis of EPA historical data. The air quality index (AQI) reached a level of at least 405ppm on Wednesday afternoon and the air was considered hazardous.
The Federal Aviation Administration issued a ground stop for Newark International and LaGuardia airports due to low visibility and warned that other Northeast airports could face delays.
The smoke also caused the Yankees-White Sox baseball game in New York City and the Phillies and Detroit Tigers match in the Philadelphia to be postponed.
The wildfire impacts are expected to stick around for at least a few more days as the slow-moving low-pressure system centered over the coastal region of New England is helping to bring in a northerly flow.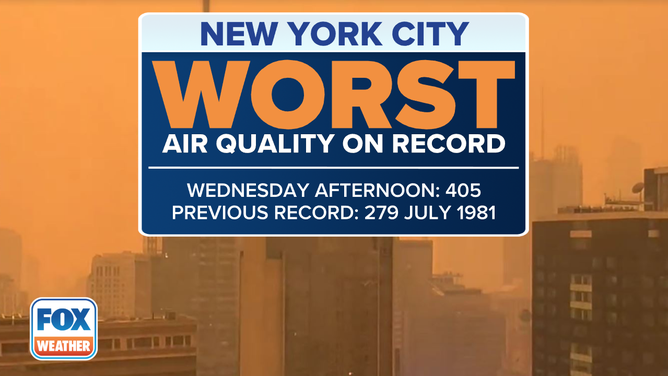 Even though the smoke has been around for weeks along the U.S.-Canadian border, weather patterns kept most of the particles at higher altitudes, keeping impacts well away from the ground level.
The introduction of a northerly wind over the fires and higher pressures is helping to trap the smoke and pollutants closer to the surface, and the FOX Forecast Center believes this pattern could last through the workweek.
Forecast models show a prolonged stretch of smoke impacting communities between Detroit and Boston, with potentially unhealthy levels of smoke impacting New York, Washington, D.C. and Baltimore on Thursday morning.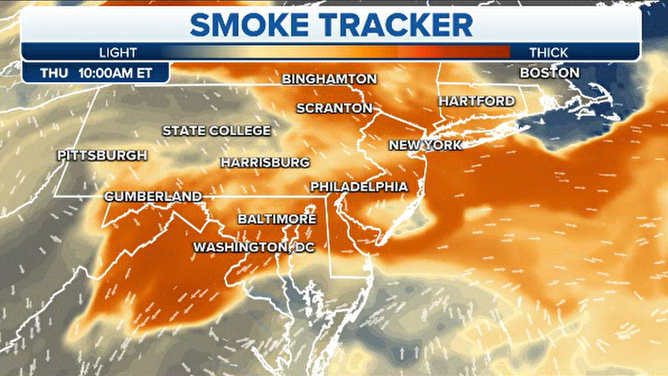 NEW YORK, PHILLY, WASHINGTON SMOTHERED IN 'UNHEALTHY' AIR AS CANADIAN WILDFIRE SMOKE POURS INTO NORTHEAST
When the air quality index (AQI) reaches a value of 100 or greater, the air quality is considered unhealthy. 
The hazardous level (400 and higher) was reached in several communities including Allentown, Pennsylvania, Syracuse, New York, and New York City.
NEW YORK YANKEES SEE SMOKE-FILLED SKIES FOR START AGAINST CHICAGO WHITE SOX
Here's a look at the worst air quality cities right now.
(FOX Weather)
---
UNPRECEDENTED FIRE WEATHER SEASON' ALREADY CHARRED 9.39 MILLION ACRES ACROSS CANADA
Smoke inundates hundreds of cities Tuesday
The air quality began degrading at hundreds of U.S. observation sites on Tuesday as the winds blew the wildfire smoke south across the Canadian border. Readings reached levels considered to be in the "unhealthy" range, which caused local agencies to issue health alerts to limit peoples' exposure to the outdoors.
New York City ranked among the worst major cities in the world for air quality late Tuesday as health experts advised those who typically have trouble breathing to stay indoors.

The air quality was even considered hazardous enough to force the postponement of a Minor League Baseball game between the Scranton/Wilkes-Barre RailRiders and the Norfolk Tides in Pennsylvania.
Views from the International Space Station and satellites captured the smoke drifting into the eastern Great Lakes, Northeast and making it as far south as Tennessee and the Carolinas.