New York, Philly, Washington smothered in 'unhealthy' air as Canadian wildfire smoke pours into Northeast
New York City is experiencing its worst air quality in recorded history, according to FOX Weather's analysis of EPA historical data. The air quality index (AQI) reached 405ppm on Wednesday afternoon. NYC air quality was considered to be "hazardous," which is the highest level.
NEW YORK – New York City set a record Wednesday for the worst air quality the city has ever seen on record, one of many cities in the eastern U.S. being affected by wildfire smoke from Canada. 
Visibility in the Big Apple dropped to a half-mile as Manhattan skyscrapers became enshrouded in the dense smoke, blotting out the sun and leaving a surreal sight on what should have been somewhat of a sunny day. Residents reported smells akin to campfires as the smoke thickened.
The thick smoke caused issues for travelers at some of the nation's busiest airports including Philadelphia and the major airports in the NYC metro.
The smoke also caused the Yankees-White Sox game in New York City and the Phillies and Detroit Tigers match in the Philadelphia to be postponed.
NEW YORK, PHILLY, WASHINGTON SMOTHERED IN 'UNHEALTHY' AIR AS CANADIAN WILDFIRE SMOKE POURS INTO NORTHEAST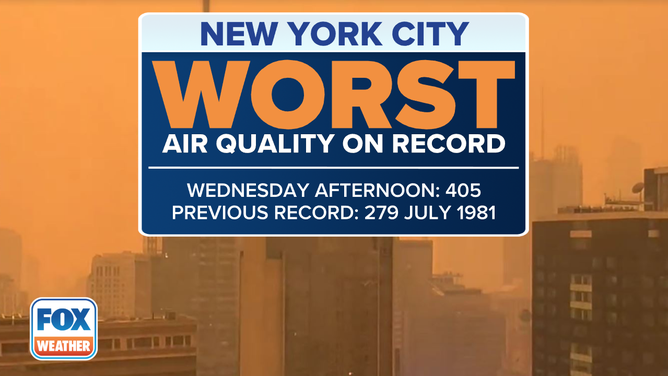 The delays and cancelations are due to the thick wildfire smoke from Canada which has put more than 100 million Americans under an air quality alert and leaving apocalyptic-like scenes across major cities in the Northeast.
In an effort to help residents with masks, the city announced distribution centers at firehouses and police precincts.
WHAT TO DO WHEN WILDFIRE SMOKE SMOTHERS YOUR AREA, AND HOW TO KEEP YOUR HOME'S AIR CLEAN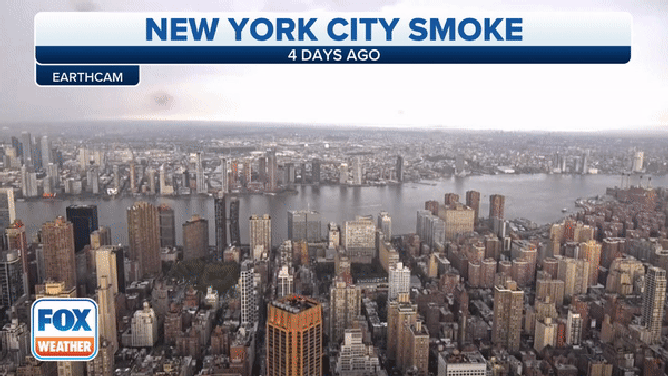 On Tuesday, New York City had the worst air quality among major cities at one point. Tuesday night's reading was 196 – the worst air quality index (AQI) on the planet. The second-worst spot was Delhi, India.
New York City is experiencing its worst air quality in recorded history, according to FOX Weather's analysis of EPA historical data. The air quality index (AQI) reached 377ppm on Wednesday afternoon. NYC air quality is now considered "hazardous," which is the highest level.
When the AQI reaches a value of 100 or greater, the air quality is considered unhealthy. Several communities reached levels in the 200 to 300 range on Tuesday, and New York City experienced readings over 200 during the late evening. 
Farther upstate in central New York, the Syracuse area reported an AQI of over 400 on Wednesday morning, which was well into the "hazardous" category.
In Pennsylvania, Philadelphia was back over 200 Wednesday morning – air quality levels considered "very unhealthy" – while New York City and Washington remained in the unhealthy range. At these levels, even healthy people may experience health effects from the smoke, while sensitive groups may experience even more serious effects.
Philadelphia Department of Public Health issued a "Code Red" air quality alert for Wednesday, asking people to limit strenuous outdoor activities.
Here's a look at the worst air quality cities right now.
(FOX Weather)
---
New York Governor Kathy Hochul issued an Air Quality Health Advisory on Tuesday for a large swath of the state, including the New York City area. 
"When many New Yorkers walked outside today, the hazy skies caused by wildfire smoke were hard to miss," Hochul said. "New York State experts are monitoring our air quality every day to ensure New Yorkers have the latest information about current air quality in their communities and what they can do to protect themselves. I encourage New Yorkers, especially those sensitive to air quality, to take appropriate steps to help limit risk of exposure."

More smoke on the way this week for Northeast
The FOX Forecast Center said a slow-moving low-pressure system centered over the coastal region of New England is helping to bring in a northerly flow, ushering in smoke-filled skies from dozens of wildfires burning in Canada, and the smoke is expected to stick around for at least a few more days. 
Even though the smoke has been around for weeks along the U.S.-Canadian border, weather patterns kept most of the particles at higher altitudes, keeping impacts well away from the ground level.
CANADIAN WILDFIRE SMOKE SPEWS MORE DAYS OF HAZARDOUS HAZE FOR NORTHEAST, GREAT LAKES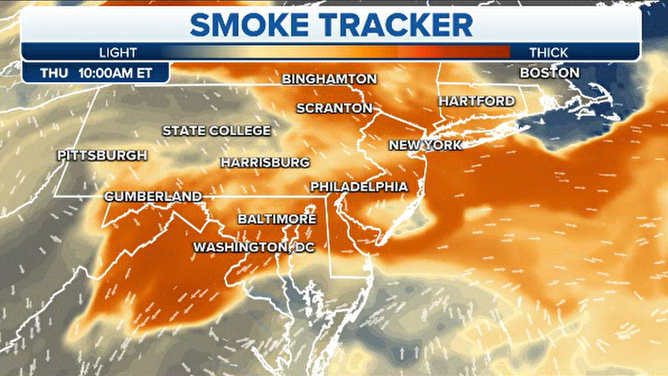 The introduction of a northerly wind over the fires and higher pressures is helping to trap the smoke and pollutants closer to the surface, and the FOX Forecast Center believes this pattern could last for most of the workweek.
"Looking at the air quality concerns, it is a big concern," FOX Weather meteorologist Britta Merwin said. "I wouldn't be playing soccer outside today, wouldn't be taking a walk, wouldn't be taking a long stroll, because that air quality is going to be so poor," Merwin added.
According to forecast models, New York City, Philadelphia, Baltimore and Washington, D.C., could all wake up Thursday with a significant amount of smoke in the air. As winds start to shift during the afternoon, major cities might begin to see a break from poor air qualities, but impacts will continue in interior regions of the Northeast.