Report: 2 killed, dozens injured as Typhoon Nanmadol makes landfall in southwestern Japan
The western Pacific has been busy in recent weeks with cyclones Hinnamnor, Muifa, Merbok and Nanmadol. Typhoon Nanmadol bears down on Japan with sustained winds blowing to 90 mph.
Two people were killed, and dozens were injured as Typhoon Nanmadol struck Japan over the weekend with sustained winds blowing to 90 mph, according to the Kyodo News agency.
The typhoon made landfall in Kyushu in southwest Japan, according to the Japan Meteorological Agency. The recent forecast track weakens Nanmadol to the equivalent of tropical storm strength and sends it northeast over the island nation from Nagasaki to Osaka to Sendal through mid-week. 
One of the victims died in a mudslide, while another was found in a flooded car, Kyodo News reported. A third person is missing after being washed away by floodwaters and is feared to have drowned, the agency said.  More than 70 people have been injured.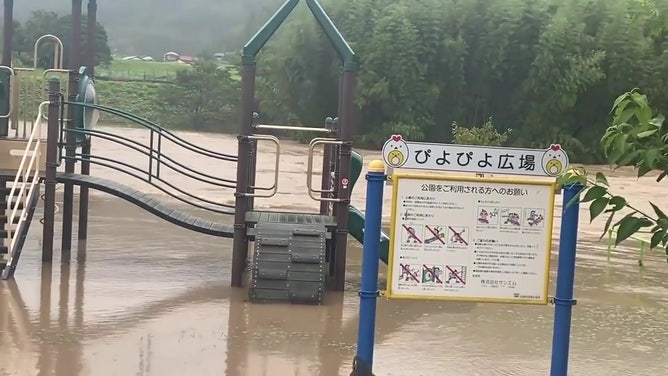 Officials evacuated more than 8 million people in advance of a storm that is forecast to drop up to a foot of rain in areas.
At one point, Nanmadol was a super typhoon with sustained winds of about 150 mph. The Joint Typhoon Warning Center considers any tropical cyclone with winds of at least 150 mph a "Super Typhoon."
5 DIFFERENT NAMES FOR HURRICANES AROUND THE WORLD
Forecast track for Typhoon Nanmadol
(FOX Weather)
---
The forecast cone is similar but much farther north than Super Typhoon Hinnamnor which struck the region earlier this month.
Japan's metrological agency warned of strong winds, high waves, high tides, landslides and flooding of low-lying areas for millions of residents.
Typhoon Nanmadol Expected Rainfall
(FOX Weather)
---
The JWTC said cooler waters, upper-level winds and land interaction will lead to the slow deterioration of the system after landfall.
The agency warned of flash flooding with 8-12 inches of rain possible across the country.
Forecast models showed future remnants of Nanmadol will get caught up in the northern jet stream and could provide additional rainfall to Alaska by the end of the workweek.
Due to the system making landfall in Asia, the remnants aren't expected to be as severe for the Last Frontier as what was produced by former Typhoon Merbok.
The remnants created hurricane-force winds and seas that topped 50 feet along the Bering Sea.