Watch as deadly Typhoon Hinnamnor wreaks havoc on South Korea
What South Koreans feared to be the worst typhoon in the nation's history, made landfall Tuesday. It was weaker than feared but exacted a toll.
Typhoon Hinnamnor made landfall Tuesday morning near Busan, South Korea. Officials recorded wave heights of 27 feet in the Sea of Japan as it churned with 90 mph winds.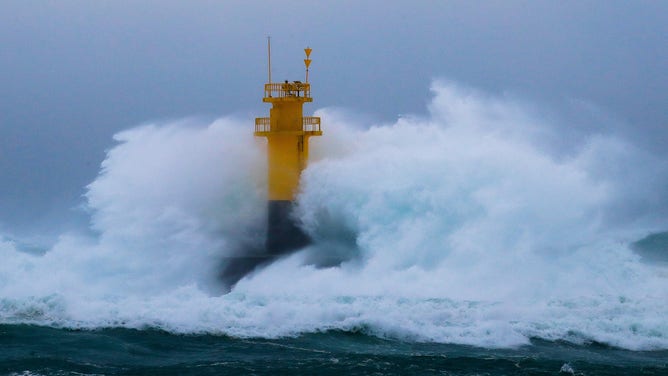 Areas of South Korea logged up to 40 inches of rain, turning streets into swift rivers.
Cars parked on the street were covered with floodwaters up to the door handles.
News 1 Korea reported that seven people died in a parking garage under an apartment building in Ocheon-eup, South Korea. Crews search for more people but have still only pulled two survivors from the building. 
Look at the waves from street level. The powerful surf dismantled the railings and eroded sidewalks.
WHAT IS THE FUJIWHARA EFFECT? SUPER TYPHOON HINNAMNOR PROVIDED A TEXTBOOK EXAMPLE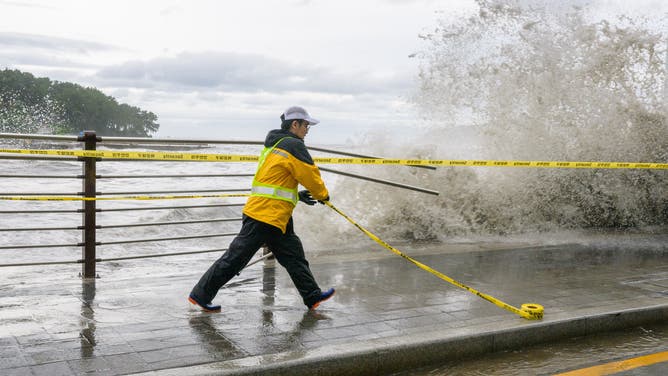 Local news reports estimated that nearly 3,000 South Koreans were evacuated as Hinnamnon made landfall.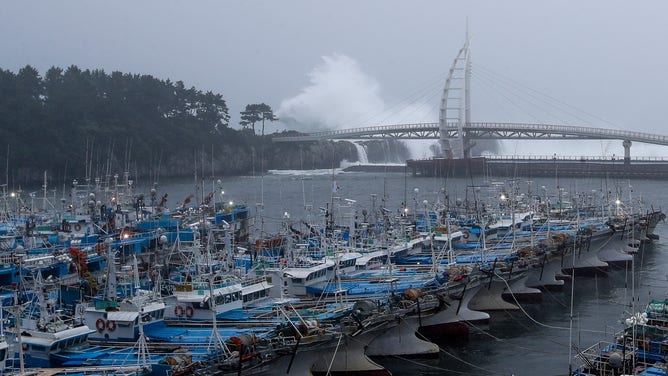 Thousands lost power after storm surge and heavy rains swamped coastal and low-lying areas.

At the height of storm's strength, Hinnamnon was a Super Typhoon with winds over 160 mph and gusting to 195 mph – the equivalent of a category 5 hurricane in the U.S., wrote the U.S. Joint Typhoon Warning Centre. Waves at that point crested over 50 feet. The Japan Meteorological Agency called it the strongest storm of the year.
As the typhoon bore down on South Korea, Shandong, China caught a glancing blow. Tourists were standing a bit to close to the waves to stay dry.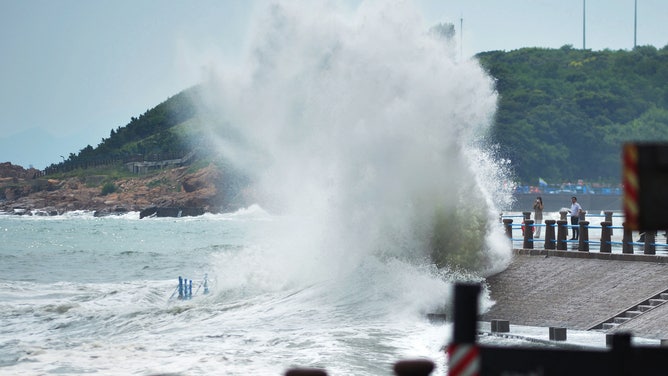 The storm barreled down on other countries too.
Heavy rains pooled in low-lying areas in Shanghai.
HOW TO WATCH FOX WEATHER ON TV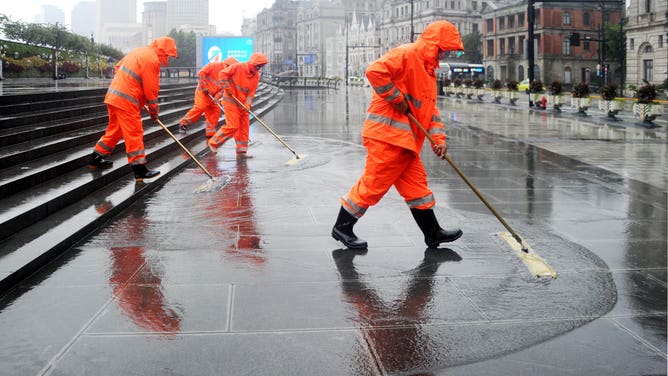 Over 38,000 homes lost power due to the typhoon in western Japan, according to the Japan Times. The Japan Meteorological Agency reported that rain fell at a rate of almost two inches per hour in some areas.
The Agency forecasts the storm to lose strength in the next day when it becomes extra-tropical but still drop inches of rain across Japan.
FOX Weather Contributor and Hurricane Specialist Bryan Norcross has a podcast, Tracking the Tropics with Bryan Norcross, available now on FOX News Audio. You can get it on your device by clicking here.