What is the Fujiwhara Effect? Super Typhoon Hinnamnor provided a textbook example
The powerful hurricane aimed at Japan's southern islands showed us how a stronger storm can influence a weaker one nearby.
Typhoon Hinnamnor grabbed headlines as the powerful hurricane set its sights on the southern islands of Japan, but it was the storm's demonstration of a unique phenomenon that also caught the attention of meteorologists.
The still-strong storm has weakened a bit since its super-typhoon status earlier in the week, with winds of more than 150 mph. By Friday afternoon, the Japan Meteorological Agency rate the storm a "very strong typhoon" with winds of nearly 100 mph and gusts near 140 mph. That would make it a Category 2 storm on the Saffir-Simpson Hurricane Wind Scale.
The center of Typhoon Hinnamnor is forecast to move between two of the larger islands in the Okinawa region of Japan this weekend before moving north across the East China Sea and brushing South Korea.
Authorities have warned of ferocious winds, torrential rain and tornadoes as the hurricane barrels through the islands, according to The Japan Times.
7 FACTS TO KNOW ABOUT HURRICANES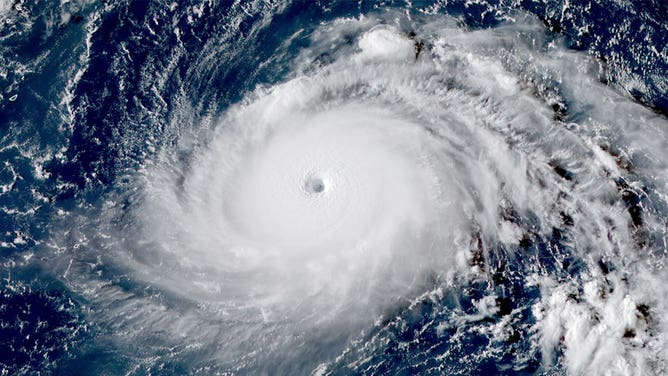 The Fujiwhara Effect
Meteorologists were mesmerized by Typhoon Hinnamnor as it provided a textbook example of a phenomenon known as the Fujiwhara Effect.
This happens when two tropical cyclones get close enough to each other to create a shared center, forcing the two storms to whip around that common central point.
If one of the storms is stronger than the other, the effect usually leads to the weaker one being ripped apart. If the storms are similar in strength, they can sometimes merge or just slingshot around each other and continue on their way. On rare occasions, the storms can combine into a larger storm, according to the National Weather Service.
This lesson in physics was demonstrated when then-Super Typhoon Hinnamnor devoured a weaker tropical low that was near it.
The video below shows how Hinnamnor, indicated by the hurricane symbol, pulled the weaker tropical cyclone, indicated by the L, toward it. Eventually, the hurricane overpowered the weaker storm and absorbed it.
IS IT A TWO-NADO? 7 WEATHER PHENOMENA THAT WILL HAVE YOU SEEING DOUBLE