Super Typhoon Hinnamnor takes aim at Japan's southern islands
The powerful hurricane has winds of 120 mph as of Wednesday morning as it moves toward the Okinawa region.
OKINAWA, Japan – Super Typhoon Hinnamnor has been racing toward Japan this week, and is expected to rip through the country's southern islands over the weekend.
According to the Japan Meteorological Agency, the powerful storm had winds of 120 mph near its center Wednesday afternoon with gusts up to 161 mph. It is rated as a "very strong typhoon."
5 DIFFERENT NAMES FOR HURRICANES AROUND THE WORLD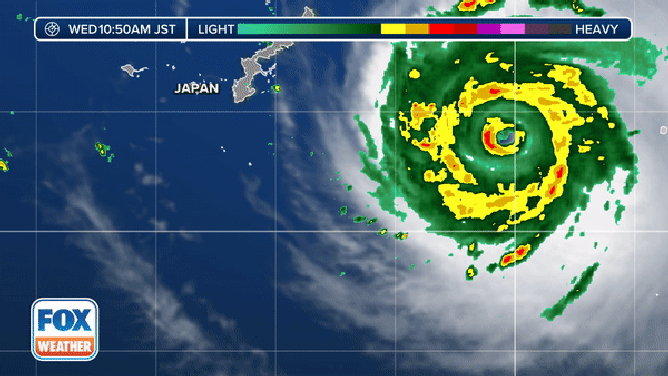 Hurricanes in the western Pacific Ocean are called typhoons, and super typhoons is the name assigned to major hurricanes – a Category 3 or higher on the Saffir-Simpson Scale used by the National Hurricane Center in the U.S. Hinnamnor would be a Category 3 storm as of Wednesday morning on that scale.
The storm is forecast to become a "violent typhoon" by Wednesday night with winds of about 120 mph and gusts of up to 173 mph.
FOX FORECAST CENTER MONITORING TROPICAL SYSTEM WITH 80% CHANCE OF DEVELOPMENT THIS WEEK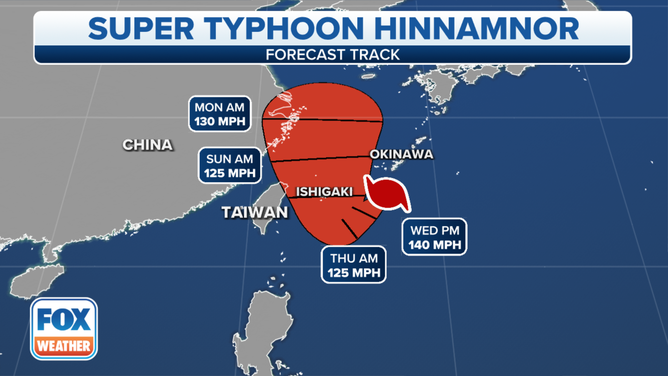 According to The Japan Times, authorities have warned people on the remote islands that make up the Okinawa region to seek shelter as the storm approaches. That region is home to about 1.4 million people, including U.S. military bases.
Weather officials in Japan have said the tremendous winds may cause some buildings to "collapse," according to The Japan Times.