Summer sizzler: Western US bakes under extreme heat as Texas town sees hottest day on record
Huntsville, Texas, saw it's hottest temperature on record at 111 degrees on Sunday
The story of summer continues as more oppressive heat is expected to bake parts of the western and southwestern United States this week.
Scorching temperatures in Texas already shattered records, including in Huntsville, where it reached an all-time high of 111 degrees – three degrees higher than the previous record.
HOW TO WATCH FOX WEATHER ON TV
Here are a few other records that were broken in Texas on Sunday:
Houston (George Bush Intercontinental Airport): 105 degrees, which breaks the old record of 101 degrees set in 1909
Houston (William P. Hobby Airport): 103 degrees, which breaks the old record of 100 degrees set in 1964
College Station - Easterwood: 111 degrees, which breaks the old record of 109 degrees set in 1917
Galveston - Scholes: 96 degrees, which tied the old record of 96 degrees in 1931
The high temperatures aren't the only records that have been broken across the Lone Star State.
Representatives from the Electric Reliability Council of Texas told FOX Weather on Sunday that power records have also been broken.
And with more record heat expected Monday, ERCOT is urging the public to conserve power usage between the hours of 2 p.m. and 8 p.m.
High temperatures on Monday, July 11.
(FOX Weather)
---
With the exception of the immediate Texas coast, high temperatures will range between 100 and 110 degrees Monday.
Houston is expected to be just above the century mark at 101 degrees Monday afternoon, but the temperatures will rise further inland.
Del Rio will be scorching at 109 degrees Monday afternoon, while Dallas will also be baking with a high temperature of 103 degrees.
WHAT IS THE 'FEELS-LIKE' TEMPERATURE?
The heat index will make it feel even hotter in Texas on Monday.
(FOX Weather)
---
The heat index will make it feel even hotter across Texas and into the Plains and lower Mississippi Valley.
Corpus Christi, Texas, will feel like it's at least 111 degrees on Monday afternoon, while those excessive "feels like" temperatures extend into Louisiana, Mississippi and Alabama.
A heat index of 106 degrees is expected from Dallas to Tulsa, Oklahoma, with some higher values expected in the surrounding areas.
HOW THE WEATHER YOU'RE ACCUSTOMED TO AFFECTS NATIONAL WEATHER SERVICE HEAT WARNINGS, ADVISORIES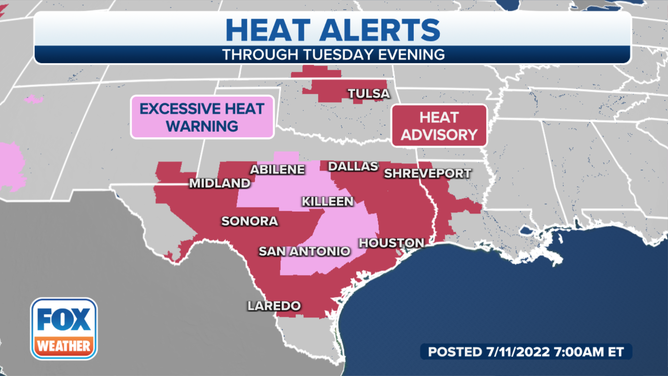 The National Weather Service has issued widespread Heat Advisories and Excessive Heat Warnings due to the oppressive and dangerous heat that's expected to stick around this week. The Heat Advisories cover most of central and southern Texas, including the cities of Midland, Sonora, Laredo, Dallas and Houston.
Where temperatures are higher, Excessive Heat Warnings are in effect, including the cities of Abilene, Killeen and San Antonio.
And if you thought the temperatures in Texas were excessive, temperatures in the Southwest are going to be even hotter.
Temperatures in Arizona, the Las Vegas area and Southern California will reach into the high 100s, with some areas seeing at least 115 degrees this week.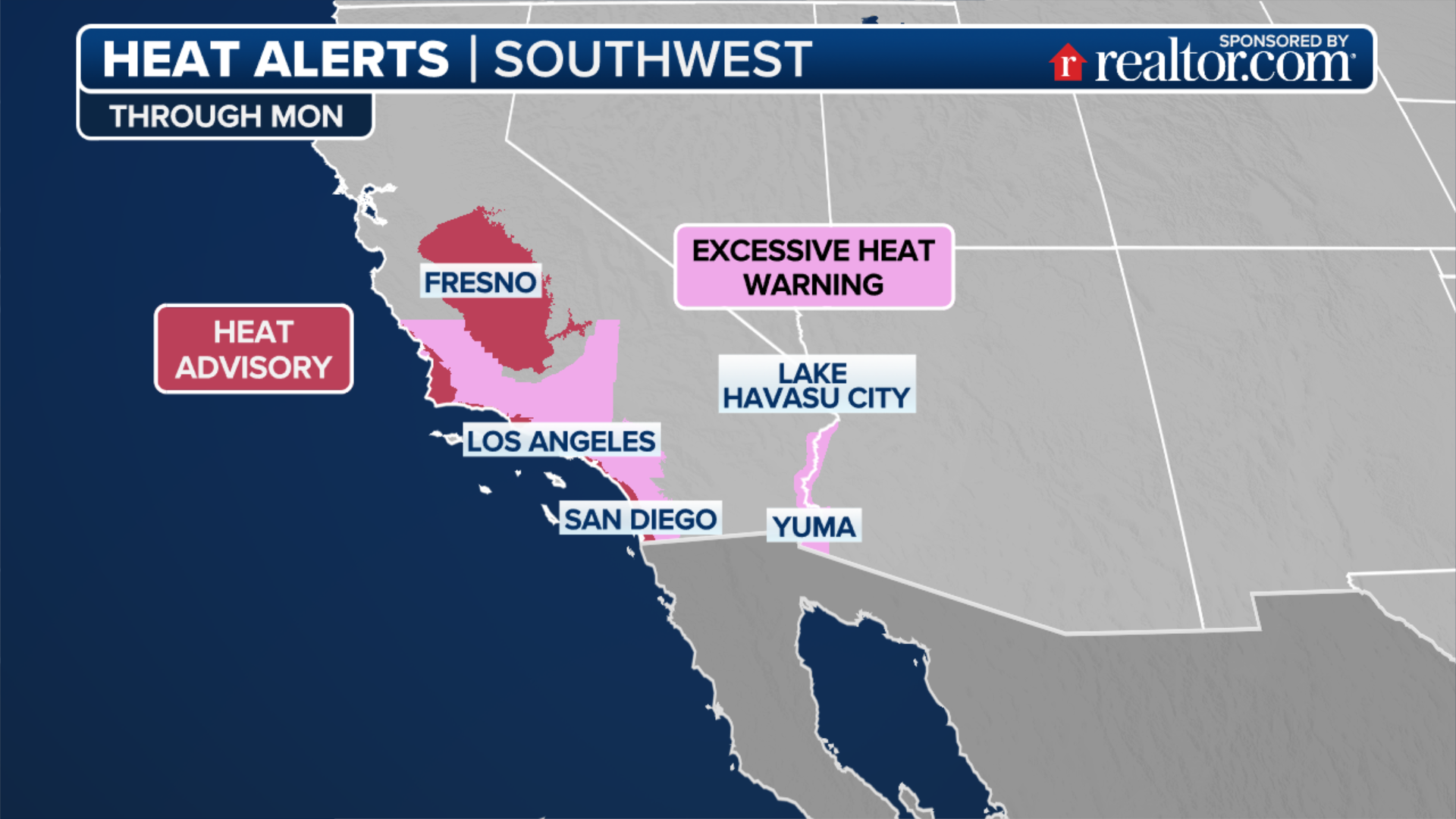 Heat Alerts are in effect across the Southwest.
(FOX Weather)
---
Excessive Heat Warnings are in effect across southwestern Arizona, including the cities of Phoenix, Gila Bend, Palo Verde and Yuma.
Temperatures will also reach above 100 degrees in central California, so the NWS has issued Heat Advisories from Fresno to Bakersfield.
High temperatures on Monday, July 11.
(FOX Weather)
---
Las Vegas will be the "cool" spot, with a high temperature Monday of 112 degrees. Heading south, Parker, Arizona, will reach at least 116 degrees, and Phoenix will be about the same with an expected high temperature of about 115 degrees.
Fresno, in central California, will be about 106 degrees.
These excessive temperatures are expected to continue for the next several days.
FIRESTARTER: LEAVING YOUR WATER BOTTLE IN THE SUNLIGHT CAN HAVE DISASTROUS RESULTS
High temperatures on Monday, July 11.
(FOX Weather)
---
While not as hot in the south, the Pacific Northwest will also be feeling the heat on Monday.
CLICK HERE TO GET THE FOX WEATHER UPDATE PODCAST
Temperatures in the mid- to upper 80s are expected from Seattle to Spokane, Washington.
Oregon will be a bit warmer. Portland will see a hot temperature of about 96 degrees, and south of there in Medford, a high temperature of 107 degrees is expected.
Be sure to download the FOX Weather app to track the temperatures in your area. The free FOX Weather livestream is also available 24/7 on the website and app and on your favorite streaming platform. The FOX Weather Update podcast also provides weather information for the entire country.