Springlike warmth places dozens of record highs in jeopardy this weekend in the East
Nearly four-dozen daily record highs are in jeopardy on Sunday from Florida to New Hampshire and upstate New York
After dozens of record highs were set in the Southwest and Plains over the past week, the springlike warmth will shift toward the eastern U.S. this weekend through early next week.
The unseasonably warm temperatures will expand a little farther north and east on Saturday, with areas from the southern Great Lakes to the South expected to see highs 15 to 30 degrees above average.
A few more record highs are possible in those areas, including (record to beat in parentheses) Peoria, Illinois (70 degrees), Louisville, Kentucky (77 degrees), and Tampa, Florida (88 degrees).
SEVERE STORMS, FLASH FLOODING THREATEN MIDWEST AND SOUTH STARTING THIS WEEKEND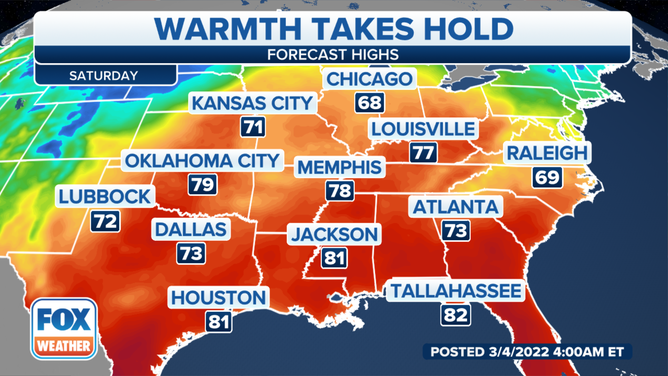 By Sunday, the core of the far-above-average warmth will shift to the Eastern Seaboard from the Southeast to southern New England.
Highs will soar into the 70s as far north as Philadelphia and the 60s as far north as Syracuse, New York. These temperatures are more typical of early May – not early March.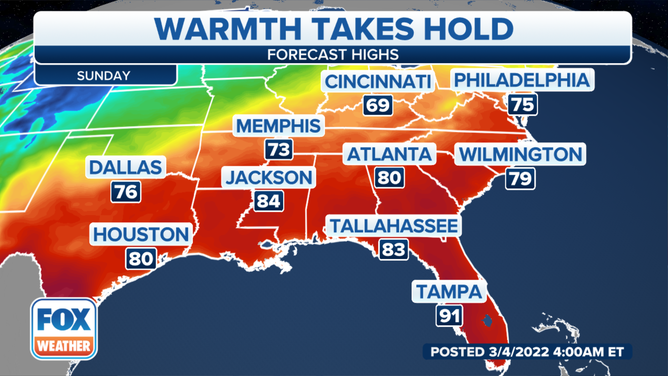 Nearly four-dozen daily record highs are in jeopardy on Sunday from Florida to New Hampshire and upstate New York.
A few select cities that could challenge records Sunday afternoon include (record to beat in parentheses) New York City (68 degrees), Philadelphia (71 degrees), Baltimore (76 degrees), Atlanta (79 degrees) and Raleigh, North Carolina (82 degrees).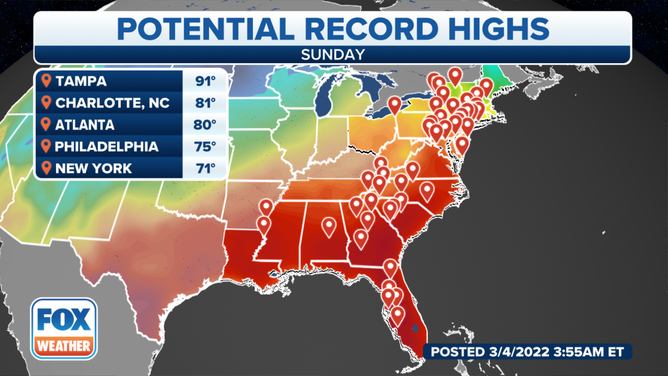 While the Northeast will cool back down to near-average temperatures on Monday as a potential winter storm moves into the region, areas from Florida to the mid-Atlantic will remain unseasonably warm to start the workweek. Highs in the 70s are expected as far north as Philadelphia once again. 
2 WINTER STORMS TO DUMP SNOW, ICE ACROSS WEST, PLAINS, MIDWEST AND NORTHEAST INTO EARLY NEXT WEEK
More than two-dozen additional record highs could fall on Monday in the Southeast and mid-Atlantic.
Monday's potential record highs include (record to beat in parentheses) Washington (77 degrees), Atlanta (80 degrees), Richmond, Virginia (83 degrees), and New Orleans (83 degrees).
Near-average temperatures will return to most of these areas by the middle of next week.