Another round of severe storms expected Sunday in heartland
The ingredients will be in place for rounds of severe weather through Monday.
Severe thunderstorms produced tornadoes and left a path of destruction through Iowa on Saturday and meteorologists warned the threat of storms will continue through the weekend.
The second in a series of developing storm systems is expected to take advantage of warm, humid air from the Gulf of Mexico and produce showers and thunderstorms during Sunday evening through the overnight hours.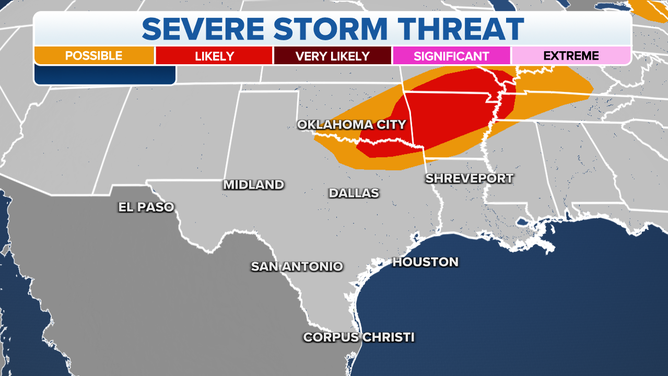 Here is our current outlook for these threats in the Midwest and South into early next week. Be sure to download the FOX Weather app for the latest forecast and weather alerts for your exact location, plus our channel's 24/7 livestream.
FOX WEATHER APP GETS A SPRING REFRESH
Severe weather threat
Sunday
Scattered severe thunderstorms are possible over portions of Arkansas, eastern Oklahoma, northeastern Texas, West Tennessee, southwestern Kentucky and southeastern Missouri.
Little Rock, Arkansas, and Memphis, Tennessee, are among the cities included in the risk of severe storms.
Damaging wind gusts, a few tornadoes and heavy downpours are the main threats in this region.
HERE'S WHERE TORNADOES ARE MOST LIKELY TO OCCUR IN EACH MONTH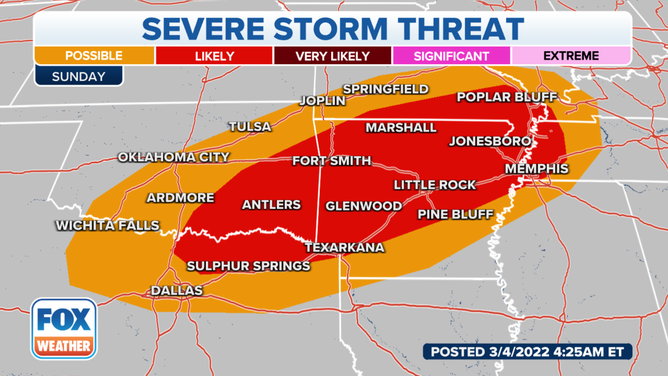 Monday
Additional strong to severe thunderstorms might develop on Monday over Tennessee, eastern Arkansas, northern and central Mississippi, northern and central Alabama and northwestern Georgia.
Similar to Sunday, the main threats from any severe storms will be damaging wind gusts, a few tornadoes and heavy downpours.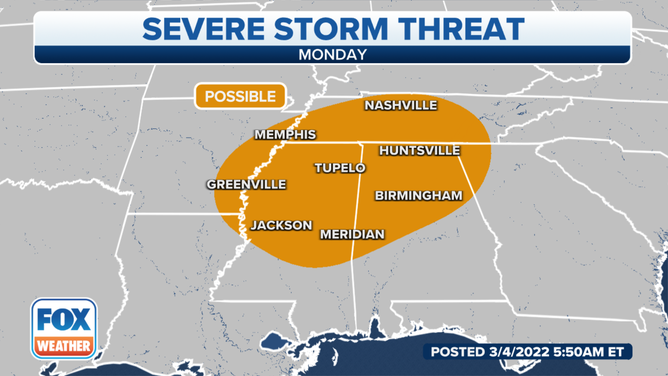 Flash flooding threat
As moisture from the Gulf of Mexico infiltrates the South and the Mississippi and Ohio valleys, heavy rain is likely to develop in parts of those regions this weekend into early next week.
The heaviest rain is expected to fall Sunday and Monday across an area extending from eastern Oklahoma into the Ozarks and the mid-Mississippi and Ohio valleys.
Widespread rainfall totals between 1 and 3 inches are predicted, with locally higher amounts possible in any heavier downpours that may develop.
Flash flooding will become an increasing concern, especially in parts of the Ohio Valley, where soils are already saturated from recent heavy rains.