7 dead, including 2 children, after destructive tornadoes sweep across Iowa
Winterset, Iowa, tornado upgraded to EF-4 with winds of 170 mph
DES MOINES, Iowa -- A series of tornadic supercells raced across Iowa on Saturday, killing at least seven people and producing EF-4 damage, officials said.
The hardest-hit area was Madison County, outside of Des Moines, where emergency management said four adults and two children were killed in the town of Winterset and at least four others were injured.
And on Sunday morning, Lucas County Emergency Management Coordinator Mike Lamb confirmed one person in the city of Chariton, to the south of Des Moines, was killed during the outbreak of severe weather.
The Winterset tornado was one of several twisters that were spawned by a complex storm system with snow and ice on the northern side and severe weather on its southern flank.
The first tornadoes of the afternoon impacted the southwest part of the state, where damage was reported to farms and power lines.
A photographer stumbled upon a barn and farming equipment that took a direct hit from a tornado-warned storm in the town of Cromwell.
As the supercells moved eastward, atmospheric conditions were ripe for continued strengthening, and at least one large tornado was observed near Winterset, Iowa.
Photos from the area show numerous trees snapped and several homes that were destroyed.
Madison County Emergency Management said crews performed search and rescue operations in the hardest-hit areas, and at least one shelter was opened for storm victims.
"It's been really, really devastating for our community," Madison County Emergency Management Director Diogenes Ayala tells FOX Weather. 
Ayala confirmed Sunday that everyone had been accounted for after their search. 
TORNADO RECOVERY: HOW TO STAY SAFE POST DISASTER
National Weather Service meteorologists said the damage around Winterset had been consistent with at least an EF-3 tornado, but as storm surveys continued Sunday and Monday, the rating had been upgraded to an EF-4 with winds estimated to be around 170 mph.
The tornado was on the ground for almost 70 miles and was about 800 yards wide, according to the NWS.
The same supercell moved through the south side of the Des Moines metro area, forcing passengers at the airport into a basement for safety.
Travelers said air traffic at the Des Moines International Airport was temporarily halted due to the severe weather.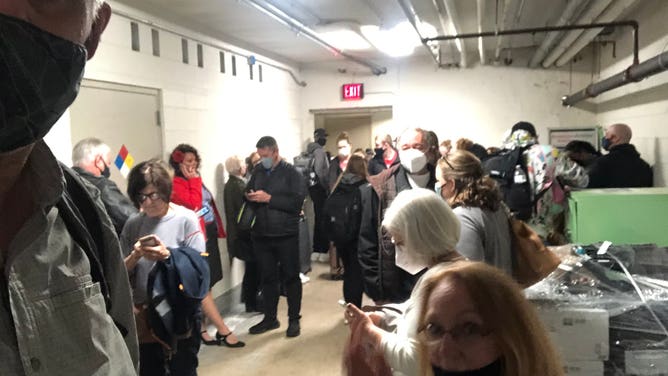 The storm quickly moved into eastern parts of the state triggering several tornado warnings along its path.
PowerOutage.US reported more than 11,000 outages across the state, with Warren and Madison counties appearing to be the hardest hit.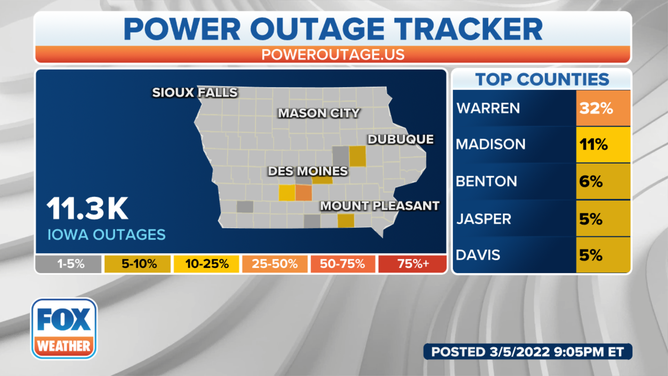 The NWS has so far confirmed eight tornadoes but surveys continue. 
The Hawkeye State surpassed its monthly average of two tornadoes usually seen during March.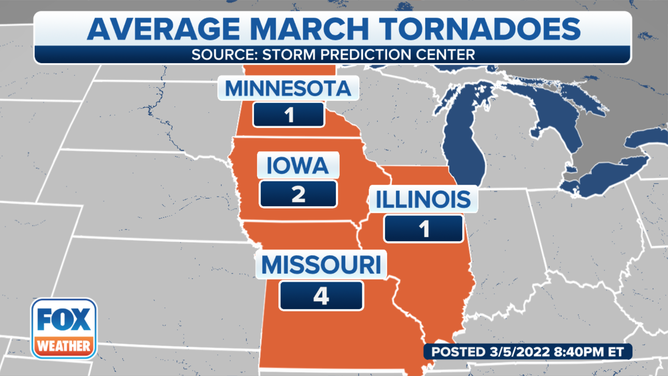 Confirmed tornadoes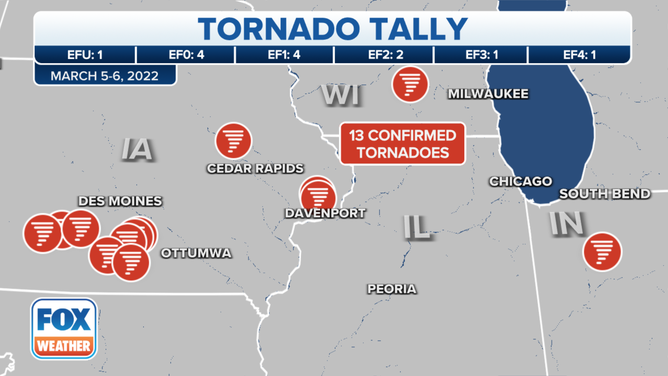 The NWS continues to examine damage to determine how strong the tornadoes were and how many miles they traveled. They say that it could take days to weeks to comb through the damage.
Winterset, Iowa – The National Weather Service said that initial damage was consistent with at least an EF-3. That was upgraded to an EF-4 rating after a storm survey on Monday. The tornado had winds around 170 mph.
Red Hawk State Park, Iowa - An EF-3 tornado traveled 16.5 miles from near Derby to Chariton through the state park. Crews confirmed it was responsible for one death and one injury.
Garden Grove/Humeston, Iowa – No injuries were reported after an EF-2 traveled from Leon to Derby past Garden Grove and Humeston.
Allerton/Corydon, Iowa - Another EF-2 traveled 7.5 miles past Allerton and Corydon. No injuries were reported.
Vinton, Iowa – At 7:15 p.m., a strong EF-1 tornado developed about 2.5 miles southwest of Vinton Saturday evening, and tracked northeast 8.5 miles before lifting northeast of town. The tornado was on the ground for about 11 minutes. The estimated peak winds were 110 mph. In northwest Vinton, the tornado damaged numerous structures, including mobile homes, houses, and wood frame, metal buildings in an industrial park. There were no injuries reported.
Scott County, Iowa - The first of two tornadoes to traverse the county touched down near Lake Park and traveled over four miles. The EF-1 twister snapped several trees and blew over outbuildings  on farmsteads. "Boards were impaled into the roof and walls of a barn," stated the damage survey,
Scott County, Iowa - The second tornado for the county was a brief EF-0 and damaged a shed and trees.
Stoughton, Wisconsin – The NWS confirmed EF-1 damage with this tornado. Maximum wind speeds were recorded at 95 mph, and it had a maximum width of 50 yards. It was on the ground for four minutes and traveled five miles. There was damage to homes and outbuildings.
Derby, Iowa – Rated an EF-1, this tornado was on the ground for five minutes and traveled 3.6 miles. It had maximum wind speeds of 100 mph.
Cromwell, Iowa – Rated an EF-0, this tornado traveled 3.4 miles and was on the ground for five minutes.
Chariton, Iowa – This was a satellite tornado. It was rated an EF-0 and was on the ground for two minutes. It traveled around the primary tornado for 1.9 miles.
Corning, Iowa – Rated an EF-U, the NWS says that there was a lack of damage evidence, and therefore they gave this a 'U' or Unknown rating. It was on the ground for two minutes and traveled 1.5 miles.
Cass County, Indiana – The EF-0 tornado hit just after 2 a.m. early on Sunday, March 6. The NWS says the tornado was on the ground for roughly a half of a mile and damaged trees and a home before dissipating. 
Read more about how a storm survey is conducted here.