Tornado recovery: How to stay safe post disaster
Wear protective clothing and take safety precautions during tornado cleanup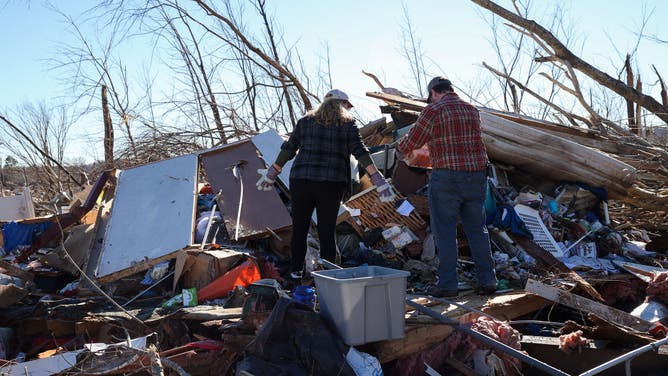 Thousands of residents in Kentucky and across the mid-South are beginning to rebuild their communities after a devastating tornado outbreak destroyed more than 1,000 homes and whole communities. 
However, many injuries and even deaths can occur after a natural disaster as homeowners attempt to repair or help their neighbors. There are essential safety measures to take when residents return to their homes to search for belongings or even begin to rebuild.
Look out for electrical and chemical hazards
Power lines knocked down during a storm should be left alone for professionals to handle. When driving, if you see a downed power line in the water, do not drive through it. If the power is still on, look out for frayed wiring or any sparks. Immediately shut off the power if you smell burning or see sparks. 
Strong winds or a tornado can blow around propane tanks or throw whole cars. Let fire or EMS remove hazardous materials from your property. 
Wear gloves if you need to remove a car battery from a damaged vehicle.
"Car batteries can maintain an electrical charge even if flooded. Avoid any acid that may have leaked from a car battery," according to the Centers for Disease Control and Prevention. 
When you return home, if you smell a gas leak, leave home immediately—use flashlights instead of an open flame for a light source. 
Drinking water sources and sanitation
According to a study published in Scientific Reports, most post-disaster illnesses are often caused by bacterial or water-borne agents. Do not drink the water from your home until you hear from your utility company that it is safe to do so and check to see if your neighborhood is under a boil water notice. 
FEMA, the American Red Cross and other disaster relief groups should provide bottled water. The Red Cross and FEMA have enough supplies for thousands of people a day.
LEARN: 7 foods you think need to be refrigerated but actually don't
Even small things like clean clothes can be a struggle post-disaster. Tide Loads of Hope responds to areas impacted and provides laundry services. Kentucky has opened its state parks to people who need a place to stay, and the state is working to accommodate laundry and other basic needs for residents.
Dead livestock and animals can create a public health hazard during the aftermath of a storm. 
Improper disposal of animal carcasses can contaminate drinking water sources or spread disease, according to the University of Kentucky College of Agriculture.

Under normal circumstances, dead animals should be disposed of within 48 hours, but a widespread disaster may delay the cleanup. Here is a list of approved methods for animal disposal.
Avoid carbon monoxide poisoning
The tornadoes in Kentucky wiped out power to more than 30,000 people. As power restoration efforts begin, some people might turn to generators to help heat their homes or provide power to appliances. 
Generators should never be used inside because they emit carbon monoxide, a colorless, odorless gas that can cause people to become ill or even die. This also goes for camp stoves or other propane devices. 
LEARN: 7 ways to stay safe while using a generator
Wear protective gear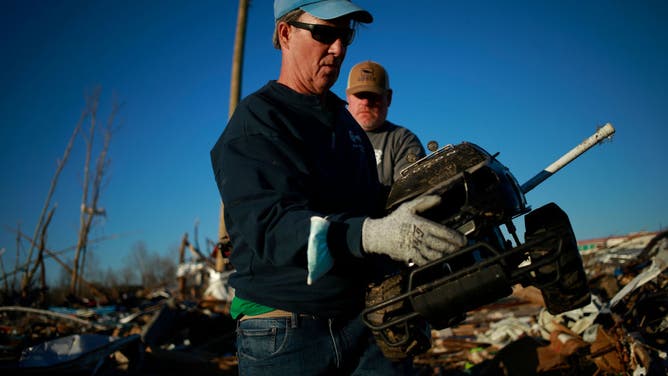 Healthcare provider AdventHealth has suggestions for things to keep a lookout for and how to protect yourself as you begin attempting to clean up after a disaster.
Wear protective clothing, including gloves, protective eyewear and sturdy boots or shoes. A hard hat is also recommended to protect your head from unstable structures or falling debris. 
AdventhHealth also reminds people to look out for other threats besides the ones created by debris, including snakes or rodents.
Look after yourself
Avoid overheating and exhaustion by taking frequent breaks and staying hydrated while sorting through rubble or picking up large pieces of debris. 
While it might be an immediate safety issue, mental health is just as crucial in the aftermath of a traumatic weather event like a tornado.
Organizations like the American Red Cross and the Salvation Army provide more than food and essentials in a disaster. They also offer mental health support for survivors. It's normal not to be OK after the trauma of a natural disaster, especially after losing a loved one or your home. 
Kentucky Gov. Andy Beshear said more than 1,000 homes across western Kentucky were "just gone" after the Dec. 10 tornadoes. Entire communities were devastated, including Mayfield, Kentucky, where 75% of the town was destroyed.  
It's OK to lean on your neighbors, friends and family for support but speaking to a counselor is always a good option. Graves County school counselors and social workers will be receiving funds through a Kentucky Counseling Center fundraiser to help guide their community through this time.