Another day of record-breaking warmth expected across parts of central US
Records-high temperatures could be broken from the Southeast into the mid-Atlantic and New England by Sunday
The taste of spring that has been enjoyed by millions of Americans from coast-to-coast will linger for another few days putting more record-high temperatures in jeopardy of being broken.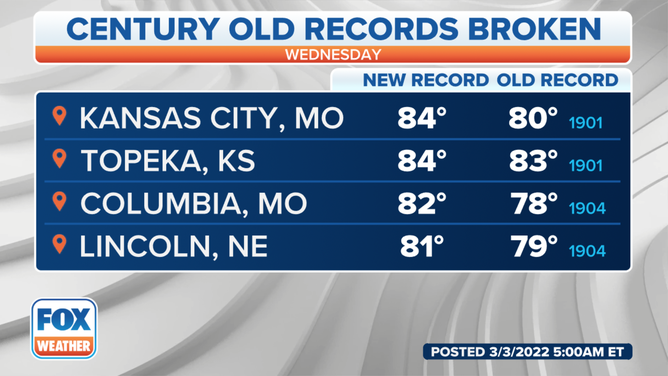 Records were broken across the central U.S. on Wednesday as temperatures soared into the 80s in many places.
Kansas City, Missouri, and Topeka, Kansas, both reached 84 degrees, breaking their old records set back in 1901.
The warm temperatures will be sticking around the region on Thursday, putting more records in jeopardy during the day.
Mount Ida, Arkansas, is forecast to get to around 80 degrees today, which would break its record of 79 degrees. Other records could be broken across parts of Texas, Colorado and Kansas.

The Central Plains won't be the only place feeling the heat.
Warm temperatures will extend into the Southern Plains, along the Gulf Coast and into the Southeast and mid-Atlantic by the weekend.
Oklahoma City, Oklahoma, is expected to reach 81 degrees on Thursday, and the warm temperatures will stick around until at least Saturday, when the area could hit 80 degrees.
Elsewhere, temperatures are generally expected to remain in the mid- to upper-70, with some areas, like Jackson, Mississippi, staying in the 80s for the next few days.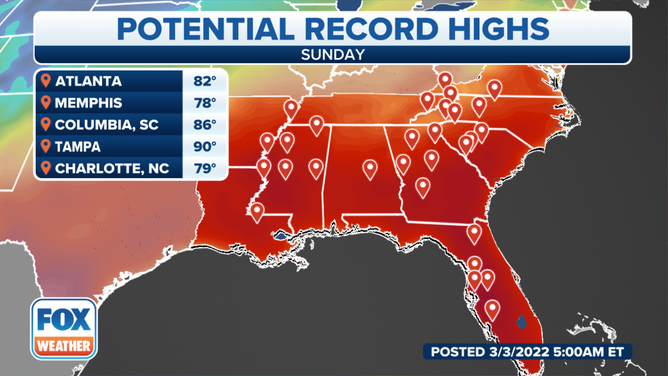 Dozens of record-high temperatures could be broken across the Southeast and into the Northeast by the end of the weekend.
Atlanta could get to a high temperature of 82 degrees on Sunday, breaking its old record of 79 degrees.
Tampa will be hot with a forecast high of 90 degrees, breaking its old record of 86 degrees set in 1983.
Records could also be broken in Memphis, Tennessee, Columbia, South Carolina, and Charlotte, North Carolina.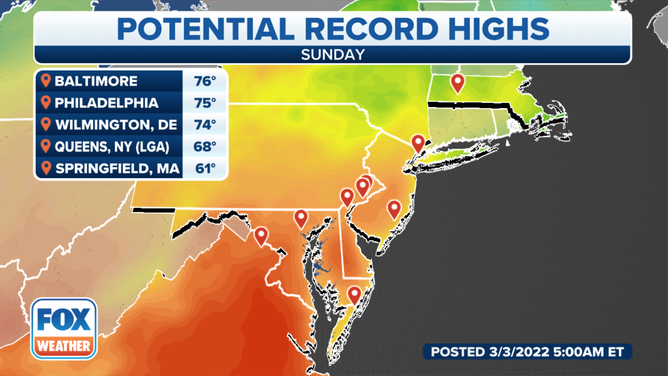 Major cities along the East Coast could also see records broken as we end the weekend.
Wilmington, Delaware, is forecast to get to around 74 degrees, which would break its record of 71 degrees set in 1935.
It will be warm across New England, too. Springfield, Massachusetts, is expected to get to around 61 degrees, which would break its record of 57 degrees.