121-year-old record shattered in Kansas City as March temps reach 84 degrees
The National Weather Service in Kansas City said the above-normal warm temperatures should stick around for the rest of the week, with the chance for rain and thunderstorms Saturday
KANSAS CITY, Mo. – When temperatures reach over 80 degrees on a March day in Kansas City, area school districts should treat it as a reverse snow day. 
Springtime weather arrived Wednesday in Kansas City as Kansas City International Airport temperatures reached 84 degrees by 4 p.m., smashing the 121-year-old record. Just hours earlier, the low was recorded at 46 degrees.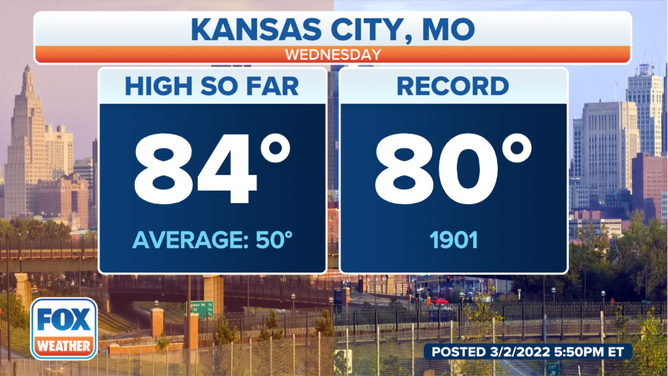 It was the warmest temperature the city has seen since Oct. 10, 2021, when it hit 82 degrees and tied for the third earliest in the year they have hit 80 degrees.
Feb. 24, 1930 (81 degrees)
Feb. 29, 1972 (83 degrees)
March 2, 1901 (80 degrees)
The all-time March record at KCI was 91 degrees back in 1907.
The National Weather Service in Kansas City said the above-normal warm temperatures should stick around for the rest of the week, with the chance for rain and thunderstorms Saturday.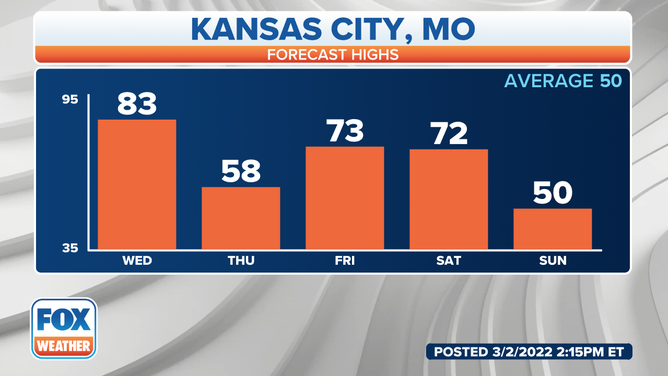 Stronger thunderstorms develop in northern Missouri and southern Iowa on Saturday afternoon, and another chance for rain returns Sunday.
An elevated fire weather danger has been posted for Thursday in Kansas City. The NWS said winds start from the southwest but shift to the northwest during the afternoon. Gusts between 15-25 mph are expected with dry conditions.
The NWS said that the drying trend has extended into March, as February was slightly colder and drier than normal. 
However, snow was different thanks to the 7 inches that fell on Feb. 17, making it the 25th snowiest February on record for Kansas City.