Rapid snowmelt, heavy rain adding to misery in an already-waterlogged Pacific Northwest
Flood Watches, Winter Storm Warnings and Winter Weather Advisories are in effect as a system brings widespread precipitation to the Northwest
A rare June atmospheric river continues to soak the Pacific Northwest, adding to an already-soggy spring across the region.
An atmospheric river of this magnitude usually comes in late fall and wintertime for the Northwest. Still, FOX Weather Meteorologist Scott Sistek says it's nearly unheard of in June.
Futuretrack for the Pacific Northwest.
(FOX Weather)
---
"The water content carried along can be as much as 27 times the volume of the entire Mississippi River. And wherever those atmospheric rivers make landfall, you can expect a period of heavy rain and potential flooding, especially where that train of moisture slams into coastal mountain ranges," Sistek says.
The system brought rain late last week and into the weekend, but several inches of rain is still yet to come through Monday evening.
Northwest rainfall forecast through Monday, June 13, 2022.
(FOX Weather)
---
Many rivers and creeks in the region are already running high due to snowmelt, and with the additional rainfall, officials say they're expecting the highest levels this spring.
This is especially true in areas of northern Oregon.
The Multnomah County Sheriff's Office tweeted photos on Saturday that showed a swollen Sandy River.
The sheriff's office is warning people to stay away and out of the river after rapid snowmelt and heavy rain caused the river to rise.
The National Weather Service in Portland, Oregon, said Sunday that the last three months have been the wettest on record for the city.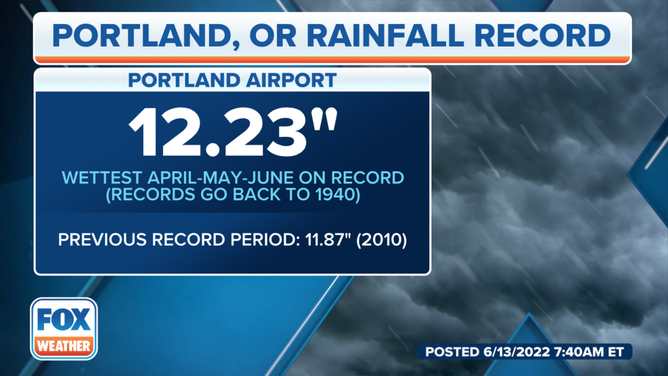 Flood Watches have been posted for parts of northeastern and eastern Washington, northern Idaho, northwestern Montana and south-central Montana.
PLAN, PREPARE, PROTECT: HOW TO BEST COVER YOUR PROPERTY AGAINST FLOODS
Flood Watches are in effect on Monday, June 13, 2022.
(FOX Weather)
---
Seattle-resident Sistek says the rain is nothing new, as this past weekend marked the 12th time the city had experienced measurable rain in the 15 weekends since March 1.
And for elevations above 5,000 feet in the northern Rockies, heavy snow is expected.
Winter weather alerts are in effect through Wednesday morning, June 15, 2022.
(FOX Weather)
---
"Total snow accumulations of 2 to 6 inches above 5,000 feet," meteorologists at the National Weather Service in Great Falls, Montana, said. "Above 6,000 feet, snow accumulations of 7 to 14 inches, with up to 20 inches above 7,000 feet."
The late-season winter storm prompted Winter Storm Warnings and Winter Weather Advisories through Wednesday morning. Blowing and drifting snow within this area could also cause concern as gusts up to 70 mph are possible.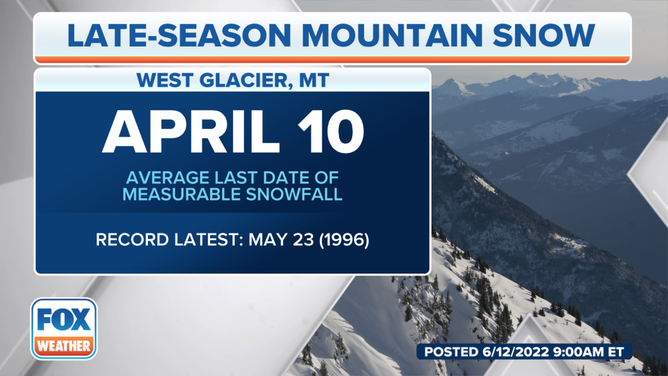 Be sure to download the FOX Weather app to track any storms in your area and receive potentially life-saving weather alerts issued by the National Weather Service. The free FOX Weather livestream is also available 24/7 on the website and app and on your favorite streaming platform. The FOX Weather Update podcast also provides weather information for the entire country.