Front to trigger tropical downpours across South into workweek
Anytime a front is over the warm waters of the Atlantic or Gulf of Mexico, it must be monitored for potential tropical development.
A slow-moving front across the South will mean the chance of storms and heavy rainfall, which could produce localized flooding through midweek.
Forecast models show areas along the Gulf Coast, from Louisiana to the Florida Panhandle, could pick up on some of the heaviest rain.
Rainfall accumulations through Wednesday of 2 – 3" with isolated amounts approaching half a foot are possible.
Southeast Rainfall Forecast
 
---
Meteorologists say in addition to the rainfall, there is a chance a few of the storms might become strong to severe, with damaging wind gusts being the main threat.
Forecasters will also be watching the front and its interaction with the warm waters of the Gulf of Mexico.
It's not uncommon for small low-pressure systems to quickly spin up and acquire tropical characteristics, if atmospheric conditions are favorable.
Usually, due to the proximity of land, these systems remain weak and do not influence the overall impacts of heavy rain.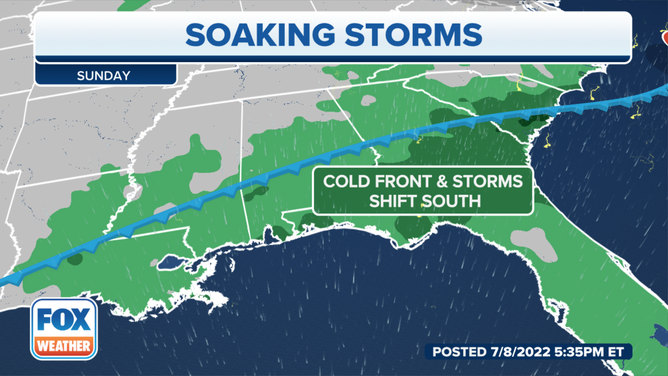 HOW TO WATCH FOX WEATHER ON TV
Due to the cloud cover and rain, high temperatures for most of the Southeast could be below average for most of the week.
The relief from the heat will be a welcomed sight to many as the region has experienced a warm summer.
U.S. Radar Animation
 
---
The unsettled weather along the Gulf Coast will likely mean an increase in seas and rip currents along beaches.
Forecast models show a ridge of high pressure could work its way into the region by mid to late week, which will help cut down on rain chances.
Because of the showers associated with the stalled front, the National Hurricane Center is monitoring an area along the Gulf Coast for tropical development. 
On Sunday, forecasters outlined the area, saying that there could be quick tropical development toward the end of the week.
Regardless of whether anything organized develops, persistent heavy rain is forecast along the northern Gulf coast and across the South. 
Be sure to download the FOX Weather app to track any storms in your area and receive potentially life-saving weather alerts issued by the National Weather Service. The free FOX Weather livestream is also available 24/7 on the website and app and on your favorite streaming platform. The FOX Weather Update podcast also provides weather information for the entire country.