What is a downburst?
Downbursts are not tornadoes but can easily have winds that are just as strong.
Downbursts are forces of Mother Nature that can cause wind damage similar to a tornado but are often more difficult to forecast.
These powerful winds develop when precipitation falls through dry air, which allows for quick evaporation. Since evaporation is a cooling process, cooler air forms and quickly sinks to Earth's surface.
The ground forces the air to expand outward in all directions, and wind gusts can reach speeds over 100 mph.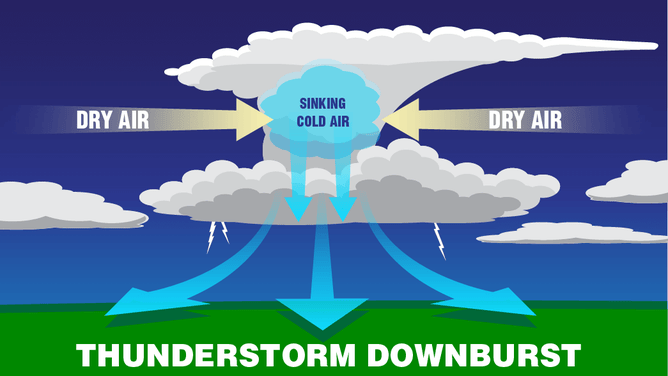 These damaging wind events can down trees, cause structural damage and be a major threat to planes during takeoffs and landings.
The wind damage is similar to what a tornado or even a hurricane can produce but on a different scale.
Meteorologists say damage is usually confined to an area that can be measured in yards and rarely reaches more than a few miles.
In rare cases, if enough clusters of downbursts form, experts say a damaging wind event can stretch hundreds of miles and earn the distinction of becoming known as a derecho.
The length of a downburst can vary but, in most cases, only lasts upwards of a few minutes in one particular area.
Typically, the height of the damaging wind event season is in June but can occur year-round, especially in warmer climates.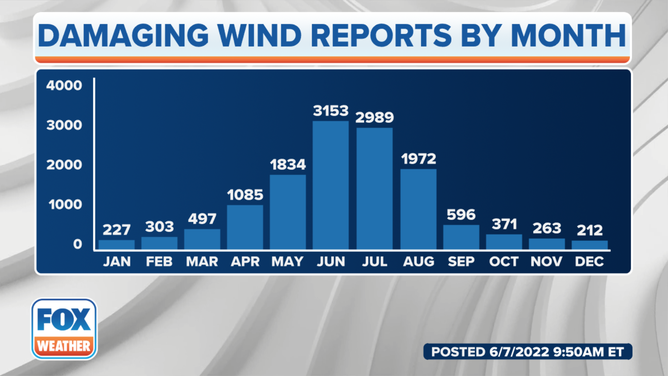 WE'VE ENTERED AMERICA'S MOST ACTIVE TIME FOR DAMAGING WINDS FROM SEVERE THUNDERSTORMS, INCLUDING DERECHOS
Categorization of downbursts
Downbursts can be further subdivided into microbursts and macrobursts, depending on the size of the event.
The National Oceanic and Atmospheric Administration says a downburst is categorized as a macroburst if the impacted area stretches at least two and a half miles.
Any damaging wind event less than two and a half miles in width is considered to be a microburst.
Because of the small yet powerful nature of a microburst, they can occur in both dry and wet weather events.
During a dry microburst, little or no precipitation falls from the cloud layer.
These events typically only occur in the Southwest, Plains and parts of the Midwest.
A wet microburst is often associated with heavy precipitation and is commonly found in the eastern U.S.
HOW TO WATCH FOX WEATHER ON TV
Danger to planes
Federal agencies say wind shear produced by downbursts cause significant hazards to aviation and have been responsible for dozens of crashes.
NWS meteorologists say a downburst can more than double the rate of descent of a plane, causing a potentially deadly outcome.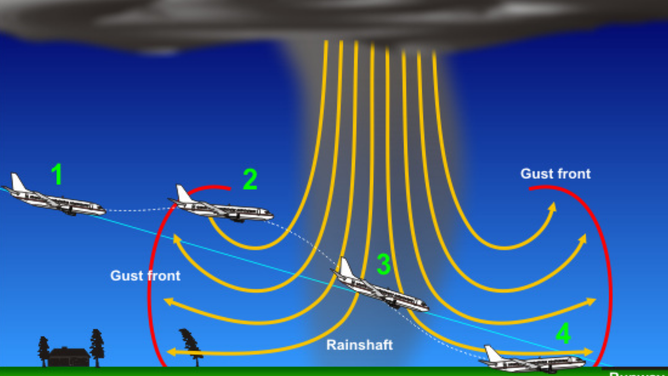 The last large disaster involving a commercial airliner and a downburst is believed to have been USAir Flight 1016 while it was on approach to the Charlotte Douglas International Airport on July 2, 1994.
The National Transportation Safety Board said the combination of the microburst and wind shear caused the plane to crash shortly after a missed approach to a runway.
Thirty-seven people lost their lives in the crash and agencies pledged changes in the wake of the disaster.

The advancement of air traffic control and meteorology have made disasters involving storms and commercial aircraft to become nonexistent. 
It has been nearly 30 years since the last disaster involving a downburst, and according to FlightAware, a record 13 years have passed since any U.S. carrier has been involved in a fatal crash.
THUNDERSTORMS HUNDREDS OF MILES AWAY CAN WREAK HAVOC ON AIR TRAVEL