Dangerous heat: Tallahassee, Jacksonville in Florida could see one of their hottest days on record
Record-high temperatures are in jeopardy of falling as the summer heat wave continues
It's going to be another summer scorcher across the southeastern U.S., with cities like Tallahassee and Jacksonville, Florida, bracing for what could be one of their hottest days on record on Thursday.
NOAA's Weather Prediction Center says most of the sizzling heat will be closer to the Gulf Coast, but adding in the humidity will make it feel as high as 110 degrees across the region.
HOW TO WATCH FOX WEATHER ON TV
Millions of Americans are under a heat alert on Thursday, June 23.
(FOX Weather)
---
More than 20 million Americans in eight states are again under a heat alert as temperatures are expected to reach dangerous levels that can cause heat-related illnesses within minutes of being exposed to the brutal conditions.
Heat Advisories stretch from as far west as Dallas and Waco, Texas, through northern and southeastern Louisiana, including the cities of Shreveport and New Orleans.
The alerts also stretch along the Gulf Coast in Mississippi, Alabama and Florida, including Tallahassee and Gainesville.
South Georgia, including Albany and Savannah, are also included in those alerts. However, Excessive Heat Warnings are in effect for Macon and Middle Georgia as temperatures there could soar well above 100 degrees on Thursday.
HOW THE WEATHER YOU'RE ACCUSTOMED TO AFFECTS NATIONAL WEATHER SERVICE HEAT WARNINGS, ADVISORIES
High temperatures on Thursday, June 23.
(FOX Weather)
---
Take a look at the temperatures across the Southeast on Thursday.
Several major cities from Texas to Florida and the Carolinas will get near or above 100 degrees.
That includes Dallas and Houston, where temperatures will likely hit or creep close to the century mark during the afternoon.
Farther to the east, temperatures will be in the upper 90s from Little Rock, Arkansas, to Jackson, Mississippi, and New Orleans.

Tallahassee will likely see a high temperature of 103 degrees, which could be among one of the hottest days on record for the city. The hottest day on record is 105 degrees, which was set in 2011.
Jacksonville, Florida, will also make a run at one of its hottest days on record. The forecast high there on Thursday is 103 degrees, with the hottest temperature ever recorded 1 degree hotter at 104 degrees. Those temperatures were recorded twice, more than 100 years ago. The first was in 1872 and the second time in 1879.
By 3 p.m. on Thursday, Daytona Beach had reached 100 degrees. The last time that happened was on Aug. 2, 1999, according to the NWS in Melbourne. 
WHAT IS THE 'FEELS-LIKE' TEMPERATURE?
Temperatures will feel higher than 100 degrees on Thursday, June 23.
(FOX Weather)
---
And when you factor in the humidity, it will feel even hotter across the region, which is why heat alerts are in effect.
It will feel like 104 degrees in Dallas, Little Rock and Jackson, with New Orleans feeling like it's at least 106 degrees.
Those 100-degree heat indices will also stretch across Birmingham, Alabama, Tallahassee, Orlando and into Columbia, South Carolina.
Record-high temperatures in jeopardy of falling on Thursday, June 23.
(FOX Weather)
---
Not only are these temperatures hot, but they're also likely going to be record-breaking in several areas.
Nearly a dozen records could fall in Texas on Thursday, including in Austin, where it's expected to reach 102 degrees.
As we mentioned above, Tallahassee could also get close to breaking a record with a high of 103 degrees.
Heat precautions
The best time to go outdoors during a hot summer day is in the early morning or late in the evening when temperatures tend to be cooler than during the afternoon.
If you need to go outdoors during the heat of the day, experts advise you to wear loose, light-colored clothing and drink plenty of fluids.
CLICK HERE TO GET THE FOX WEATHER UPDATE PODCAST
The dangerous heat can make vehicles deadly for anyone left inside without air conditioning running. Make sure to "look before you lock" to ensure you have not left any children or pets unattended.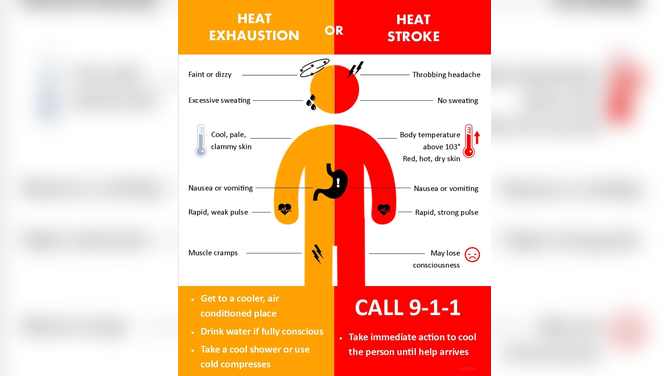 Track the temperatures in your area with the FOX Weather app. The free FOX Weather livestream is also available 24/7 on the website and app and on your favorite streaming platform. The FOX Weather Update podcast also provides weather information for the entire country.