Smoke from several wildfires expected to choke skies over the West this weekend
With nearly 170 active fires burning across the West right now, smoke is causing air quality issues in a number of areas that is expected to get worse over the weekend as an increase in offshore winds spreads widespread smoke across the West and Pacific Northwest.
SACRAMENTO, Calif. -- California has been home to historic heat waves, raging wildfires, and a rare near-landfalling tropical storm this week.
Now add a fourth wrinkle to Mother Nature's fury this week: Air quality issues from widespread wildfire smoke. Though California will not be alone in this endeavor -- wildfire smoke is spreading across several western states, including the entire Pacific Northwest.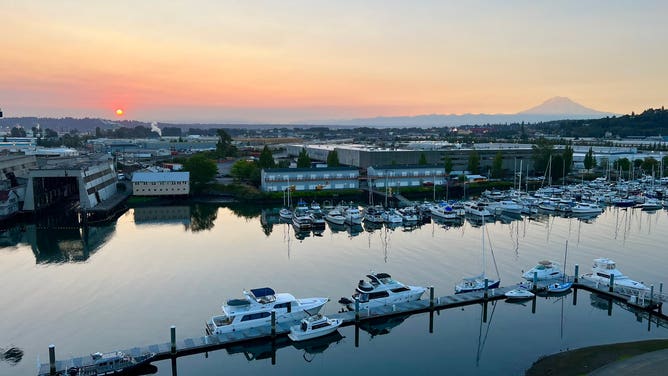 Nearly 170 active fires are burning in the West right now, including massive fires putting out incredible amounts of smoke, such as the Mosquito Fire in the Tahoe National Forecast in northern California that is so large it's creating its own weather pattern. 
CALIFORNIA WILDFIRE PRODUCES A MASSIVE 'FIRE CLOUD' CAPABLE OF CREATING ITS OWN WEATHER
Air quality levels have reached hazardous levels near Folsom Lake in California near the fire. Widespread readings near Lake Tahoe show unhealthy to very unhealthy air quality levels.
In the Pacific Northwest, smoke was blowing into the Seattle and northern reaches of the western Washington area Friday from several lightning-triggered fires in the Northern Cascades.
Air quality was expected to drop into unhealthy categories by late Friday into Saturday.  Smoke has already triggered air quality alerts in central Washington.
The Cedar Creek and Rum Creek fires are spewing smoke across central Oregon, with the air quality deteriorating in the Eugene area by later Friday. Across the border in Northern California, the Six Rivers Lightning Complex continues to add smoke to the region as it has burned over 40,000 acres so far, though it is nearly contained.
HOW TO WATCH FOX WEATHER ON TV
Farther east, the Double Creek Fire in eastern Oregon and a few neighboring fires have scorched over 100,000 acres so far and are degrading air quality across northeastern Oregon and western Idaho. The Moose Fire near the Idaho/Montana border has left air quality at unhealthy levels in that region as well.
But while smoke has been concentrated in relatively narrow corridors this week, an increase in offshore winds along the West is expected to disperse smoke across a much wider area of the West and Northwest.
Southwest Heat Alerts
(FOX Weather)
---
Forecast maps show nearly all of Washington, Oregon and Idaho covered in smoke on Saturday, as well as the entire northern half of California, Nevada and Utah. Air quality is expected to be the worst Saturday for areas near the Mosquito Fire in California, eastern Oregon, northern Idaho, and into the Portland / Willamette Valley areas by later Saturday into Sunday.
CALIFORNIA FIREFIGHTERS BRACE FOR KAY'S HIGH WINDS AS DEADLY WILDFIRES EXPLODE IN SIZE
And as conditions remain dry and hot, those winds increase the threat of additional fires adding to the smoky woes in the west. Fire Weather Warnings cover large areas of Washington and Oregon through at least Saturday. 
Fire Weather Alerts
(FOX Weather)
---
A return to westerly breezes early next week will push the smoke away from western Oregon and Washington and instead move it into the inland Northwest and West. And better news is in the long-range forecasts, where NOAA indicates likely cooler and wetter than average conditions in the west by mid-September.
Not just the West affected by the smoke
Hazy skies from smoke are not just relegated to the Northwest. Upper levels winds have carried smoke across the country into the Upper Midwest.
Even the Northeast isn't immune as a plume of upper levels of smoke from western wildfires will add a hazy tinge to the skies across New York and New England on Saturday, perhaps making for some surreal orange sunsets.
The smoke will clear from the northeast by the end of the weekend.