California wildfire produces massive 'fire cloud' capable of creating its own weather
Enormous smoke plumes billowing up create a funnel of extremely hot air, forming what is known as pyrocumulus or flammagenitus clouds. The Mosquito Fire in Northern California is burning uncontrolled, sending smoke up and forming these clouds that can create lightning and even rain.
The swirling smoke plume from an uncontrolled Northern California wildfire is rising high enough into the atmosphere to create its own weather, including possible lightning and even rain.
Firefighters continue to battle the Mosquito Fire burning within the Tahoe National Forest just east of Forest Hill. Since the fire began on Tuesday, the flames have exploded in size, consuming more than 23,000 acres by Friday.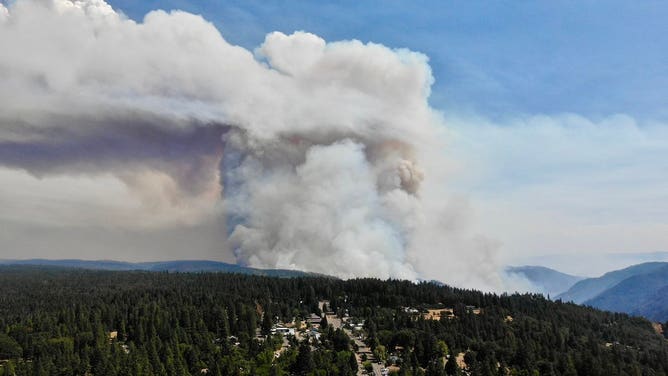 Enormous smoke plumes are billowing up, creating what is known as pyrocumulus or flammagenitus clouds. FOX Weather Meteorologist Cody Braud explained that so-called "fire clouds" can form due to extreme heating of a column of air, which destabilizes the atmosphere.
On Thursday, atmospheric sounding data from Reno, Nevada, showed that mixing cool and hot air above the surface allowed the Mosquito Fire smoke plume to rise unimpeded to nearly 19,700 feet.
Hurricane Hunters even captured these shots from the sky while helping San Jose State University with its research fire dynamics mission.
Researchers with the San Jose State University's Fire Weather Research Laboratory have been studying the plume from the Mosquito Fire to learn more about fire weather behavior. 

"In fact, once the smoke made it this high in the atmosphere, there were some signs of a shallow layer of light moisture," Braud said. "If the plume of smoke is able to find any form of moisture, that's when pyrocumulus clouds can start to take shape. That's the biggest key is the presence of moisture. Soon enough, the moisture is able to condense on the smoke pollutants, and we can even get rain as well as the crazy lightning pictures we sometimes see."
The weather in one of these fire clouds can be similar to a daily thunderstorm and result in spectacular lightning.
"As that moisture condenses, ice forms at much higher altitudes," Braud said. "Ice collides, creating positive charges, and eventually, it will discharge with a negative charge."
The same type of clouds can also form over volcanoes.
If the flammagenitus cloud produces lightning, it then becomes cumulonimbus flammagenitus. Good luck saying that five times fast.