Midwest braces for widespread storm threat on Friday
Chicago, Detroit and Cleveland are all included in the heightened risk zone on Friday for severe storms.
The same weather system that produced severe storms in the Upper Midwest will again trigger rounds of wet weather on Friday, with damaging winds, expected to be the main threat.
The Storm Prediction Center has highlighted an area from Iowa to western Pennsylvania for seeing an increased risk of storms that could turn severe during the late afternoon and evening.
The FOX Forecast Center is still tracking leftover showers and thunderstorms over the Midwest from Thursday evening but expects new rounds of wet weather to develop after the atmosphere is able to recharge.
VIDEOS SHOW TORNADOES MARCHING ACROSS NORTHERN ILLINOIS, CHICAGO METRO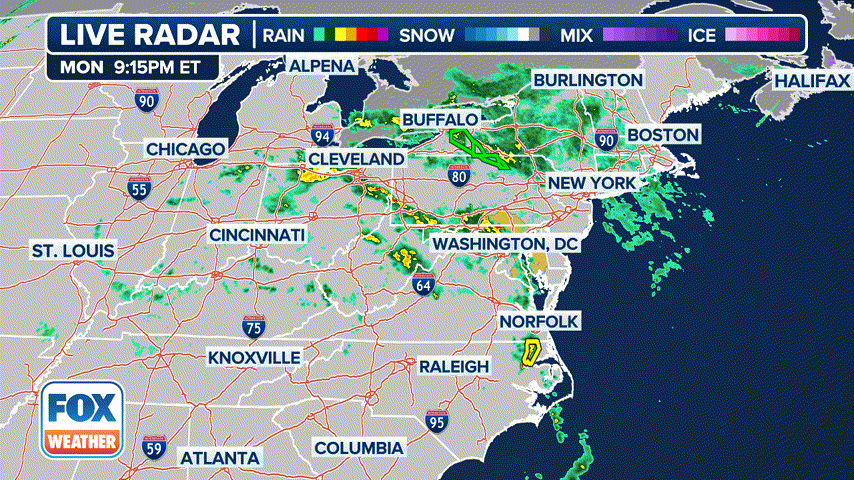 A three-hour radar loop showing where showers and thunderstorms are ongoing. Severe Thunderstorm Warnings are indicated in yellow. Tornado Warnings are indicated in red, while Tornado Warnings with a confirmed tornado are indicated in purple. Flash Flood Warnings are indicated in green, while Flash Flood Emergencies are indicated in pink.
(FOX Weather)
---
Des Moines, Milwaukee, Chicago, Detroit and Cleveland are all included in the level 2 out of 5 threat zone for where storms could turn strong to severe.
Any storm that produces a wind gust of at least 58 mph or hail one inch in diameter or larger is considered to be severe.
"So, the heat and humidity lead to large, significant amounts of storm energy…We're talking about a major damaging wind threat here," said FOX Weather meteorologist Kelly Costa.
MICHIGAN RESIDENTS STUNNED BY LARGEST HAILSTORM THEY'VE EVER WITNESSED IN TOWN OF DAVISON
Friday's Severe Weather Outlook
(FOX Weather)
---
Forecast models show storms developing across Iowa and Wisconsin during the afternoon before moving into cities such as Chicago, Detroit and Cleveland during the late evening and Saturday morning.
Any storm that develops has the potential of producing heavy rainfall and lightning, which can be dangerous if caught outside without substantial shelter. 
The FOX Forecast Center believes both the hail and tornado risk will be reduced compared to the overall threat for damaging winds.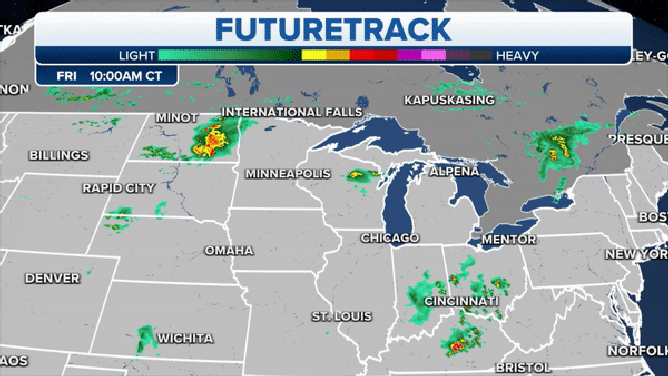 HOW TO WATCH FOX WEATHER ON TV
Minnesota, Wisconsin and Michigan targeted on Thursday
Severe Thunderstorm Watches were issued for millions across the Upper Midwest and Great Lakes on Thursday as storms moved across the region.
During the height of the severe weather, more than 200,000 outages were reported by data from PowerOutage.us.
The SPC received reports of half dollar-sized hail in Minnesota and a wind gust to 70 mph in Wisconsin.
Hail the size of quaters was reported north of Minneapolis, as the downtown region missed out on the strongest storms.