Deaths reported in Indiana, Georgia after severe weather knocks out power to 700K from Midwest to South
A home in Martin County, Indiana, was hit by a suspected tornado, killing one of the occupants and injuring the other. Severe weather also turned deadly in Georgia, where storms knocked down a tree that crushed a man in the northeast part of Atlanta on Sunday night.
Deaths have been reported in Indiana and Georgia after severe weather, including tornadoes, tore paths of destruction from the Midwest to the South on Sunday, leaving more than a half-million people without power.
According to Monty Wolf, with Martin County Emergency Management, a home in Lost River Township, Indiana, was hit by an EF-2 tornado. A couple was in the home at the time, and the husband was pronounced dead at the scene while the wife was airlifted to a local hospital to be treated for injuries.
Their identities have not been released.
According to FOX 59 Indianapolis, the area surrounding the couple's home was described as rural and surrounded by multiple trees that were brought down by the severe storms.
Martin County is in southern Indiana, some 100 miles southwest of Indianapolis.
Tornadoes spotted in other parts of Indiana
Tornadoes were also spotted in other parts of Indiana on Sunday. Flattened buildings were seen in Greenwood, Indiana.
Debris was lofted into the air as the tornado ripped through Johnson County. 
Heather Holeman says she watched as a tornado moved through Whiteland.  
HOW YOU SHOULD PREPARE FOR A TORNADO
Hail the size of tennis balls was also reported throughout parts of Indiana and Arkansas. 
Severe weather turns deadly in Georgia
Damage assessments are also underway in Georgia on Monday morning after severe weather tore across part of the state, including the Atlanta area, on Sunday.
And that severe weather turned deadly.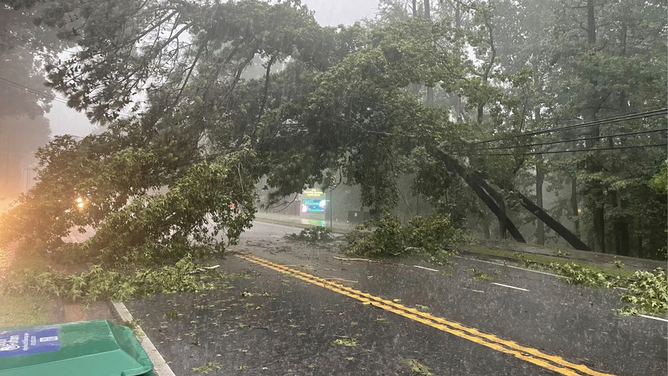 According to a report from FOX 5 in Atlanta, a falling tree crushed a man in the northeast part of Atlanta.
The victim, according to FOX 5, was identified as 55-year-old George Heery, Jr., a well-known Atlanta realtor.
In addition, emergency management officials in Cherokee County said two people received minor injuries after a tree fell on a car.
Dozens of flights were also delayed or canceled at Hartsfield-Jackson Atlanta International Airport on Sunday because of the weather, and those lasted into Monday morning.
More than a half-million remain without power Monday morning
The threat of severe weather stretched from the Ohio Valley to the South on Sunday, producing nearly 450 reports of damaging winds and large hail. NOAA's Storm Prediction Center had given this area a level 3 out of 5 on its thunderstorm risk category scale.
Sunday now marks the second-most-active severe weather day of 2023 so far, behind March 31 when there were 704 reports of severe weather.
Severe storms had knocked out power to more than 700,000 people on Sunday evening, according to PowerOutage.US. That number had dropped to about 586,000 as of early Monday.
Georgia had the most widespread power outages, reporting more than 300,000 customers in the dark, though the number of outages in the state had dropped to about 88,000 by Monday morning.
Current power outages across the U.S.
(FOX Weather)
---