July national severe weather tally includes 3,500 damaging wind reports
July took a relative break when it came to tornadoes and hail reports across the U.S., but it was anything but quiet in the wind and flooding reports.
NEW YORK -- July took a relative break when it came to tornadoes and hail reports across the U.S., but it was anything but quiet in the wind and flooding reports.
Overall in July, the National Weather Service received 4,124 reports of severe weather -- combining tornado, damaging wind, flooding and large hail reports.  While that might seem like quite a few, it's below the national July average of about 4,400 severe weather reports.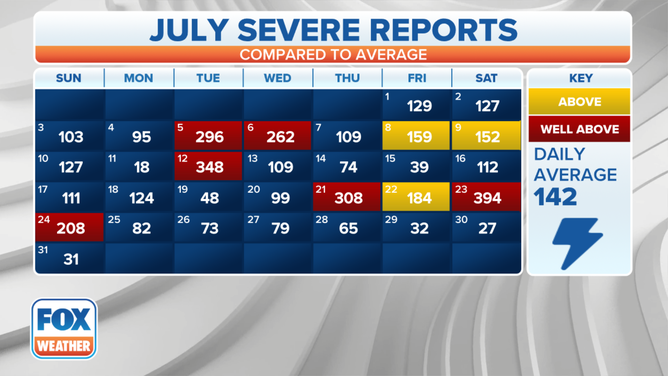 "With the exception of damaging wind reports, all other facets of severe weather finished below their long-term averages," according to FOX Weather Data Specialist Shane Brown. "What we did end up seeing this July were stretches of above average activity followed by lulls."
ADVICE FOR DEALING WITH STORM ANXIETY WHEN SEVERE WEATHER THREATENS
Above-average severe weather activity was reported from July 5-12, then again on July 21-24, Brown said. July 23 had 394 reports alone and makes it the 5th most active day of the year so far.
Tornado activity was below average
Brown reports there were just 67 reported tornadoes in July across the U.S. -- well short of the monthly average of 92.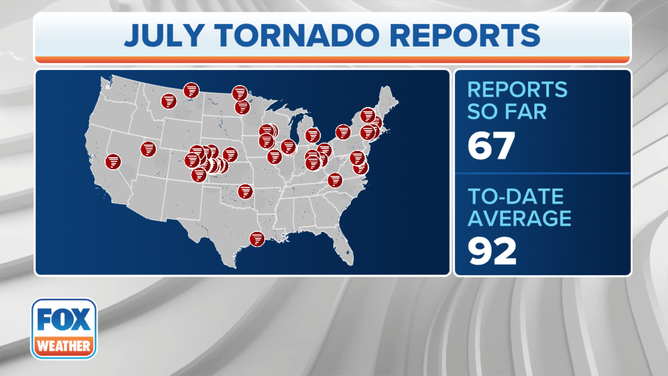 "The strongest tornadoes of the month were a trio of EF-2s: Goshen, Ohio on the 6th, Opheim, Montana on the 18th, and near Gainesville, New York on the 28th," Brown said.
Tornado reports were spread across 20 states, with Colorado leading the pack at 19 tornadoes in July. Vermont, Connecticut, Nevada, and Montana all experienced their first tornadoes of the year, Brown said.
WHAT YOU SHOULD DO TO PREPARE FOR A TORNADO
But the month saw the nation's 1,000th tornado of the year, tallying 1,010 tornadoes by July 31. Yet that is still below the long-term average of 1,034 tornadoes by July 31.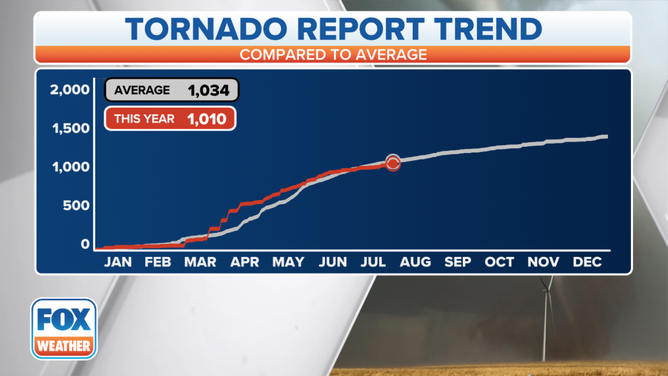 Mississippi remains the most tornado-active state with 113 tornadoes thus far this year. Texas is next at 104, followed by Alabama at 80.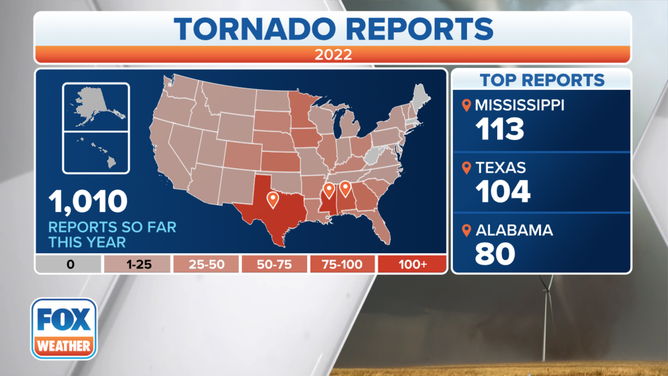 Damaging wind reports number in the thousands
July was marked by thousands of damaging wind events across the nation.  The National Weather Service took 3,400 reports of wind damage in July, coming off the heels of over 3,500 wind damage reports in June.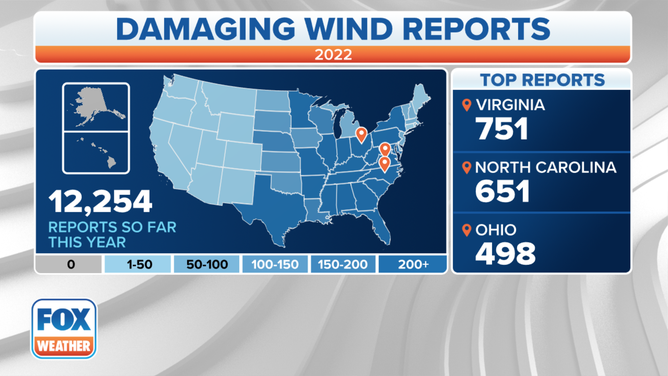 "This is well above the long-term average for July of around 2,500 (reports)," Brown said. July 23 alone had 360 wind damage reports, marking It as the third-most active wind damage day of 2022.
TORNADO SAFETY: IDENTIFYING THE SAFEST PLACES INSIDE YOUR HOME
The strongest gust was a 120-mph Category 3 hurricane-like blast that tore through small-town North Dakota on the morning of the July 10h. This wind was responsible for toppling a 2-ton cement pad mounted transformer and a 120-foot radio transmission tower outside of the town of Fairfield.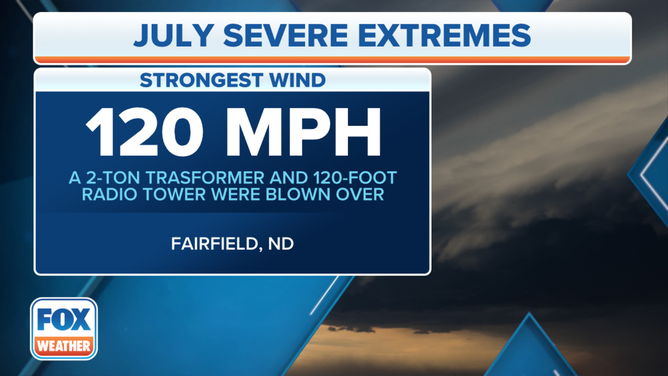 "Every state saw at least one report of wind damage, including Virginia which topped the list with 262 reports," Brown said. "Virginia remains the year-to-date leader for wind damage reports with 751 in 2022. North Carolina and Ohio round out the top three with 651 and 498 respectively."
Montana pelted with the most hail
Hail reports have been below average for much of the year and July was no different. The month saw just shy of 600 reports, which is below its long-term average of 745.
Montana saw the lion's share of hail reports in July with 134, Brown says, but the largest stones came from South Dakota. Spotters found three separate instances of softball-sized hail which fell on the same day from a line of severe storms.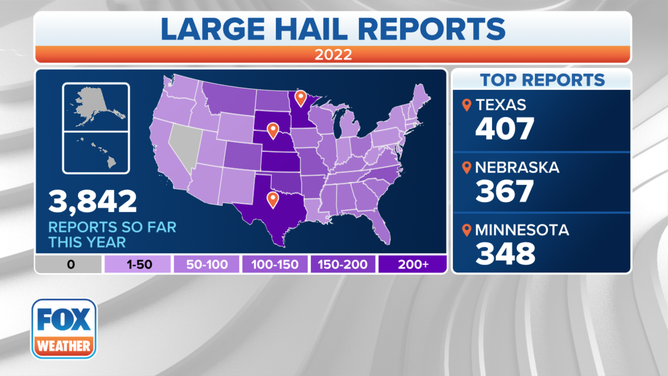 But overall, the nation has had 3,842 reports of large hail, well below the long-term average of close to 5,000.
"Texas remains the hail king of 2022 with over 400 reports," Brown said. "Nebraska and Minnesota round out the top three with 367 and 348 respectively."
Nevada and Rhode Island are the only two states without a large hail report this year.
Kentucky now ranks No. 2 flood damage reports
While July was behind in tornadoes and hail, it was the most active month so far with flooding damage reports, coming in at 900 for the month.
That number is still below the long-term average of 980, but did generate four of the year's top five single-day flash flood reports.
7 FACTS YOU SHOULD KNOW ABOUT FLASH FLOODS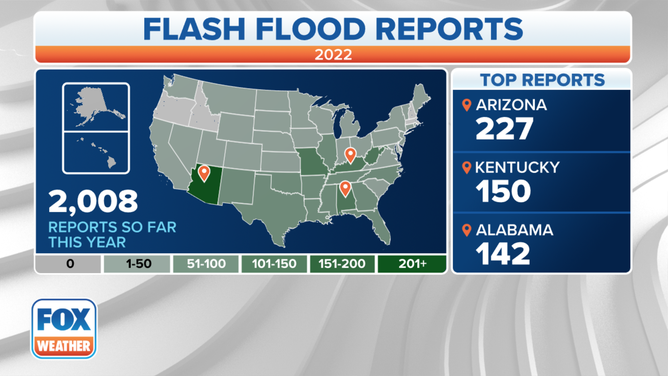 July 27 topped all dates with 117 reports, thanks to two major flooding events: The stalled boundary flooding of the southern Ohio River Valley, which caused catastrophic and historic flooding in eastern Kentucky, and a very active monsoon season in the Desert Southwest.
Arizona led the U.S. in total reports this July with 187, with Kentucky second with 91.
Arizona and Kentucky are also the top 1 and 2 spots on the year (227 and 150), while Alabama rounds out the top three with 142 reports.
Be sure to download the FOX Weather app to track any storms in your area and receive potentially life-saving weather alerts issued by the National Weather Service. The free FOX Weather livestream is also available 24/7 on the website and app and on your favorite streaming platform. The FOX Weather Update podcast also provides weather information for the entire country.