Weather balloon goes for wild ride around thunderstorm after EF-2 tornado in Montana
What had been a leisurely float off to the east-northeast became a chaotic journey as the balloon became caught in the effects of a nearby rotating supercell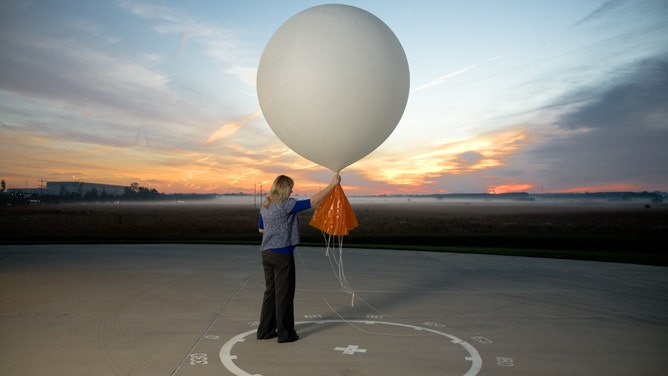 GLASGOW, Mont. -- A weather balloon launched from Glasgow, Montana, Monday evening was having an uneventful journey on its quest to measure atmospheric data until the balloon ran into a line of thunderstorms that had just produced a tornado about an hour earlier.
The balloon was launched from the National Weather Service office at 6 p.m. Mountain time, as it has done every day. On Monday, the launch happened just minutes after what was later determined to be an EF-2 tornado ripped through the small town of Glentana, about 60 miles to the north.
ACCURATE FORECASTS WOULD ALMOST BE IMPOSSIBLE WITHOUT WEATHER BALLOONS
As the thunderstorms and balloon both moved off to the east, their paths eventually converged about 40 minutes later near the town of Bredette. What had been a leisurely float off to the east-northeast became a chaotic journey as the balloon became caught in the effects of a nearby rotating supercell.
By now, the balloon had risen to about 55,000 feet, according to the National Weather Service, but Doppler radar estimated the storm was about 50,000 feet tall by that point. So began a roller-coaster ride on swirling winds. 
NATIONWIDE HELIUM SHORTAGE COULD DEFLATE ACCURACY IN WEATHER FORECASTING
Data from the balloon's onboard anemometer showed a radical wind shift from the southwest to the northeast, then southeast, then south, then north, then west, northwest, east, southeast, south, east, west, west, northeast, and southeast – all over just a few minutes. Later it locked into more of a reverse easterly wind track as it reached the lofty heights of 75,000 feet and above the storm's influence.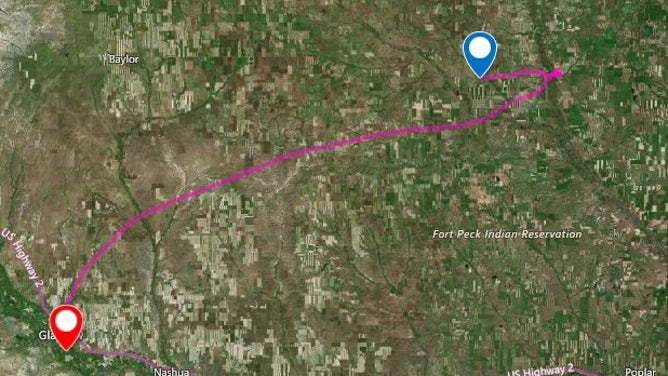 The balloon eventually popped around 100,000 feet. 
A POPPIN' SIGHT: WATCH AS WEATHER BALLOONS EXPLODE AS THEY SOAR HIGH INTO EARTH'S ATMOSPHERE
Zooming in on the path, you can see the crazy loop-de-loops journey the balloon endured: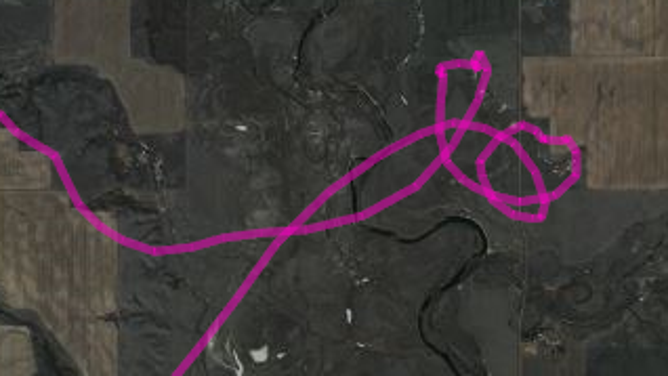 Storms spawn EF-2 tornado in Glentana
As mentioned, that balloon-tossing supercell was part of a line of severe weather that went through northeastern Montana on Monday evening. An earlier storm produced an EF-2 tornado that caused damage in Glentana.
The tornado touched down just before 6 p.m. Mountain time and lasted several minutes as it swirled over 8 miles.

"Many farm outbuildings and machinery were destroyed," said the storm survey team with the National Weather Service office in Glasgow. "The roof from a house was blown off. Several grain hopper bins were either blown away and/or severely damaged (and) multiple spruce trees were uprooted."
The survey team estimated the twister's peak wind speed at 120 mph, giving the storm the EF-2 rating.  But luckily, no one was injured.
THIS IS HOW MANY TORNADOES EVERY STATE RECORDS IN AN AVERAGE YEAR
Tornadoes are somewhat rare in the West, though Montana averages about nine per year.
Be sure to download the FOX Weather app to track any storms in your area and receive potentially life-saving weather alerts issued by the National Weather Service. The free FOX Weather livestream is also available 24/7 on the website and app and on your favorite streaming platform. The FOX Weather Update podcast also provides weather information for the entire country.