Multiple rounds of severe storms to rumble across Plains, Midwest and South into first week of May
The storms will pose threats of large hail, damaging winds and tornadoes
Severe thunderstorms, including the threat of tornadoes, are expected to return to parts of the Plains, Midwest and South in multiple rounds through the weekend and into the first week of May.
A southward dip in the jet stream will punch out of the Rockies and emerge over the central U.S. spawning another spring storm system by Friday that will overlap with warm, humid air surging northward from the Gulf of Mexico.
The day-by-day overview of what to expect from this latest severe weather threat is discussed below.
Waves of heavy rain could also lead to flooding in parts of the central U.S. through early next week. For more on that story, click here.
HOW TO WATCH FOX WEATHER ON TV
(FOX Weather)
---
Friday
Severe thunderstorms will likely become more widespread Friday afternoon into Friday night across portions of the Central and Southern Plains and the lower Missouri Valley, with the greatest risk of severe weather in parts of far southeastern Nebraska, central and eastern Kansas and north-central Oklahoma.
These storms will pose threats of large hail, damaging wind gusts and tornadoes in all the aforementioned areas. Some tornadoes could be EF-2 or stronger in the region shaded in the darkest red on the map below.
TORNADO DROUGHT: KANSAS HAS ONLY 1 RECORDED STRONG TORNADO IN PAST 3 YEARS
Severe storm threat on Friday, April 29, 2022.
(FOX Weather)
---
Saturday
The severe weather threat will shift farther eastward on Saturday into parts of the mid-Mississippi and lower Ohio valleys, including portions of northeastern Arkansas, eastern and southeastern Missouri, Illinois, western Indiana, western Kentucky and extreme northwestern Tennessee.
Damaging wind gusts, large hail and a few tornadoes are all possible in these areas.
THIS IS HOW MANY TORNADOES EVERY STATE RECORDS IN AN AVERAGE YEAR
Severe storm threat on Saturday, April 30, 2022.
(FOX Weather)
---
Sunday
The threat of severe weather will shift back to West Texas for the first day of May, particularly in the South Plains and Concho Valley regions, as a new disturbance tracks eastward out of the southern Rockies. 
Severe thunderstorms capable of producing large hail, damaging wind gusts and a tornado or two are possible Sunday afternoon and evening along a north-to-south oriented dryline.
WHAT IS A DRYLINE AND WHY IS ITS LOCATION IMPORTANT IN SEVERE WEATHER FORECASTING?
Severe storm threat on Sunday, May 1, 2022.
(FOX Weather)
---
Monday
The same disturbance could spawn additional severe thunderstorms on Monday in parts of North Texas, central and southern Oklahoma, southwestern Arkansas and northwestern Louisiana.
Large hail, damaging wind gusts and a few tornadoes are all possible in these areas.
HERE'S WHERE TORNADOES ARE MOST LIKELY TO OCCUR IN EACH MONTH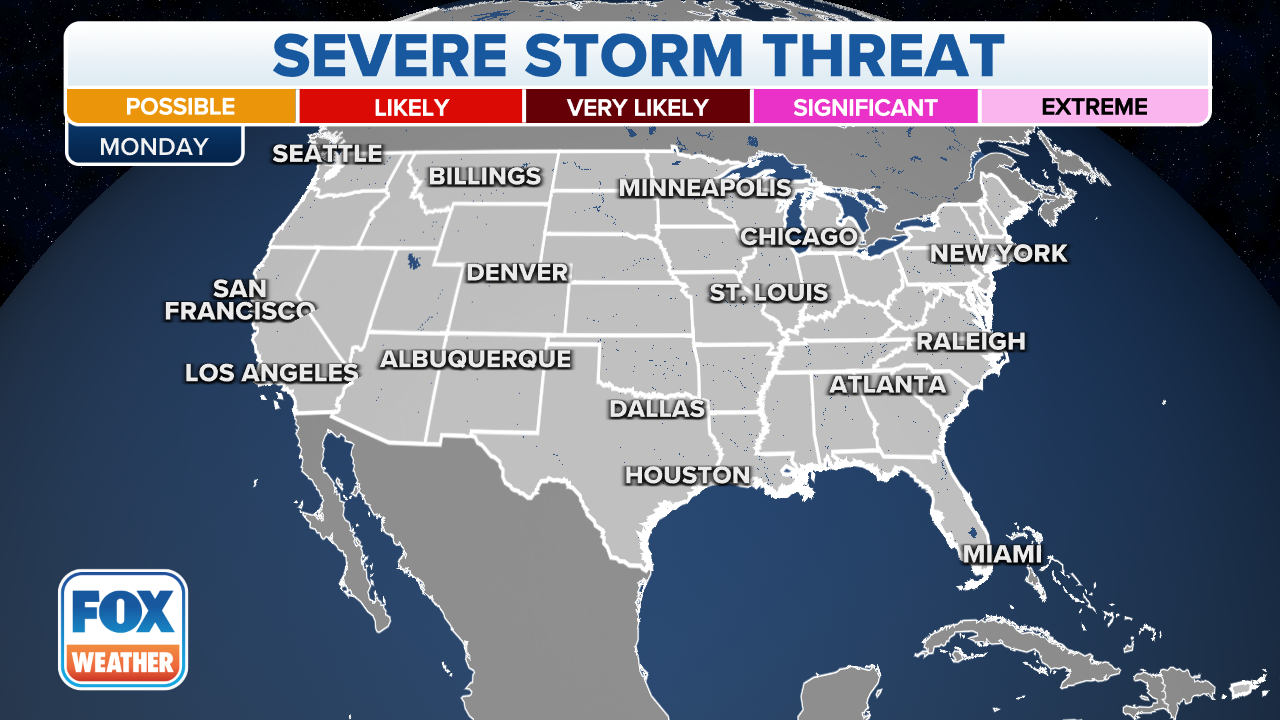 Severe storm threat on Monday, May 2, 2022.
(FOX Weather)
---
Middle of next week
Another disturbance will emerge over the central U.S. late Tuesday into Wednesday of next week.
While uncertainty remains too high to highlight the exact locations that might be at risk of severe weather, there is a threat of some severe storms from the Southern Plains into the mid-South region.
Be sure to download the FOX Weather app for the latest forecast and weather alerts for your exact location, plus the 24/7 livestream of America's Weather Team.