Tornado drought: Kansas has only 1 recorded strong tornado in past 3 years
2022 is continuing a quiet trend for tornadoes in Kansas, perhaps a benefit of La Nina conditions.
WICHITA, Kan. -- The water drought gripping the West had made a lot of headlines lately, but Kansas is in the middle of a drought that they wouldn't mind lasting forever: A tornado drought.
The state, situated in the heart of Tornado Alley -- has experienced just one tornado of EF2 strength or higher in the past three years. The tornado that touched down on March 13, 2021 in Haggard rated EF2 and that's been it.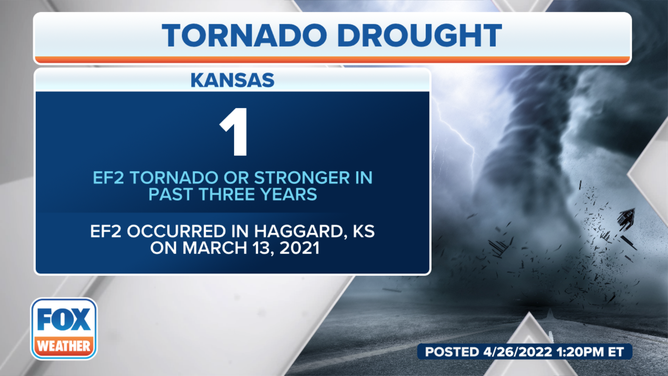 In the past 40 years, that's by far the quietest three-year tornado count. The stretch between 1996-1998 and 1987-1989 each featured 7 strong tornadoes in the state.  Since 1980, 2020 and 2022 (so far) remain the only years without an EF2+ tornado. 2021's solo tornado matches just three other years with one EF2+ tornado.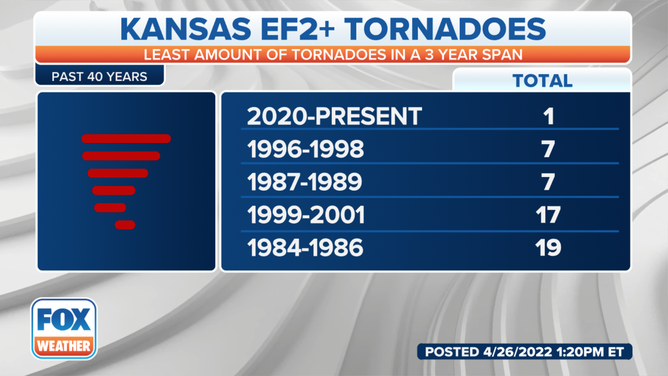 Counting all tornadoes -- even the weaker ones -- the past two severe weather seasons have featured a well-below average tornado count (17 in 2020 and 39 in 2021) and that quiet period has stretched into 2022.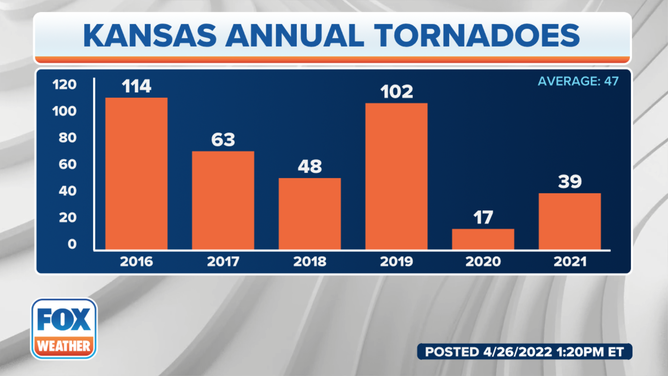 Wichita's National Weather Service office has yet to issue a tornado warning in 2022 as of April 25; meanwhile, Sacramento has issued two.
7 THINGS TO KNOW ABOUT TORNADO ALLEY
FOX Weather Meteorologist Stephen McCloud says the highest three-year span of EF2 or stronger tornadoes since 1980 in Kansas was in the period between 1990-1992 when the state experienced 65 strong tornadoes. 2008 sits atop the charts for most EF2+ tornadoes in a single year since 1980 at 31, McCloud said. 
HERE'S WHERE TORNADOES ARE MOST LIKELY TO OCCUR EACH MONTH
Overall, Kansas averages 91 tornadoes a year of any strength.The relatively quiet period this year seems to buck the trend of La Nina springs. The National Oceanic and Atmospheric Administration says La Niña conditions typically lead to a surge in tornado and hail reports.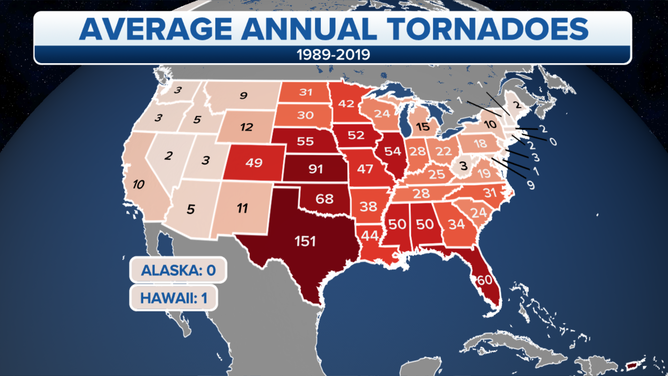 HOW ARE TORNADOES RATED? THE ENHANCED FUJITA SCALE EXPLAINED
An increase of troughs along the jet stream in combination with increased low-level moisture from the Gulf of Mexico can lead to enhanced severe weather chances, especially in the eastern Plains and the South.
That has certainly been the case in 2022 for the South, which has seen a record number of early season tornadoes.But the bulk of severe weather activity has stayed east of Kansas and the central Plains.
BUSY TORNADO SEASON SETS RECORD WITH NEARLY 250 TWISTER REPORTS IN MARCH ALONE 
McCloud thinks tornado season will remain quiet in Kansas -- at least for a while.
"Looking at trends, Kansas could be in for a drought for at least the rest of this year and potentially next year," he said. "(But) I would expect to see a sharp increase either 2023 or 2024 for EF2 tornadoes."