Easter Sunday storms linger through Monday
It won't be another outbreak, but the storm-weary South will have to contend with at least a few severe thunderstorms
Showers and thunderstorms that exploded along a stalled cold front in the South for Easter lingers into the early morning hours.
The storms have not been a repeat of any of the four severe weather outbreaks over the past several weeks, but areas are contending with a few severe thunderstorms, large hail and potential tornadoes.
The National Weather Service issued several Severe Thunderstorm Watches across the South into early Monday morning.
WE'RE ENTERING AMERICA'S MOST ACTIVE TIME OF YEAR FOR TORNADOES
Several towns across Texas, Mississippi and Florida reported golf ball and ping pong ball-sized hail. Emergency managers across Mississippi and Florida also reported straight line winds blowing down trees.
The threat pushes into Florida for Monday.
The constant rounds of storms across the South have many streams and river either at or above flood level.
HOW TO WATCH FOX WEATHER ON TV
Any additional rainfall could aggravate the already swollen waterways and lead to additional flooding.
Forecast models show some areas could pick up on as many as five inches of rainfall through Monday.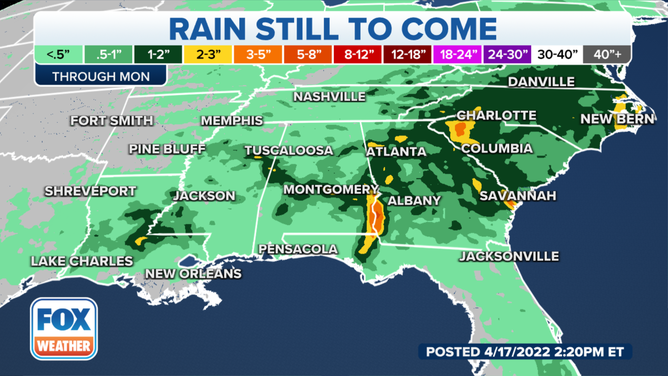 The system producing the wet weather across the South is part of the same that could inundate the Northeast with heavy rain and snow during the early part of the work week.