Early-week system to pummel the Northeast with rain and snow
Snow will be limited to higher elevations and where temperatures drop to freezing
Some residents in the Northeast will have to whip out their winter weather gear as a significant storm system will remind millions that just because it is spring on the calendar, it doesn't mean Old Man Winter is done for the season.
The storm system is expected to bring gusty winds, heavy rain and snow to the region starting Monday.
Most residents will see the precipitation fall as a chilly rain, but where temperatures are cold enough, mainly in the higher elevations and in interior regions, accumulating snow will be a concern.
FOX Weather Meteorologists say the low-pressure system will take advantage of the warm waters of the Atlantic and strengthen off the coast of the Carolinas Monday.
As the storm system tracks towards the Northeast heavy rain is expected to fall along the I-95 corridor, where there could be flooding concerns in poor drainage areas.
Rain accumulations could reach upwards of two inches from Delaware, through New Jersey and into southern New York and Connecticut.
Depending on the exact track of the low, forecast models show some areas, especially in coastal New England, could pick up on upwards of three inches of rain.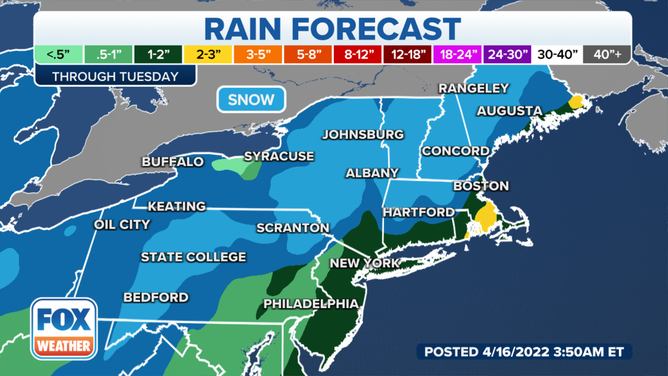 HOW TO WATCH FOX WEATHER ON TV
Meteorologists say the frozen precipitation will be limited to areas where temperatures are either near or below freezing.
Forecast models show snow is expected to begin Monday in Pennsylvania's Allegheny Mountains and work eastward.
The heaviest swath of snowfall is forecast to impact Upstate New York, Vermont, New Hampshire and Maine, where several inches will be possible starting Monday.
At least a foot of snow could fall in parts of the Adirondack, Green and White Mountains before the system exists on Tuesday.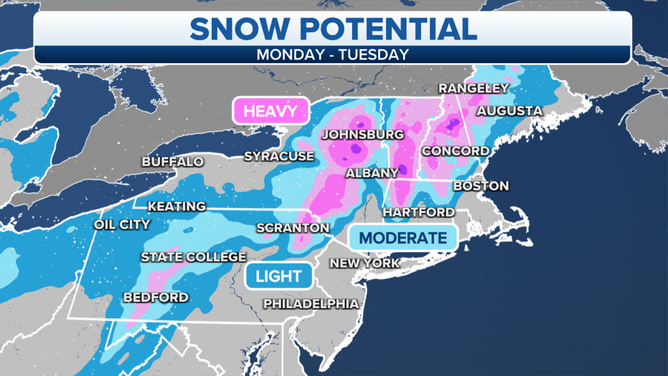 These areas are home to many of the ski resorts in the region, where some are still operating.
Ski Vermont reports several trails are still open, and with the potential of new powder, it could be a winter weather enthusiast's dream.
WHEN CAN YOU EXPECT THE LAST SNOW OF THE SEASON?
The precipitation is expected to move out of the region on Tuesday, giving a brief respite before scattered showers move back into the forecast on Thursday.
Download the FOX Weather app to track the rain and snow move in on 3D radar: Learn more