Tornado Watch issued as severe storms, flash flooding threaten Southeast on warm side of winter storm
A Tornado Watch is in effect until 6 p.m. Central time for western and central Alabama and southeastern Mississippi
FOX Weather is live with the Weather Wire covering live updates on the massive winter storm impacting more than 100 million Americans across the country. Click the FOX Weather Wire for live updates.
The Southeast will avoid the snow and ice from a major winter storm tracking across the central and eastern United States, but it will have to contend with severe thunderstorms and flash flooding on the storm's warm side.
Severe storms are possible Thursday across portions of the central Gulf Coast from southeastern Louisiana into southern and eastern Mississippi, Alabama and the western Florida Panhandle.
NOAA's Storm Prediction Center has issued a Tornado Watch valid until 6 p.m. Central time for western and central Alabama and southeastern Mississippi.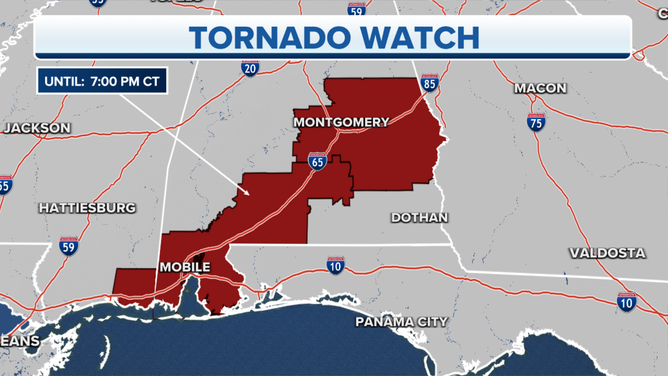 Any storms that turn severe have the potential to produce damaging wind gusts, a few tornadoes and large hail through Thursday evening. The SPC said a couple of the tornadoes could be strong.
Cities that may see severe storms on Thursday include New Orleans and Baton Rouge in Louisiana, Birmingham, Montgomery and Mobile in Alabama, Gulfport in Mississippi and Pensacola in Florida.
Damage was reported near Sawyerville, Alabama, after an apparent tornado swept through the Hale County town. The National Weather Service described the twister as a "large and extremely dangerous tornado."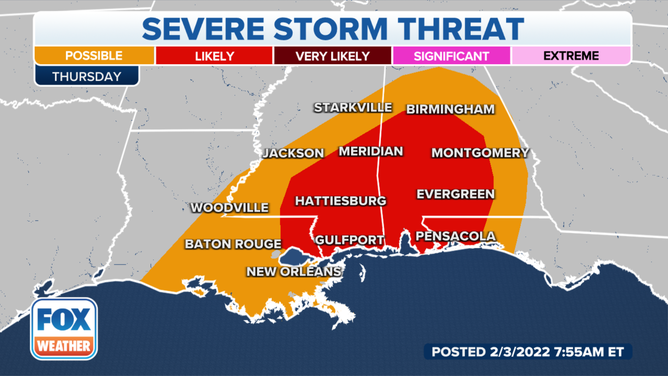 In addition to the severe weather threat, moisture from the Gulf of Mexico is surging northward out ahead of a strong cold front, and that will fuel the potential for heavy rain from the Gulf Coast to the Tennessee Valley and the mid-Atlantic on Thursday.
The National Weather Service has issued Flood Watches from northern and central Alabama and northern Georgia northward to West Virginia and southwestern Pennsylvania.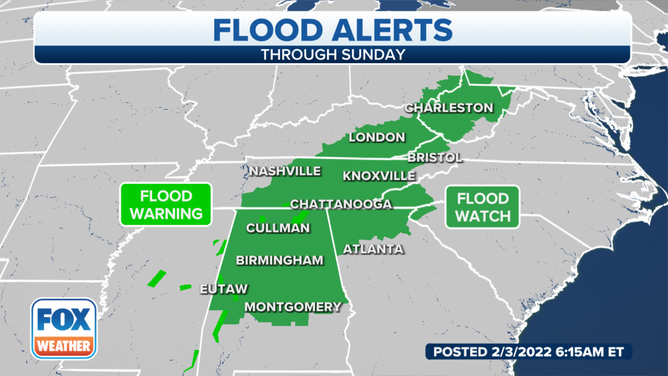 This portion of the Southeast has the highest risk of flooding on Thursday because soils are already saturated from recent rainfall and snowmelt, so it will take less rain to cause runoff issues since the ground will have trouble absorbing the excess moisture.
NOAA's Weather Prediction Center has also highlighted this general area in its excessive rainfall outlook for Thursday.
MORE THAN 100 MILLION PEOPLE IN PATH OF MAJOR WINTER STORM'S SNOW, ICE FROM TEXAS TO MIDWEST, NORTHEAST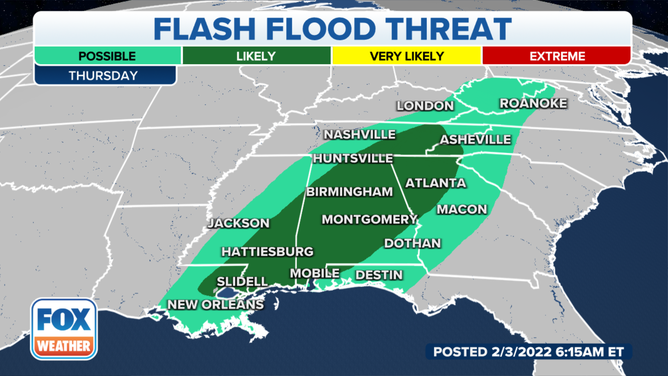 Between 2 and 4 inches of rain is predicted to fall through Friday from parts of the lower Mississippi Valley and central Gulf Coast to the Tennessee Valley, western Appalachians and mid-Atlantic as far north as Kentucky, West Virginia and Virginia.
Locally higher amounts up to 5 inches are possible in some of these areas.
EXPLAINING FLOOD ALERTS ISSUED BY THE NATIONAL WEATHER SERVICE
This much rain in such a short amount of time may lead to runoff that causes flooding of rivers, creeks, streams and other low-lying and flood-prone locations. 
Creeks and streams could rise out of their banks, and low-water crossings might be flooded. Poor-drainage and urban areas are also at an increased risk of flooding.