Series of Alberta Clippers to bring snow, rain to Northeast, Great Lakes this week
We are tracking the possibility of multiple clipper systems into the weekend
A series of Alberta Clipper systems will sweep across the Great Lakes and Northeast with additional rounds of snow and rain this week.
Alberta Clippers are fast-moving weather systems that receive their name from where they originate in western Canada. They sweep across the northern tier of the United States rather frequently during the late-fall and winter months and provide quick bursts of snowfall.
The first clipper system raced through the Great Lakes and Northeast Sunday into early Monday, dropping accumulating snow from Michigan to Pennsylvania to Maine. Flurries were reported as far south as New Jersey.
SNOW PROVIDES WINTRY BACKDROP IN GREAT LAKES, NORTHEAST AS ALBERTA CLIPPER SWEEPS ACROSS REGION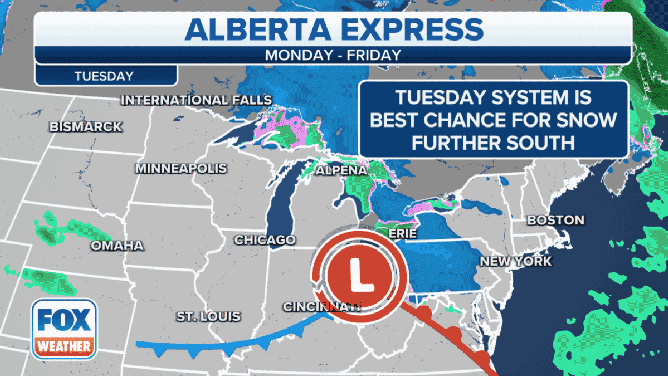 A second Alberta Clipper dove into the Great Lakes late Monday and is now sweeping through the Northeast on Tuesday.
Snow accumulations of a coating to an inch or two are predicted in parts of northern Pennsylvania, upstate New York and the higher terrain of western and northern New England. Locally higher totals are possible downwind of lakes Erie and Ontario in western and central New York due to lake-effect enhancement.
Farther south and east toward Interstate 95, no more than some flurries or sprinkles are expected with this system.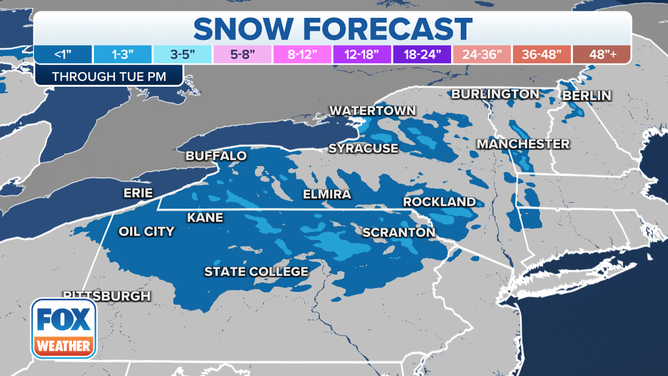 On Wednesday, a third Alberta Clipper system will develop and quickly race eastward into Thursday, though most of the snow is expected to remain to the north over Canada. Instead, warmer temperatures will result in rain showers for the Great Lakes and Northeast Wednesday into Thursday.
We are tracking the possibility of more clippers into this weekend, with additional risks for snow across the Great Lakes and Northeast. The highest snowfall totals through the weekend are expected to remain downwind of the Great Lakes in portions of northern Michigan and upstate New York, as well as in parts of northern New England.