Winter storm spreading snow, sleet and freezing rain across Northeast on Friday
Nearly 15 million Americans are under a Winter Storm Warning on Friday
The winter storm's final chapter is underway in the Northeast as snow, sleet and freezing rain slicken roads across the region on Friday.
An area of moderate to heavy snow was blanketing an area extending from central and eastern New York into New England early Friday morning, while a wintry mix of sleet and freezing rain was creating a glaze of ice from central Pennsylvania to the New York City tri-state area and coastal southern New England.
A changeover from sleet and freezing rain to plain rain is expected across the New York City tri-state area toward the end of the Friday morning commute, but icy roads could persist even after temperatures nudge above freezing.
WEATHER WIRE: WINTER STORM REACHES NORTHEAST AS HEAVY SNOW, ICE SLICKEN ROADS
The National Weather Service has issued various winter weather alerts where additional snow and ice are expected across the Northeast on Friday.
The worst travel conditions can generally be expected where Winter Storm Warnings and Ice Storm Warnings are posted. However, areas under Winter Weather Advisories might also encounter slick roadways at times.
LAST GASP: WINTER STORM COATING NORTHEAST IN ICE, SNOW BEFORE EXITING U.S.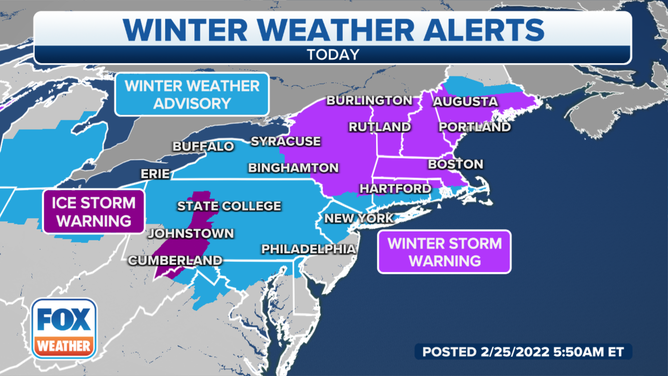 The heaviest additional snow is expected from portions of upstate New York through much of New England, where many spots will see storm totals of 6 to 12 inches. Locally higher totals greater than a foot are possible over the higher terrain.
THUNDER SLEET, THUNDER FREEZING RAIN: WHAT CAUSES LIGHTNING AND THUNDER DURING A WINTER STORM?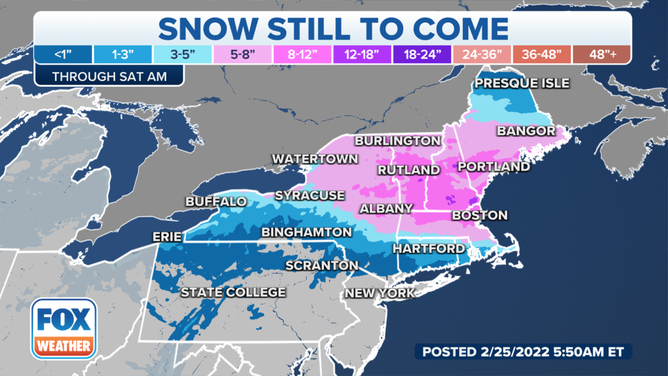 Meanwhile, an icy mix of sleet and freezing rain is expected on the southern end of that snow zone in parts of Pennsylvania, northern New Jersey, the lower Hudson Valley of New York and coastal southern New England, cutting down on the snow totals in those areas.
Ice accretion is expected to remain mostly below levels that would cause disastrous impacts, but many roadways and sidewalks will be slick, so be sure to take it slow if you must travel.
HOW MUCH ICE IS NEEDED TO KNOCK OUT POWER, DAMAGE TREES?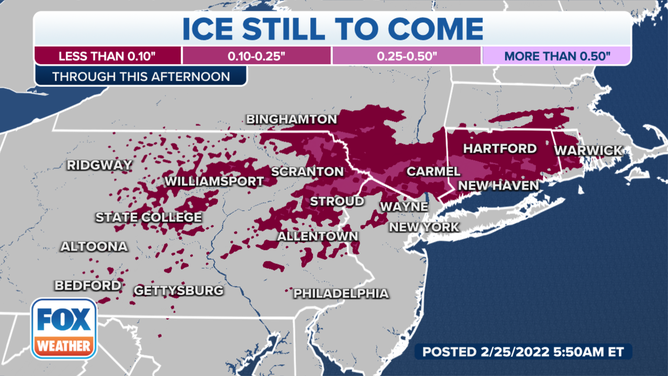 Many of these areas seeing the icy mix Friday morning will eventually transition over to plain rain as temperatures nudge above freezing through the day.
Be sure to download the FOX Weather app for the latest forecast and weather alerts for your exact location, plus our channel's 24/7 livestream.